The first step to preparing a well balanced meal is ensuring your kitchen is stocked with simple, wholesome ingredients that leave you feeling great. But, you're only as healthy as the pantry staples you have in your kitchen.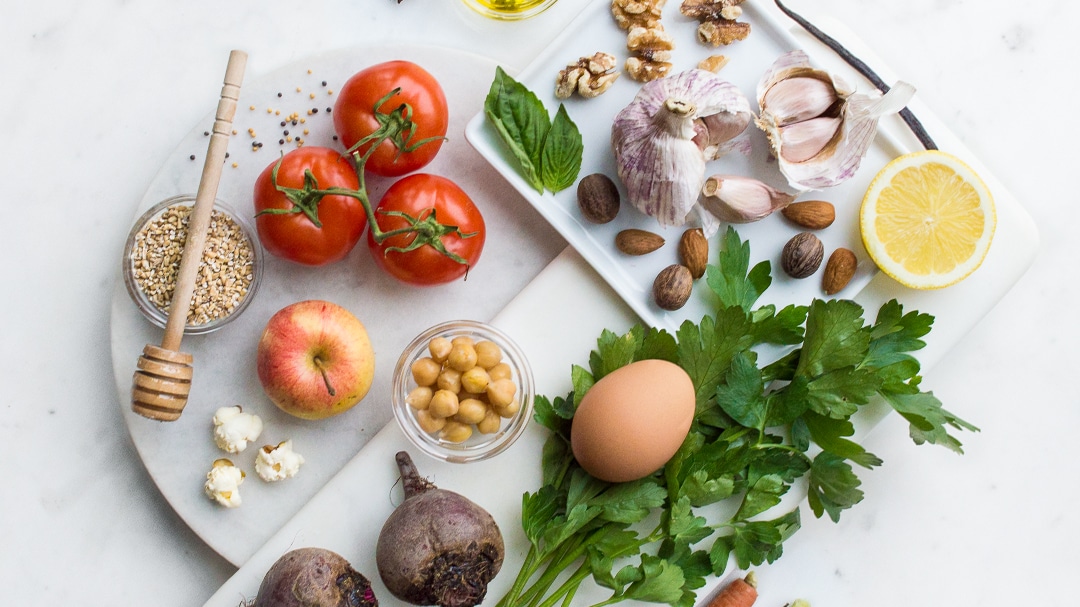 Our kitchen has always been the heart of our home. Even growing up, it was the place where family gathered, where broths boiled over, onion skins danced and good smells echoed. The kitchen is where memories are started, family traditions are honoured and the place where wellness comes to life through essential pantry staples.
Chef Sous Chef's Pantry Essentials
Nuts
Why: One of the most utilized ingredients in our pantry,  nuts are rich in protein, unsaturated fat, essential amino acids, calories, dietary fiber, vitamins, minerals and antioxidants.
How we use it: Chopped and topped on anything we can from salads to oatmeal, soups and desserts. Blended with oil and basil for homemade pesto, or blended in water to make your own nut milk free from preservatives and funny ingredients.
Whole Grain Flour
Why: Store bought breads tend to have unnecessary additives and preservatives. Using 100% whole grain flour to make your own baked goods provides essential and natural amino acids, carbohydrates, high fiber, vitamins, minerals and antioxidants.
How we use it: In baked goods such as cookies, pies, cakes and breads. It's also a healthier thickening agent in soups, stews, gravies and chicken pot pies. Get our 100% Whole Wheat Curry Chicken pot pie recipe here. 
Almond Milk
Why: Almond milk is light and refreshing and gives us a nice kick of nutrients to start the day including healthy fat, fibre, protein and vitamin E.
How we use it: Our liquid source for our morning smoothies and oatmeal. It also makes for a delicious and light hot cocoa or latte. 
Fresh Fruit
Why: This goes without saying, fruit is healthy and it should be part of your diet. Although fruit is high in sugar, it also contains fiber which allows your body to metabolize it at an appropriate level.
How we use it: When we crave something sweet, cut up in oatmeal or to brighten up a salad.
Frozen Fruit
Why: It's a quick and easy and when it's on sale, it is a cheaper alternative to fresh fruit. Because it's flash frozen, it still packs the same nutritional punch.
How we use it: The main ingredient for our morning smoothies, a great addition to pancakes and sweet breads and perfect by itself as a snack on a hot summer's day.
Lemons
Why: Sour and bright with lots of Vitamin C and potassium. A little lemon goes a long way and it is good for your heart, liver, and intestines. It also does wonders when you have a cold or flu.
How we use it: Every morning we drink a mix of hot water, lemon, cayenne, cinnamon and honey. Lemon is a wonderful addition to salads, chicken, and plenty of desserts.
Apples
Why: An apple a day keeps the doctor away. It's a great snack, cleans your teeth and satisfies our sweet tooth.
How we use it: Mystique's go to snack is apples and peanut butter. We also love using apples with pork, on pizza, and in our baking. Get our Apple and Beetroot Galette recipe here. 
Peanut Butter or Nut Butter
Why: Well, you can't have an apple without peanut butter. Peanut butter is healthy in moderation but be sure to only eat peanut butter that is made with 100% peanuts, or make your own. Many bulk stores offer "grind your own" peanut butter.
How we use it: 90% of our peanut butter is consumed with apples.
Fresh Vegetables
Why: Much like fruit, we don't need to tell you that vegetables are an important part of your diet and should be well over half of your total food consumption. You should try to incorporate a good mix of colourful veggies as they all provide different nutrients and vitamins.
How we use it: The main component in almost every meal. We try to have a minimum of ¾ of our plate filled with vegetables. We always keep cleaned and chopped vegetables on hand for a quick and easy snack.
Ginger
Why: This powerful root has two major strengths. It's extremely aromatic and is known to be incredibly healthy. 
How we use it: Fresh ginger root in our shakes and smoothies and add it to many of our soups. Get our Ginger Cucumber Chickpea salad recipe here. 
Garlic
Why: It tastes delicious and adds a spicy element to any dish you add it to. Garlic has many medicinal properties also and is great for keeping vampires away.
How we use it: Roasted and spread on toast, crackers or pizza. Blended into mashed potatoes or soup. Sautéed with vegetables and meat. And of course, caesar salad.
Herbs
Why: Fresh herbs transform your dish and add an element of flavour you can't get from anywhere else. Plus, they have health benefits of antibacterial and anti-inflammatory.
How we use it: Chopped up in pastas and as garnish. Blended with nuts and oil for pesto and paired with vegetables for salads.
Local, humanely raised meat and dairy
Why: With awareness of environmental and social issues regarding meat we have reduced our consumption and purchase from local farms and dairies. Honestly, free range and heritage animal products taste much better than factory farm products. Meat and dairy provide protein, minerals and vitamins.
How we use it: Although we eat it in moderation, meat is the star of our meals when we do. Soups, stews, chilis, pastas, and tacos feature beef, pork, or chicken. On special occasions we love a piece of steak paired with even more veggies, of course.
Local Free-Range Eggs
Why: Often considered nature's perfect food. They are packed with protein, healthy fat, vitamins and minerals. Try to find heritage eggs if you can, if not buy free range from a local farmer or market.
How we use it: Boiled and topped with mustard (don't knock it until you try it), scrambled, poached and on top of pizza. Sweets, breads and pastries. Our favourite use is for homemade pasta. Get our Speak of the Deviled Eggs recipe here. 
Mustard
Why: Sharp and pungent in flavour with wonderful aromatics. Mustard contains lecithin which has the ability top bring oil and water together.
How we use it: The perfect condiment for sandwiches and a star for making glazes and pan sauces. Almost every salad we make will have mustard in it.
Vinegar
Why: The health benefits of vinegar are minimal, however it is an important staple to provide acidity and pleasing sourness to a dish.
How we use it: We mostly use vinegar in salads and dressings, but it can be a great addition to add acidity to a soup or stew.
Healthy Fats
Why: This is the number one source of energy in our diet. Olive, coconut, and avocado oils are used regularly and butter a little more sparingly.
How we use it: Everything from cooking to baking. Healthy fats make their way into every meal we eat. 
Spices
Why: Flavour. A spice can be sweet, smoky, hot and flavourful and is the perfect way to transform any dish from boring to delicious. Aside from this, spices are antibacterial and anti-inflammatory making them essential to any diet.
How we use it: Almost every dish, both savoury and sweet, is flavoured one way or another with spices.
Canned tomatoes
Why: It's easy, inexpensive, and has a long shelf life. Canned tomatoes are plucked at the prime of the tomato's growth and comes stewed and peeled so they are ready to go out of the can. Just be sure to read your labels and buy cans that only contain tomatoes .
How we use it: You can make an amazing tomato sauce with good can of tomatoes and basil. Our soups and stews often use canned tomatoes. 
Legumes and Pulses
Why: 2017 is the year of the pulses. They are cheap, accessible and a great source of energy, fiber, and protein. The versatility of legumes and pulses makes them an easy addition to your diet.
How we use it: Soups, stews, and chilis. A great way to add protein to a salad and we love to make hummus for dipping. Get our tips to building your own Mezze board here. 
Honey
Why: The only natural food that won't spoil if left at room temperature. Honey is extremely beneficial for warding off illness and disease. It is also great for your skin and has even been proven effective for healing wounds and burns when applied externally.
How we use it: In our morning elixir, hot or iced tea, and on toast. We also use it in some salad dressings or when a dish needs a touch of sweetness to balance acidity.
Real Maple Syrup
Why: A Canadian staple and one of the most delicious ingredients you will ever use. Maple syrup is an antioxidant and rich in vitamins and minerals.
How we use it: Sugar replacement in baking, salad dressings, drizzled on top of oatmeal and a small spoonful after dinner to satisfy the sweet tooth. Get our Maple Coconut Cream Cake recipe here. 
Dark chocolate
Why: Why not? It tastes delicious, satisfies our sweet tooth and is good for your health. Dark chocolate is full of antioxidants and has been proven to lower blood pressure.
How we use it: We mostly enjoy it with a nice glass of wine, but is great for baking and mixing with hot almond milk for a rich hot chocolate. Get our Spiked Coffee Chocolate Coconut Custard recipe here. 
SaveSave
SaveSave