A perfect recipe for Easter Brunch or Mother's Day, our Breakfast Strata with Mushroom and Leeks is comforting, creamy and cheesy. Bonus points: it can be prepared the night before.
Holidays can be a little tricky when it comes to cooking, especially when you need to feed a crowd. We're always looking for simple recipes that can please any palate. At Thanksgiving it is our Twice Baked Potatoes, at Christmas it's one of our favourite make ahead breakfast casserole recipes Christmas Morning Wife Saver, and this year for Easter (and probably Mother's Day) it's this, our Breakfast Strata with Mushrooms and Leeks.
What is a Breakfast Strata?
Strata is very easy to make, so much that Philip jokes he can make it with his eyes closed. While it's preparation is similar to a bread pudding, featuring cubed bread and a creamy egg mixture, it's more cooked and with a firmer, custardy interior. In our recipe, we've incorporated the delicate flavour of spring leeks and mushrooms, and added the sharpness of Canadian cheddar, before topping with a salty prosciutto to bring all the flavours together.
The result is a comforting, creamy and cheesy, with a subtle onion flavour from the leeks and earthiness of mushrooms. The fat from the prosciutto slowly renders during cooking, allowing the flavour to enter every bite. It is a dish that will satisfy any palate and will have you yearning for more.
Another great thing about a breakfast strata is that it can be prepared the night before, producing the best results. It allows the bread to fully soak up the eggs, making for an almost pudding like consistency, but if you are like us and eat more on the fly, it works just as well to be baked off right away. Just wait until it's ready for the oven, before turning on the oven, so it gets at a head start on soaking time.
Featured Ingredient: Leeks
Leeks are one of those vegetables that are easy to overlook in the produce aisle. They are not particularly exciting looking, it's like a giant green onion or scallion.
They have a delicate onion flavour, also similar to a scallion but a little milder and sweeter. Leeks you likely wouldn't eat raw like you would with green onions. Leeks tend to hold a lot of dirt and only part of the plant is ideal for cooking with.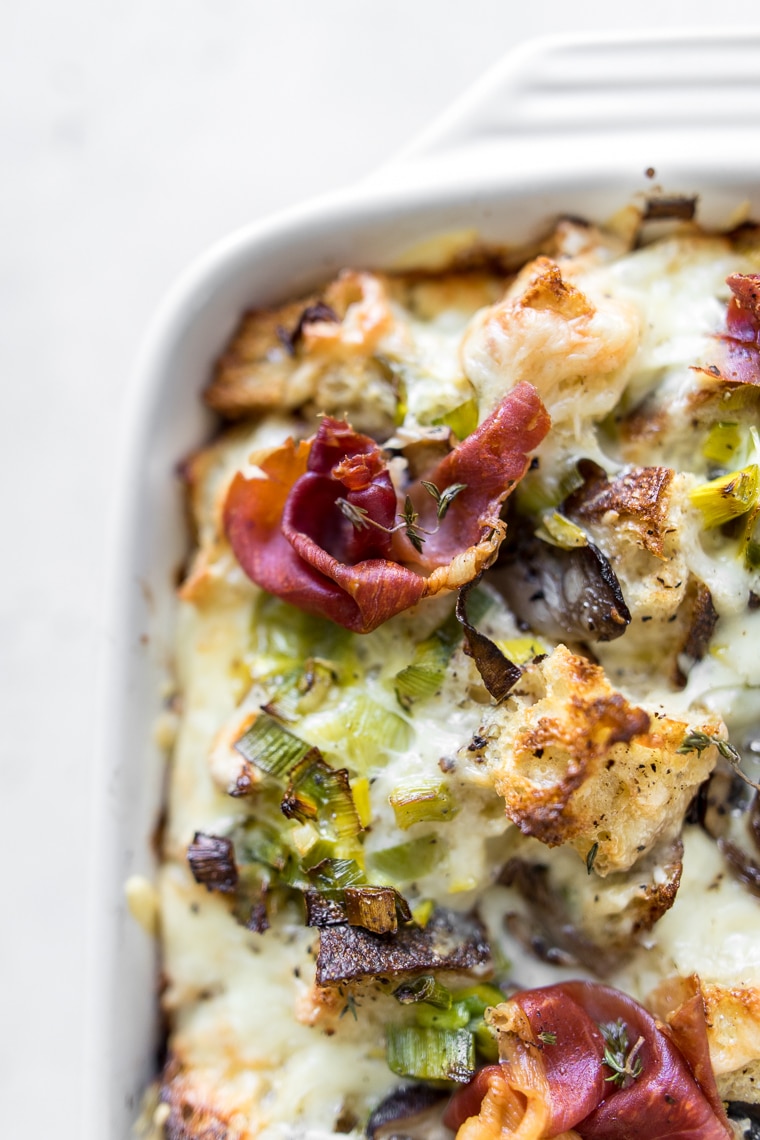 How to Prepare Leeks
How to Trim Leeks
Although the entire plant is technically edible, the darker green portion of leeks are tough and not pleasant to eat. A lot of tutorials suggest cutting the whole leek a couple inches below the dark leaves, but I find this pretty wasteful. To get the most out of the leek, carefully trim each leaf at the point where it goes from greenish-yellow to green. Discard or save the darker portion for making stock.
Chef's Tip: use your fingertips to swirl and shake the leeks to release the dirt.
How to Clean Leeks
Because the most edible portion of leeks grow below the soil, the layers fill up with a lot of dirt. It's important to clean them properly to avoid a gritty bite. After trimming your leeks, cut them half lengthwise, then thinly slice them. Transfer them to a large bowl of cold water and using your fingertips, swirl and shake the leeks releasing the dirt, which will fall to the bottom of the bowl. Set up a sieve or colander over another bowl and scoop out the cleaned leeks and place in the sieve to fully drain before sautéing.
How to Make Our Breakfast Strata with Mushrooms and Leeks
Shopping List
Mushrooms, leeks, garlic, fresh thyme, sourdough bread, eggs, prosciutto, butter, whole milk, cheddar cheese, dry mustard, salt and pepper.

Prepare the Ingredients
For this breakfast casserole, mince 2 cloves of garlic, clean and chop the mushrooms to get about 4 cups worth, clean and slice the leeks to get 3 cups, slice a loaf of sourdough into ½ inch cubes. and grate enough cheese for 2 ½ cups. Find your nicest casserole dish with at least 3 litre/quart capacity and grease with butter.
Sauté the Vegetables
For this breakfast strata recipe, we cook the leeks and mushrooms separately. For the leeks, melt a tablespoon of butter in a skillet on medium heat. Add the garlic and cook for 30 seconds before add the leeks to sauté and additional 3-4 minutes, until tender and bright. Transfer to a bowl and return the skillet to the heat cooking the mushrooms the same way, but for 5-6 minutes.
Make the Egg Mixture
Crack 10 eggs into a large bowl and add 1 teaspoon of each dry mustard and salt, plus ½ teaspoon of fresh ground black pepper. Whisk until well combined then add in 3 cups of milk.
Assemble the Breakfast Strata
To assemble the strata, place the bread cubes in the casserole dish. Add in about ¾ of the leeks and mushrooms, ½ the cheese and about 1 teaspoon of thyme. Mix this all together with your hands until evenly incorporated. Pour in the egg mixture, ensuring every bread cube gets completely soaked. Sprinkle on the rest of the cheese, leeks and mushrooms. Tear 6 slices of prosciutto in half and arrange on top, tucking them in and out of the bread cubes.
Styling Tip: roll your prosciutto and arrange them like a flower before placing them on your strata. The colour and style adds a feminine touch to a rather beige dish.
Bake the Strata and Cool
For best results, place the strata in the fridge for a couple hours or overnight. If you are making for right away, you can preheat the oven to 350°F and use this preheating time to allow the bread to soak up the egg. Before baking melt and pour ¼ cup of butter on top.
Bake for 1 hour, until golden brown, prosciutto crispy and eggs have set. You can test doneness by piercing the centre of the strata with a knife. If it comes out clean, it's good to go. If there is raw egg on the knife, allow to cook an additional 10 minutes. I find that the melted cheese can give an appearance of rawness, so the knife test is the best way to measure if the strata is ready.
Shop the Tools to Make a Breakfast Strata
Below are affiliate links to products that will assist you in making our strata recipe. If you purchase an item through the links, Chef Sous Chef Inc. will receive a small commission, at no additional cost to you.
Thank you for helping support us through these purchases. If you have made this recipe, please let us know in the comments below!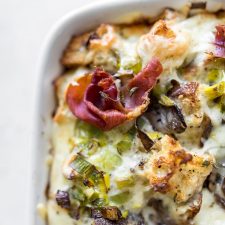 Breakfast Strata with Mushroom and Leeks
Our Breakfast Strata with Mushroom and Leeks is comforting, creamy and cheesy. Bonus points: it can be prepared the night before.
Ingredients
½

cup

butter

divided

2

large

leeks

chopped*

2

cloves

garlic

minced

8

oz

mushrooms

chopped*

10

eggs

3

cups

milk

1

teaspoon

dry mustard

1

loaf

sourdough bread

cubed

8

oz

medium cheddar cheese

grated

1

teaspoon

fresh thyme

4

oz

prosciutto

very thinly sliced

1

teaspoon

salt

½

teaspoon

pepper
Instructions
Melt 1 tablespoon of butter in a skillet on medium-high heat. Add the leeks and season with a pinch of salt and pepper. Sauté for 3 minutes, stirring often, until softened. Transfer to a bowl and return the skillet to the stove. Melt another tablespoon of butter and add the garlic. Cook for 30 seconds, then add the chopped mushrooms. Season with salt and pepper and cook for 5 minutes, until they just start to soften. They do not need to be cooked entirely through. Transfer them to a separate bowl. 

In a large bowl, whisk together the eggs, milk, dry mustard and ½ teaspoon of each salt and pepper. 

Place the bread cubes in a casserole dish or roaster. Add half of each the leeks, mushrooms, and cheese plus 1 teaspoon of thyme. Toss together until all the ingredients are evenly incorporated. Pour the egg mixture over the bread, ensuring that every bread cube gets soaked. Sprinkle remaining leeks, mushrooms, and cheese on top. Set aside to allow the bread to soak up the eggs, while you heat the oven. 

Preheat oven to 350°F. Tear the prosciutto and arrange throughout the strata, tucking it into the nooks and crannies of the bread cubes. Once the oven is preheated, melt and drizzle remaining butter evenly over the strata. Place in the oven to bake for 1 hour, or until golden brown on top and the eggs have set. 
Notes
Only the very light green and white parts of the leek are edible. Cut off the tough, darker green portions of the leeks. Leeks are also usually very dirty. To clean, slice the leeks and transfer to a large bowl of water. Shake and grate the leeks with your finger tips, then transfer to a sieve set over a bowl. Use your hands to do this, otherwise you will end up pouring the dirt back in. Do this a second time if necessary.
A mix of mushrooms produce wonderful results. We used an equal combination of cremini, portabello, oyster, and shiitake mushrooms for this recipe.

 

This is a great make ahead recipe. Follow steps 1-3 then place the strata, covered in the fridge overnight. Remove from your refrigerator 20 minutes before baking.
Nutrition
Calories:
336
kcal
Carbohydrates:
28
g
Protein:
18
g
Fat:
17
g
Saturated Fat:
8
g
Polyunsaturated Fat:
2
g
Monounsaturated Fat:
6
g
Trans Fat:
1
g
Cholesterol:
170
mg
Sodium:
660
mg
Potassium:
322
mg
Fiber:
1
g
Sugar:
6
g
Vitamin A:
762
IU
Vitamin C:
3
mg
Calcium:
266
mg
Iron:
3
mg
Have you tried this recipe?
Tag us on Instagram @chef.souschef or use the hashtag #chefsouschef and let us know how it was!