Our Burrata Caprese is a vibrant explosion of fresh Italian flavors including ripe tomatoes, fresh basil, and creamy burrata. With a simple yet sophisticated twist on the classic caprese, this tomato Italian salad can be made in 10 minutes and requires only a few fresh ingredients.
Jump to:
Sometimes the simplest things turn out the be the most inspiring, and this Burrata Caprese is no exception. An effortless tomato Italian salad with burrata, basil, olive oil, and salt, this recipe is a favorite of ours we've tested it so many times that it's now become a staple in our home. It's so simple you probably don't even need a recipe to make it at all, but, spoiler alert, we're going to share it anyway.
A slight twist on the classic, our Burrata Caprese is made with – well, as the name alludes to – burrata cheese. A solid outer layer made from fresh mozzarella, burrata is filled with a lush mixture of cheese curds and cream. It's a cheese with presence.
Swapping mozzarella for burrata, our Burrata Caprese is made by tossing ripe tomatoes with olive oil, fresh basil, and flakey sea salt. It's then finished with additional basil, a whole burrata, and an extra drizzle of extra virgin olive oil.
When sliced through, the burrata oozes onto the tomatoes taking on its acidy, and when combined with fragrant basil and olive oil, is a refreshing bite that's velvety, sweet, and tangy. These simple yet sophisticated ingredients make this tomato Italian salad the perfect summer salad that comes together in 10 minutes.
Serve our Burrata Caprese as an appetizer to our Cacio e Pepe Pizza, Creamy Lemon Gnocchi, or Pork Parmigiana Burgers.
Ingredients
Simple and few high-quality ingredients makes for a flavorful and beautiful Burrata Caprese. See the recipe card for quantities.
Tomatoes: If you can find them, Heirloom tomatoes provide the most flavor. Look for Brandywine, Black Krim, or Cherokee Purple which give you a beautiful presentation with irregular shapes and color variations. We added grape tomatoes for additional texture and they just add a little something to the salad.
Basil: Fresh always but do not cut it, tear it if needed. Choose a mix of large and smaller leaves and ensure it's thoroughly washed and dried before using.
Olive Oil: Use high-quality Italian olive oil possible. Look for first pressed, unfiltered extra virgin olive oil for a more flavourful and least processed option. Also look for the Protected Designation of Origin (PDO or DOP) label which ensures you a purchasing an authentic, high-quality ingredient.
Maldon Sea Salt Flakes: The unique shape of Maldon Sea Salt Flakes give a fresh, clean, and delicate flavor. It is completely natural and therefore maintains its essential minerals such as iron, potassium, and zinc.
Burrata Cheese: An Italian cheese, made of cow's milk, that resembles mozzarella. The only difference is when cut into it, burrata is filled with a lush and delicate mixture of cream and cheese curds.
Step by Step: How to Make Burrata Caprese
Slice grape tomatoes in half crosswise.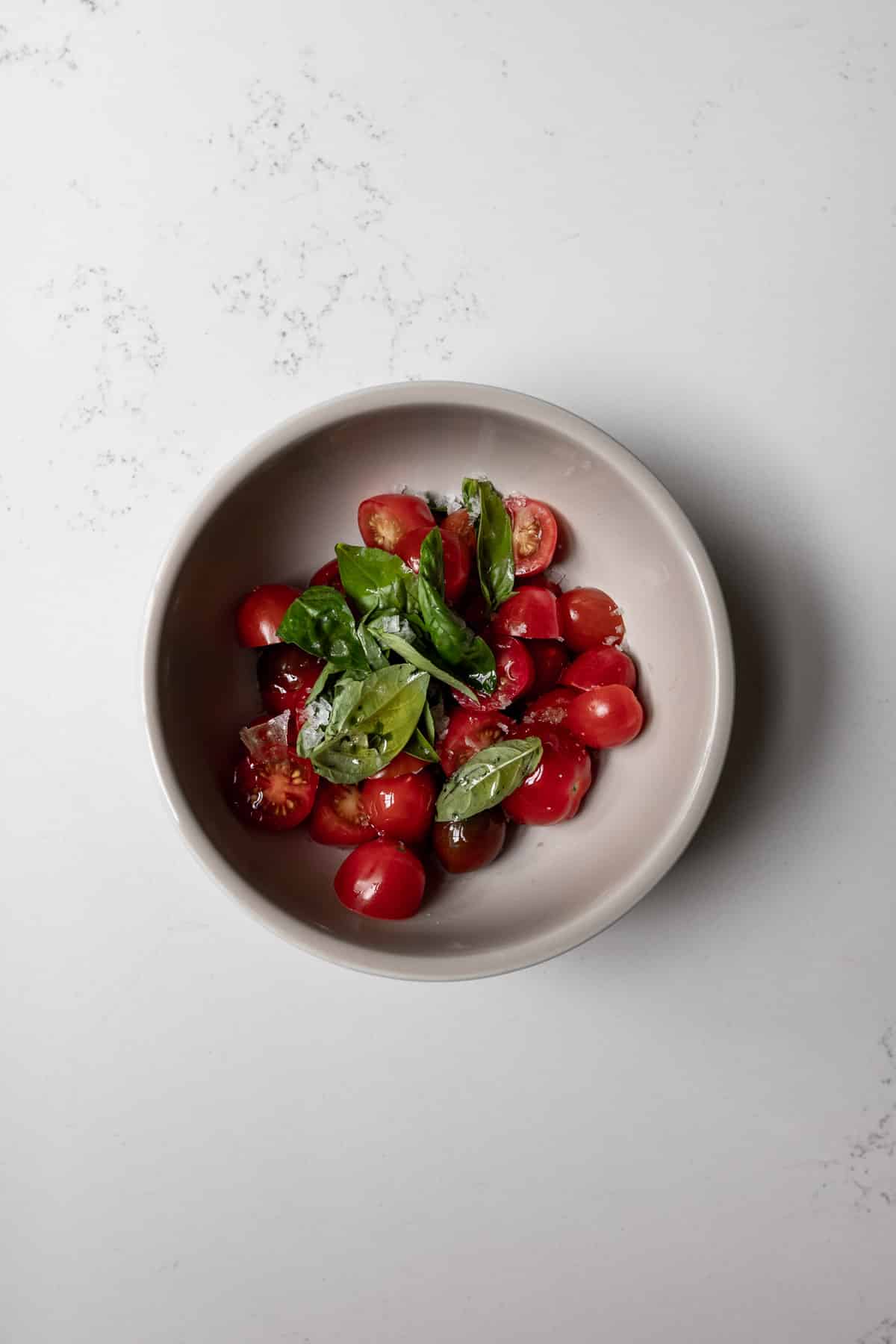 Add basil, olive oil, and salt, then toss.
Slice heirloom tomatoes crosswise.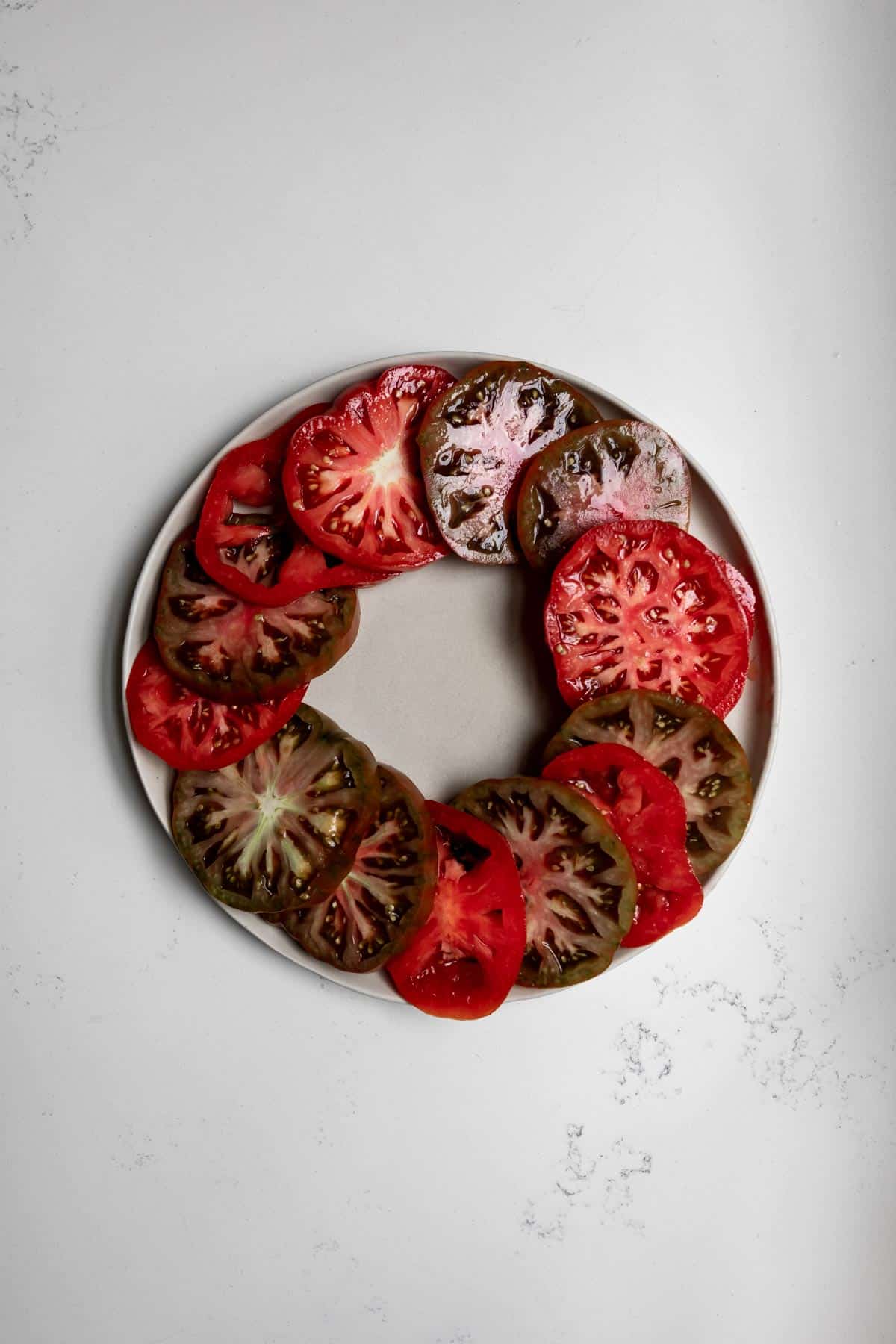 Arrange the heirloom tomatoes on the outer edge of a large plate.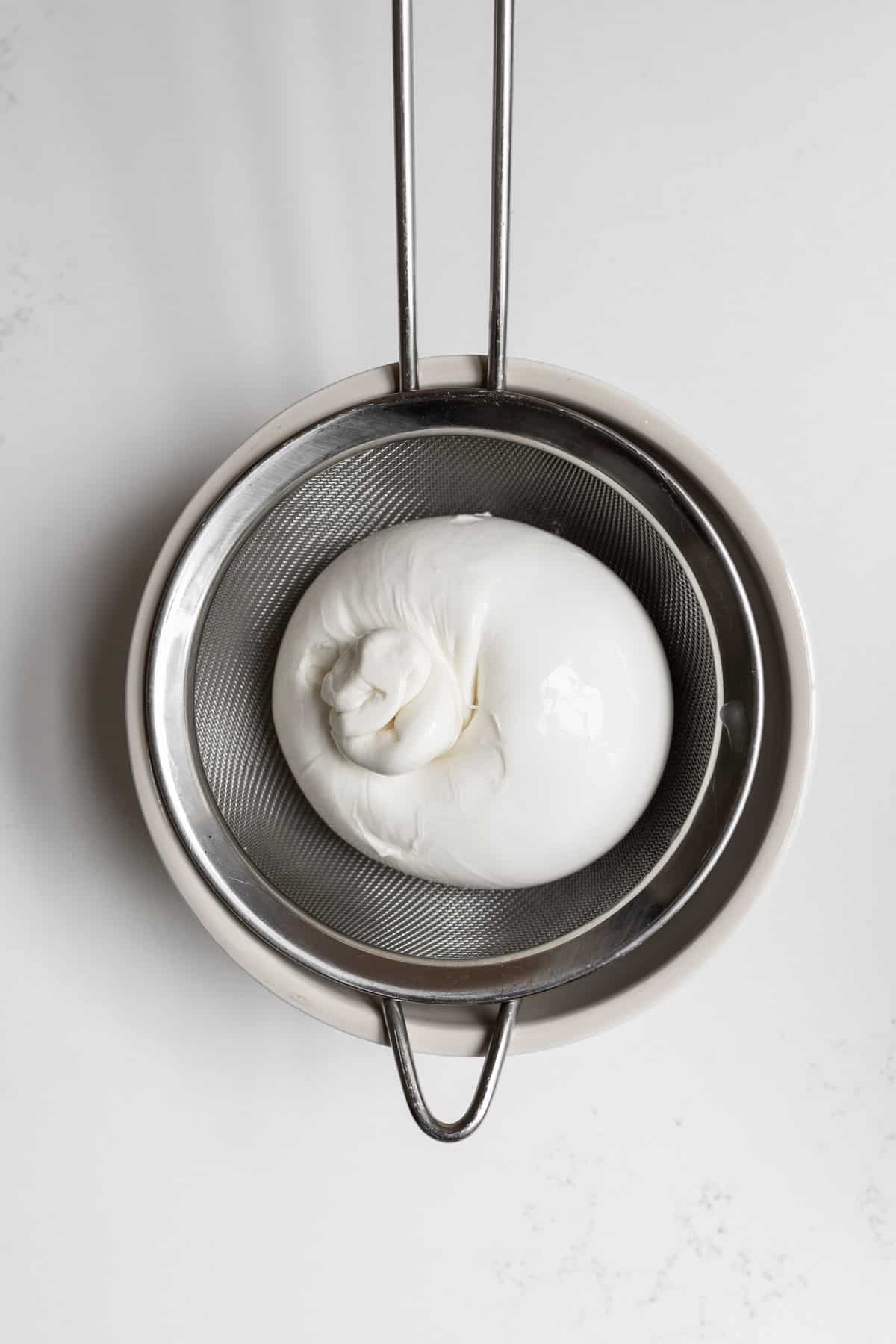 Drain the water and place the ball of burrata cheese in a sieve for a minute.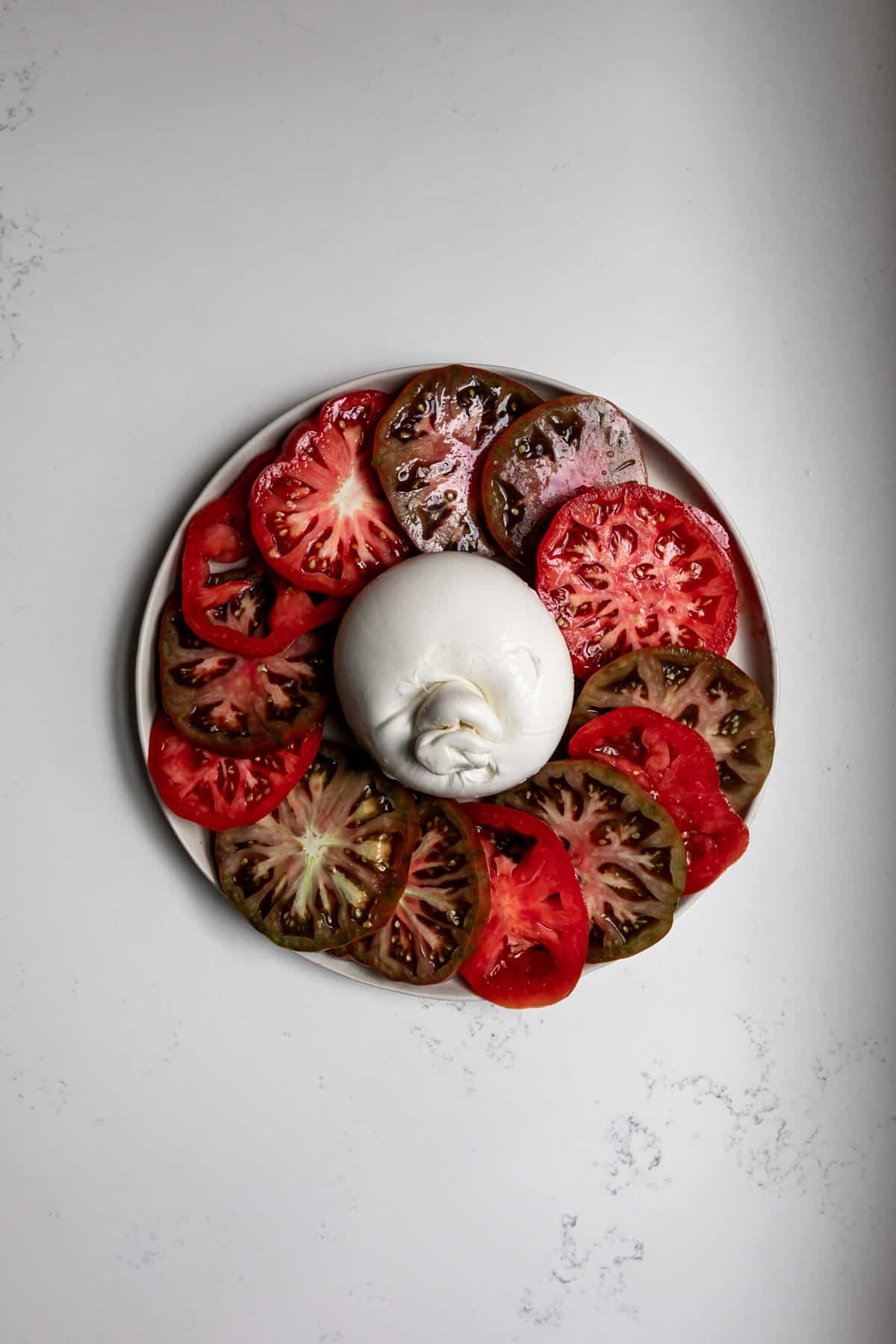 Place the burrata cheese in the center of the heirloom tomatoes. Season with salt.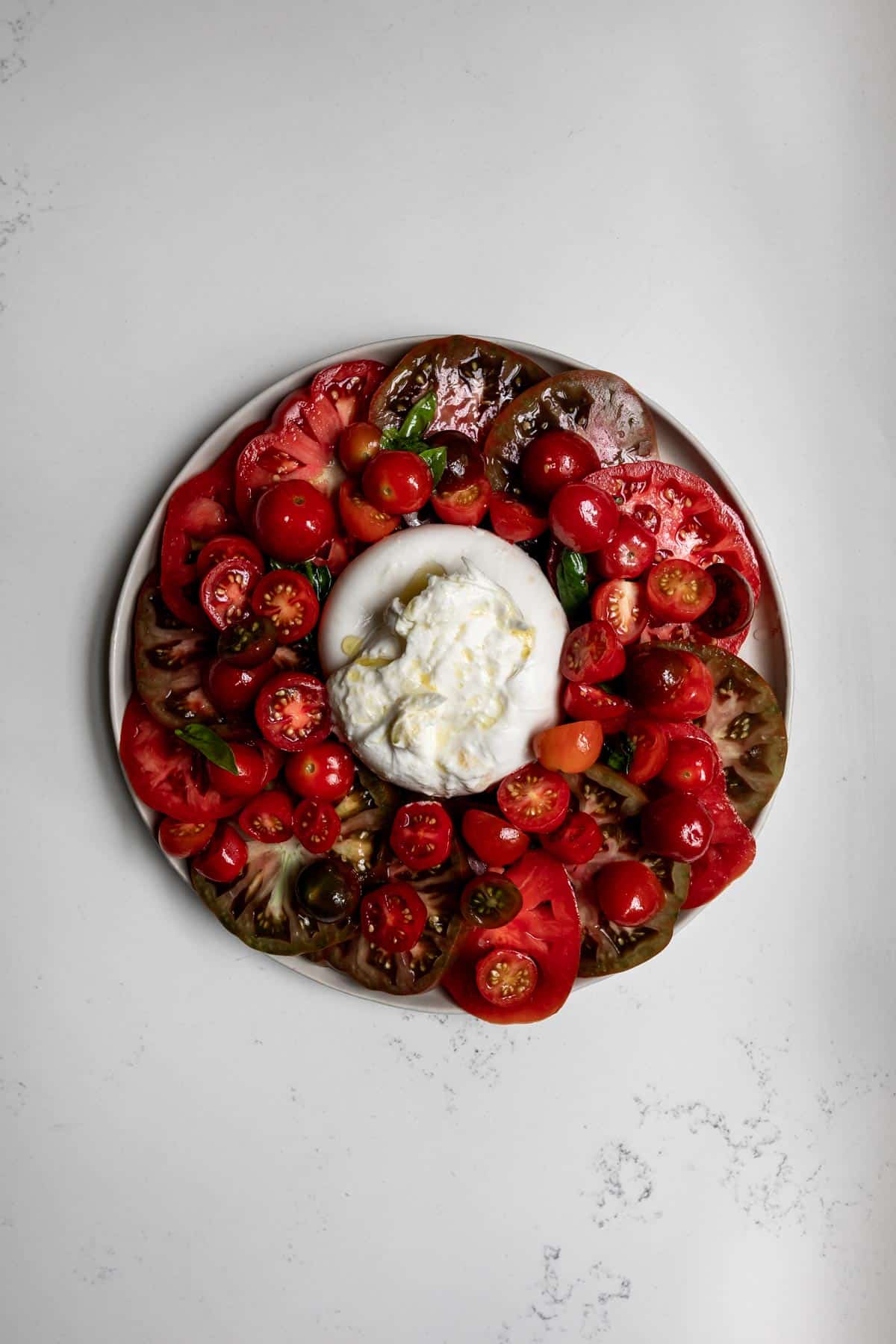 Arrange grape tomatoes around the burrata and drizzle everything with olive oil.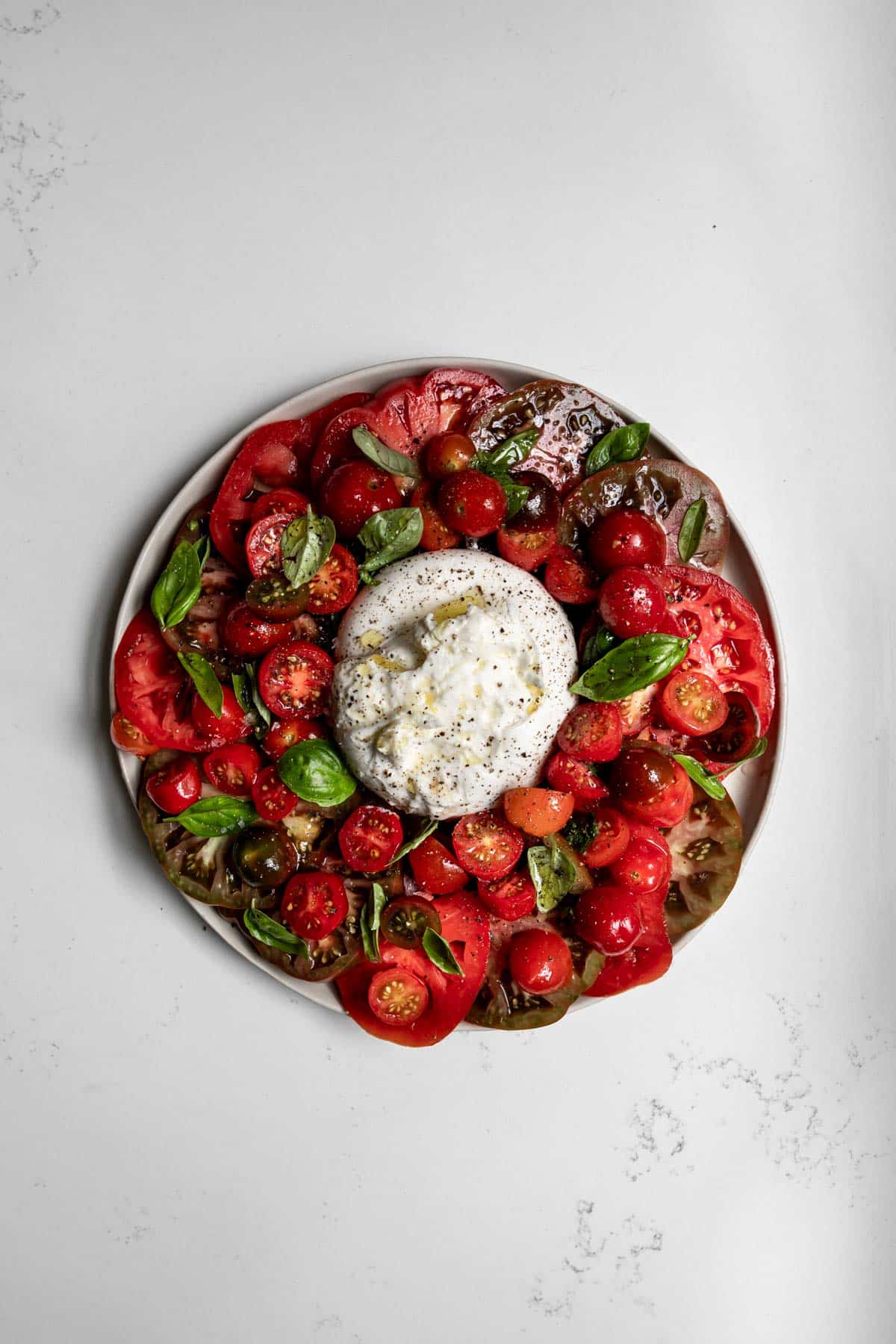 Finish the salad with a sprinkling of fresh basil, flaky sea salt, and fresh black pepper.
Substitutions
Tomatoes: The flavor and texture of heirloom tomatoes work well for a caprese salad, but if unavailable use a nice vine-ripened tomato.
Burrata: The creaminess and subtle flavor of burrata pairs incredibly with the acidity of the tomatoes, but if sharing with a group or if you're not eating it immediately, a fresh, soft, mozzarella (preferably buffalo mozzarella) will be ideal.
Flaky Sea Salt: Maldon Salt is our preferred because of its pyramid shape, unique texture, and clean taste, but any flaky sea salt will work.
Variations
Burrata Caprese is a tomato Italian salad using simple and quality ingredients that can easily be used in other dishes.
Peach Caprese Salad: Swap tomatoes for peaches. It's a bright and vibrant swap that pairs well with basil and burrata. You can grill the peaches for even more flavor!
Caprese Salad Sandwich: Grill crusty bread like baguette or ciabatta with olive oil and spread the burrata overtop. Layer tomato slices tossed with olive oil and salt, basil, and a top bun. Enjoy!
Equipment
To make our Burrata Caprese it requires a mixing bowl, a platter, and a knife. If you can, invest in good olive oil, and flaky sea salt to add more flavor to the salad. Here are the tools we use in our kitchen for making Burrata Caprese.
The links below are affiliate links. Purchases made through affiliate links will pay us a small commission at no additional cost to you. Duralux Glass Mixing Bowls -

Opinel Serrated Knife
Maldon Sea Salt
Le Creuset Dinner Plates
Duralex Glass Bowls
Storage
Burrata Caprese is best enjoyed immediately.  It will not keep well as leftovers. Also, based on how incredible this salad is, there shouldn't be any leftovers.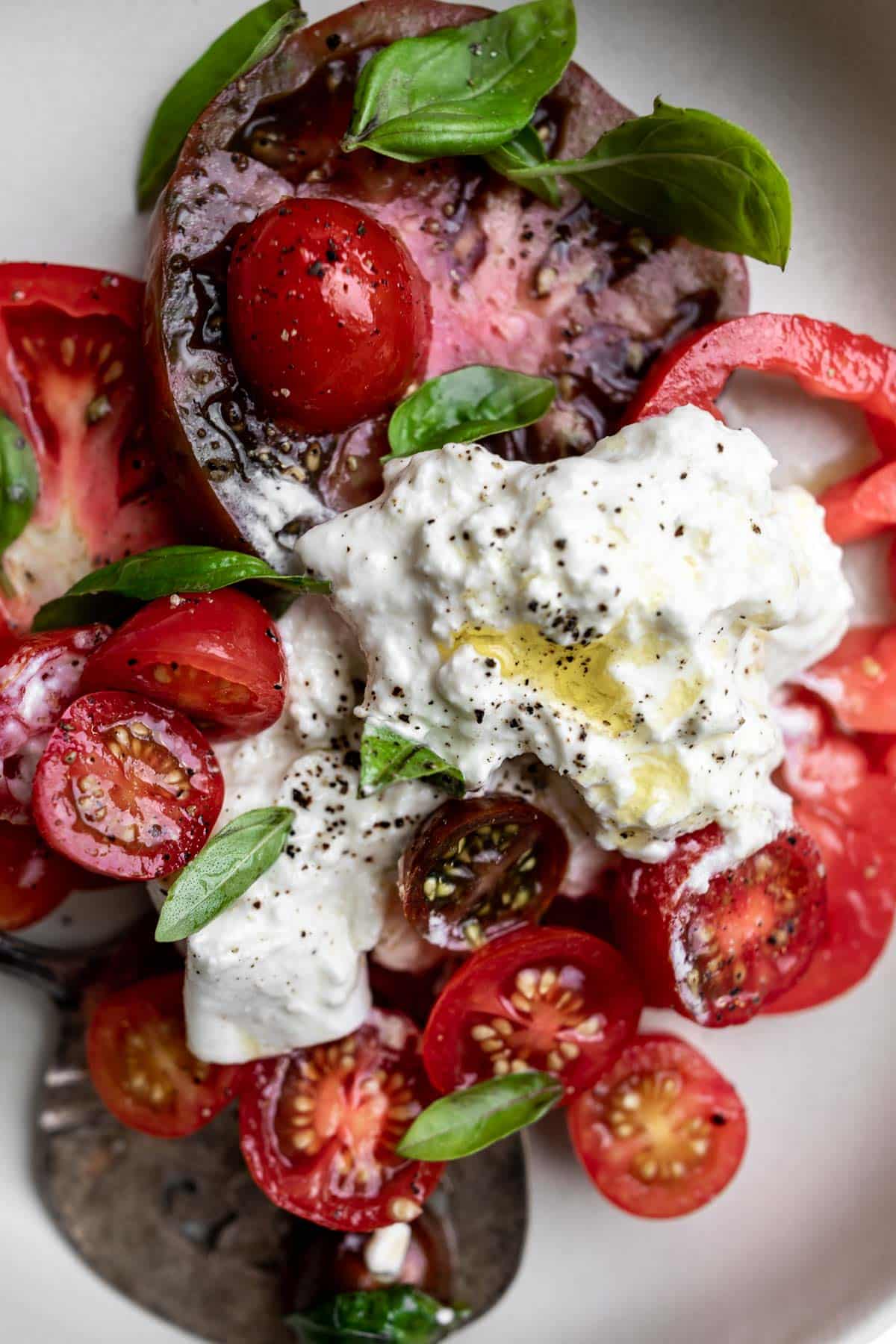 Chef's tip
Tomato skin is tough but the flesh is delicate. Slice the tomatoes using a very sharp chef's knife or a serrated knife.
FAQ
What is caprese salad?
Caprese salad is a tomato Italian salad inspired by the Campania region of Italy. Traditionally made with ripe tomatoes, fragrant basil, milky mozzarella, and olive oil, it's a simple salad that honors the red, white, and green colors found on the Italian flag.
What is burrata?
Burrata is a semi-soft Italian cheese. It is made with a mozzarella shell that is wrapped around delicate cheese curds and cream. While it visually resembles mozzarella, the difference lies when you cut into it releasing a delicate, creamy interior.
Where to buy burrata cheese?
While most major grocery stores carry mozzarella, burrata may be a bit more difficult to find. If your grocer doesn't have burrata, a specialty Italian grocer or high-end supermarket definitely should. 
How to prepare burrata?
Burrata must be kept in water to retain its moisture. Before serving it, remove the burrata from the water and drain well, letting it sit for a few minutes in a sieve or cheesecloth. Place burrata on top of your salad and cut it right before serving or the creamy cheese will ooze out.
Can you store cut burrata?
We don't recommend storing burrata. Burrata is stored in brine and is filled with cream and curds. If you do have to store it, we recommend scooping it into a small airtight container and using it as quickly as possible to prevent it from drying out.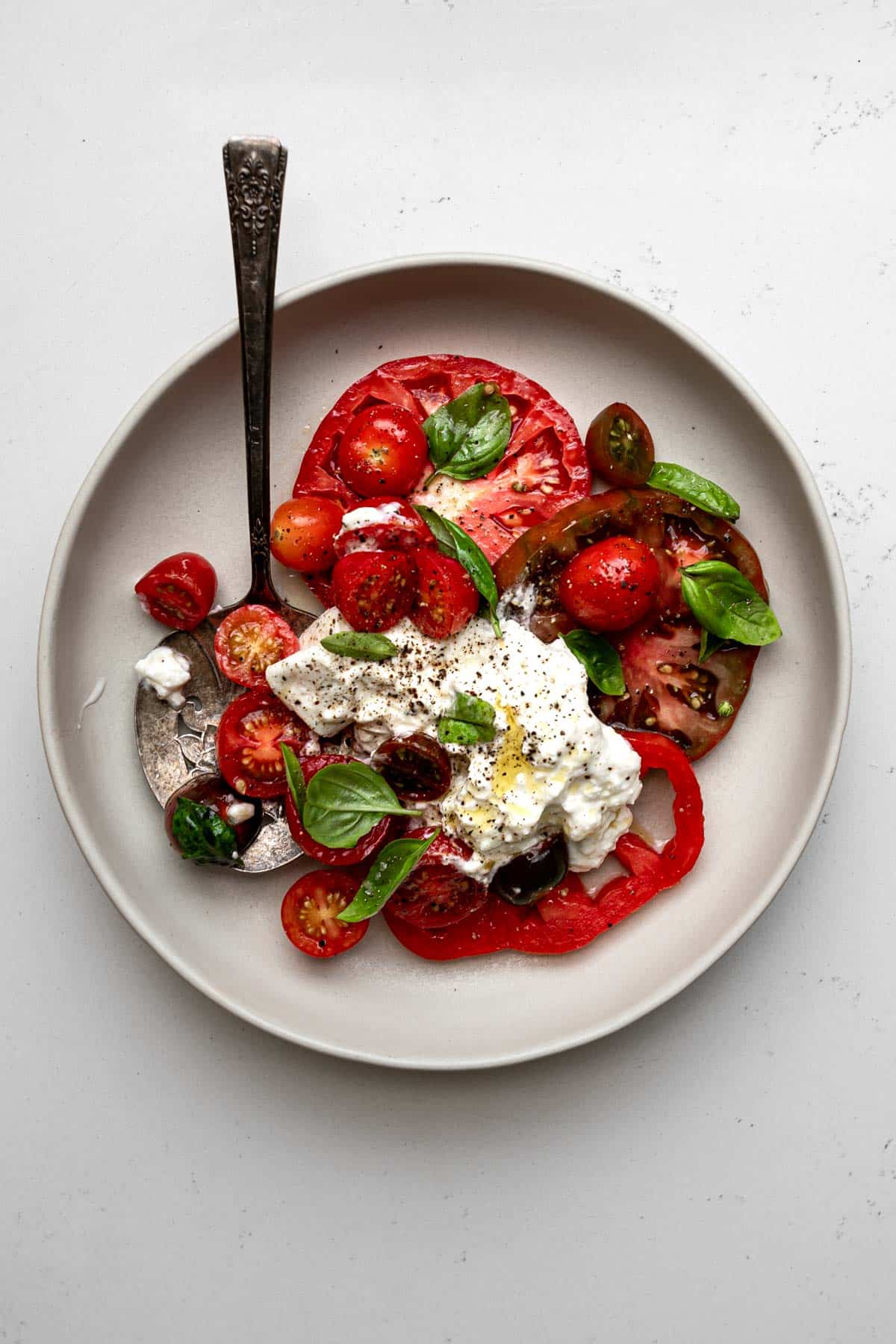 Related
Looking for other recipes like this? Try these:
Pairing
These are my favorite dishes to serve with burrata caprese:
Recipe Card
Burrata Caprese
This simple Italian salad is dressed authentically with just olive oil, basil, and flaky sea salt (no balsamic vinegar), but has a slight twist using burrata cheese, and a mix of heirloom and grape tomatoes.
Ingredients
½

lb

grape tomatoes

halved crosswise

1

bunch

fresh basil

about 20 small leaves

7

tablespoon

good quality extra virgin olive oil

1

teaspoon

flaky sea salt

3

medium

heirloom tomatoes

sliced crosswise ¼ inch thick

½

lb

burrata cheese

¼

teaspoon

fresh ground pepper
Instructions
Place grape tomatoes and half the smallest leaves of basil. Drizzle with 2 tablespoons of olive oil and a pinch of salt. Toss and set aside.

Arrange heirloom slices on the outer edge of the plate.

Strain the burrata cheese and place it in a sieve for a minute or two to allow any remaining water to drain off. Place in the middle of the plated tomatoes. Tear open the top of the burrata just enough to expose the creamy center.

Season the tomatoes and burrata with a pinch of salt and drizzle with 3 tablespoons of olive oil.

Arrange the grape tomatoes around the burrata cheese. Sprinkle with remaining small basil leaves, then finish with salt, olive oil, and a few cracks of black pepper.

To serve, place a few tomato slices and grape tomatoes on a salad plate. Cut a small piece of the burrata and place on the tomatos and spoon some of the cream curds overtop.
Video
Notes
Tomatoes: Look for
Brandywine
,
Black Krim
, or
Cherokee Purple heirloom tomatoes. If you cannot find heirloom tomatoes, use vine-ripened tomatoes or your favorite variety.
Nutrition
Calories:
772
kcal
Carbohydrates:
12
g
Protein:
22
g
Fat:
78
g
Saturated Fat:
23
g
Polyunsaturated Fat:
5
g
Monounsaturated Fat:
36
g
Cholesterol:
81
mg
Sodium:
1179
mg
Potassium:
722
mg
Fiber:
4
g
Sugar:
8
g
Vitamin A:
3488
IU
Vitamin C:
42
mg
Calcium:
640
mg
Iron:
1
mg
Have you tried this recipe?
Tag us on Instagram @chef.souschef or use the hashtag #chefsouschef and let us know how it was!