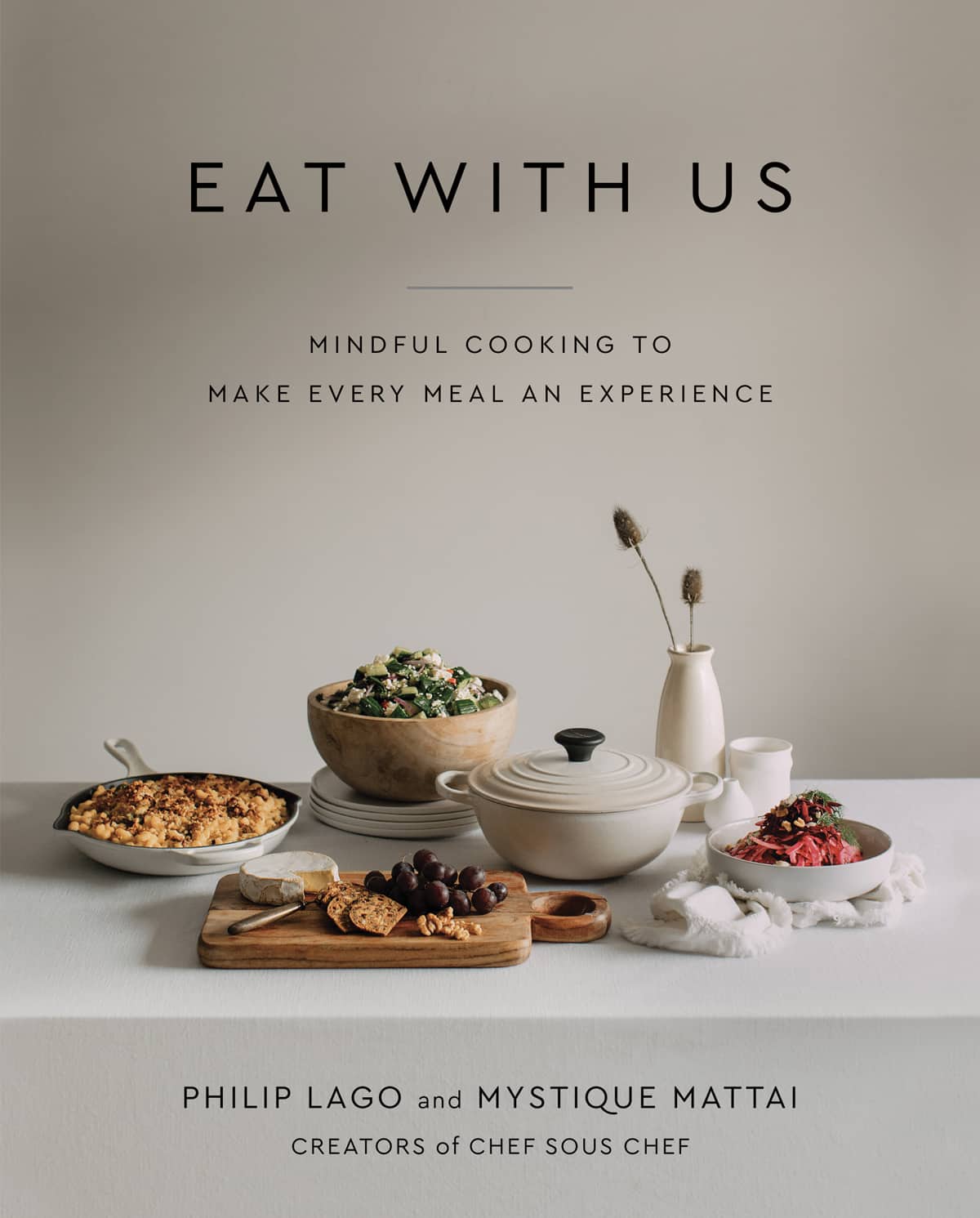 Mindful Cooking to Make Every Meal an Experience
Consider a slower, more mindful approach to cooking and eating together. A way to disconnect from the outside world's distractions and truly connect to each other and yourself. A moment to take the time to enjoy and elevate the experience of every day cooking. For Philip and Mystique (the co-creators and couple behind the blog Chef Sous Chef), this approach in the kitchen is a way of life. Mystique is the "sous" to Philip's "chef," and through her elegant, authentic touches, his delicious dishes come to life. In their debut cookbook, they share their simple, stunning recipes, and the stories and memories behind them.
In Eat with Us, Philip and Mystique invite you to read, cook, eat, savor, connect and unwind.
Now Available In-Store and Online
Order in Canada
Order in USA
---
Pre-Order Bonus Bundle
Pre-order Eat With Us now to get access to our exclusive recipe + content bundle. This bonus contains 5 brand new recipes, exclusive to this package, with everything you need to prepare a romantic breakfast in bed!
Here's how to claim your bundle:
1. Pre-order Eat with Us.
2. Send an email to [email protected] with your name and order number/confirmation from any retailer.
3. You'll receive an email with a link to download the bundle!
---
Recipes
The recipes in the Eat with Us cookbook are inspired by Philip and Mystique's family favorites growing up and the multicultural city they live in. The chapters are organized by occasion to reflect the way we truly eat today: Simple (weekday meals), Comfort (food for the soul), Lavish (special occasions), Al Fresco (dining outdoors), and Feasts (larger parties). From breakfast to dinner, and salads to sweets, these recipes celebrate and elevate home cooking.
Meet Philip and Mystique
Philip first developed his passion for cooking after spending a summer in Europe, and continues to hone his culinary skills by attending courses at George Brown College in Toronto. He is the co-founder of Chef Sous Chef with his wife, Mystique, and is the recipe developer and website manager for the blog.
Mystique holds a degree in Art History, Professional Writing and Communications, and has spent her career working in digital and content marketing. She co-founded Chef Sous Chef with her husband, Philip, and is the writer, editor, food stylist and photographer for the blog.
Together they live in Toronto, Canada with their little one Lennox, and their dog, Kitty.
Follow us on Instagram and tag #EatWithUsCookbook