BBQ Beef Kebabs marinated in soy sauce, garlic, ginger, rice wine vinegar and sesame oil, and are what summer grilling dreams are made of.
When Philip and I attend a BBQ or grill on our own, we hardly ever reach for a kebab. To us, it's one of those odd food combinations; raw meat and veggies served on a stick and slathered in a mystery sauce. Not only is it unappealing, but it's sort of a lazy cook's take on BBQ (meat + stick) – I mean, how do your meat and veggies cook to the same temperature and timing?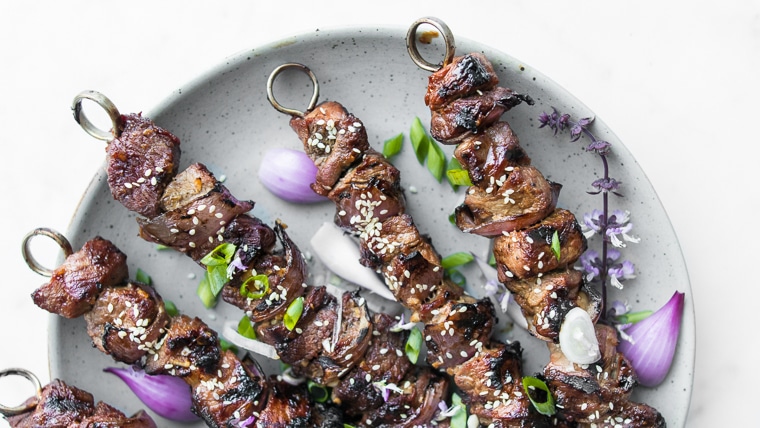 With record high temps in Toronto this summer, we've been looking for cooking alternatives that allow us to easily cook outdoors. Whether at a friend's BBQ, camping or picnicking in the park, any recipe that means we don't have to turn on our oven and stove is good one. Enter the return of the kebab, more specifically the beef kebab. Easy to prep, cook and serve, the beef kebab has made a 2018 return and is a tidy little meat and veggie package, easy for transporting.
No mystery about the sauce, we opted for as Asian-style slather over our BBQ Beef Kebabs with sweet and sour flavours. Marinating for almost two hours, we skewered the meat on our metal sticks and instead of loading up with raw veggies, we include quarters of a red onion, giving off additional flavour to the beef before BBQing. Once cooked, top with sesame seeds and additional scallions.
What you're left with is a kebab worth grabbing at your next BBQ. Oozing in sesame, garlic and ginger, each piece of the kebab highlighted notes of sweet and sour, and was an explosion of flavour on a stick. Serve over a salad, rice or with sides of additional BBQ veggies.
How to Make Sweet and Sour BBQ Beef Kebabs
Ingredients List:
Beef sirloin steaks, soy sauce, brown sugar, sesame oil, rice vinegar, garlic, ginger, red onion, green onions, sesame seeds.
Step 1: Make the Marinade
Combine soy sauce, brown sugar, sesame oil, vinegar, garlic and ginger in a medium bowl. Cut the beef into one inch cubes, add to marinade and toss to coat. Place in the fridge for a minimum of two hours to marinate. If you're using wooden skewers, be sure to soak them for at least two hours so they don't catch fire.
Step 2: Assemble the Kebabs
Cut a red onion into one inch squares and separate the layers. Thread red onion and beef alternately onto the skewers until full.
Step 3: Grill, Style and Serve
Preheat your bbq on medium-high heat. Grill the kebabs, turning, until the ingredients are charred and cooked to desired doneness, 2-3 minutes per side, 10 minutes total. Finish with a sprinkling of sesame seeds and scallions.
Helpful Tools for Making Our Sweet and Sour BBQ Beef Kebabs
Below are affiliate links to products that will assist you in making our Sweet and Sour BBQ Beef Kebab recipe. If you purchase an item through the links, Chef Sous Chef Inc. will receive a small commission. There is no additional cost to you.
Thank you for helping support us through these purchases. If you have made this recipe, please let us know in the comments below!
Recipe Card
Sweet and Sour BBQ Beef Kebabs
Easy to prepare and quick to cook, our Sweet and Sour BBQ Beef Kebabs are what summer dreams are made of. Sweet from the brown sugar, sour from the vinegar, and an explosion of flavour from the ginger and garlic, will have you wanting to make these for every bbq or camping trip.
Ingredients
2

lbs

beef sirloin steaks

cut into 1 inch cubes

½

cup

low sodium soy sauce

½

cup

brown sugar

⅓

cup

sesame oil

¼

cup

rice wine vinegar

6

cloves

garlic

finely minced

1

tablespoon

grated ginger

1

red onion

2-3

green onions

sliced

1

tablespoon

sesame seeds
Instructions
No. 1 | In a medium bowl, whisk together the soy sauce, brown sugar, sesame oil, vinegar, garlic, and ginger until combined and sugar is dissolved. Add the meat and toss until it's well coated. Cover the bowl and place in the fridge to marinate for at least 2 hours, and up to 8 hours.

No. 2 | Peel the red onion and cut off the top and bottom. Slice in half lengthwise, then slice again lengthwise so you have 4 pieces. Cut each quarter in half crosswise, so you have about 1 inch square pieces. Separate each layer of the onion.

No. 3 | Using metal skewers, thread two pieces of beef, then a piece of onion and repeat until the skewer is full. Repeat with each skewer. It should make 6 skewers in total.

No. 4 |Preheat your barbecue or grill pan on high. Sear each side of the skewer for 2-3 minutes, basting with the additional marinade as they cook. Once all four sides have nice char marks, remove from grill and allow to rest for 5 minutes before serving.

No. 5 | To serve, sprinkle with green onions and sesame seeds.
Notes
If using wooden skewers, ensure to soak them in water for at least two hours prior to barbecuing, to prevent them from catching fire and burning.
Have you tried this recipe?
Tag us on Instagram @chef.souschef or use the hashtag #chefsouschef and let us know how it was!