Sweet, spiced, and everything nice, there is no mistaking that our homemade Spiked Eggnog will warm your soul and make your spirits bright just in time for the holidays.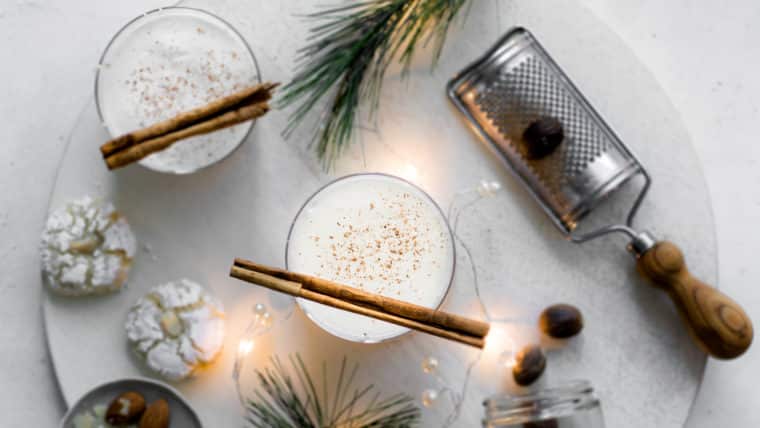 If there is one thing we look forward to during the holidays, it's the seasonal foods that seem to make it onto our tables just once a year. For us, that includes our Christmas Morning Wife Saver, Panetonne, Christmas Cookies, and of course, Eggnog. And we're not talking about the liquid sugar you find in the cartons that pop up in grocery stores at the start of December.
This eggnog is special. It is a recipe past down from Philip's Grandma, coming from her personal collection of handwritten recipes. This Spiked Eggnog Recipe is not for the faint of heart. It starts with a base of whipped egg yolks, sugar, and milk. Alcohol, and lots of it, is added to prevent any possible chance of contamination from sitting out during an extended party.
What makes this recipe unique is the addition of fresh zest from a lemon and orange resulting in a subtly sweet, rich, bright, and boozy drink that you scoop vs pour, and that will have you rockin' around the Christmas tree from the very first glass.
What is Eggnog?
Eggnog is synonymous with Christmas, being served throughout North America from early December through to New Year's. Also known as milk punch or egg milk, eggnog is traditionally made with eggs, milk, cream, and sugar with the option of adding various alcohols and spices such as nutmeg or cinnamon.
What Does Eggnog Taste Like?
When you think of what goes into eggnog, it's not too hard to imagine what it would taste like. Eggs, cream, and sugar are main components of ice cream, so eggnog does have a remarkably similar taste to melted ice cream.
How to Make Spiked Eggnog
What is Spiked Eggnog Made of?
Our spiked eggnog recipe uses just a handful of simple and readily available ingredients; eggs, icing sugar, whole milk, heavy cream, nutmeg, orange, lemon, rum, and cognac.
Step One: Make the Base
Separate eight eggs, placing the egg yolks in a very large bowl and egg whites in a separate medium to large bowl and set aside.
Add a cup of icing sugar to the egg yolks and whisk until pale yellow with a light and airy texture. Stir in 3 cups of milk and ¾ cups each of rum and cognac. Feel free to substitute either or both of the alcohols. Bourbon, Kahlua, and amaretto will all work nicely with this recipe.
Step Two: Add the Egg Whites
Beat the egg whites until they form soft peaks. Add them to the eggnog base and gently fold them in until well incorporated. Place the eggnog in the fridge for two hours or more.
Step Three: Add the Cream and Flavouring
After the eggnog has marinated, whip 3 cups of heavy cream until slightly thickened. Stir in the zest of one orange, and one lemon. Mix the cream into the eggnog until smooth. Grate fresh nutmeg over top before serving
Aging Spiked Eggnog
In researching aged eggnog, it is an option to do so. According to Alton Brown's Aged Eggnog Recipe, it requires 20% alcohol volume and suggested aging is a minimum of 2 weeks. We will be aging this and will report back our results.
Shop our Spiked Eggnog Recipe
Shop the look, shop the styling, shop the recipe
Below are affiliate links to products that will assist you in making our Spiked Eggnog with Rum recipe. If you purchase an item through the links, Chef Sous Chef Inc. will receive a small commission. There is no additional cost to you.
Thank you for helping support us through these purchases. If you have made this recipe, please let us know in the comments below!
Recipe Card
Homemade Spiked Eggnog Recipe
Sweet, spiced, and everything nice, there is no mistaking that our homemade Spiked Eggnog will warm your soul and make your spirits bright just in time for the holidays.
Ingredients
8

eggs

separated

1

cup

icing sugar

3

cups

whole milk

3.8%

¾

cups

dark rum

¾

cups

cognac

3

cups

heavy cream

1

lemon

zested

1

orange

zested

Freshly grated nutmeg
Instructions
Place egg yolks in a very large bowl. Add sugar and whisk until light and airy with a pale yellow colour. Stir in the milk, rum and alcohol.

In a separate large bowl, beat the egg whites until soft peaks form. Scrape the egg whites into the yolk mixture and fold until well incorporated. Transfer the eggnog to the fridge for at least two hours.

Beat the cream in a medium bowl until thickened, but still runny. Zest the lemon and orange overtop, then stir the cream into the eggnog. Grate fresh nutmeg overtop.

Return the eggnog to the fridge to chill until serving, or transfer to mason jars if serving at a later date. Serve with an additional sprinkling of nutmeg, cinnamon or whipped cream.
Notes
Aging for any period of time is only advised if the alcohol makes up at least 20% of the volume of eggnog.
Nutrition
Calories:
301
kcal
Carbohydrates:
13
g
Protein:
5
g
Fat:
20
g
Saturated Fat:
12
g
Polyunsaturated Fat:
1
g
Monounsaturated Fat:
6
g
Trans Fat:
1
g
Cholesterol:
148
mg
Sodium:
68
mg
Potassium:
149
mg
Fiber:
1
g
Sugar:
11
g
Vitamin A:
869
IU
Vitamin C:
8
mg
Calcium:
98
mg
Iron:
1
mg
Have you tried this recipe?
Tag us on Instagram @chef.souschef or use the hashtag #chefsouschef and let us know how it was!