A fun craft project that reduces plastic use, food waste and expenses, our method for making Reusable DIY Beeswax Wraps is simple and effective and aims to reduce your carbon footprint while having fun in the kitchen.
Philip and I were recently gifted a pack of reusable food wrappers and at first, we didn't really know what to do with them. We had seen them in boutique kitchen stores, food conferences and local farmer's markets, and we're always curious but just never brought ourselves to actually use them.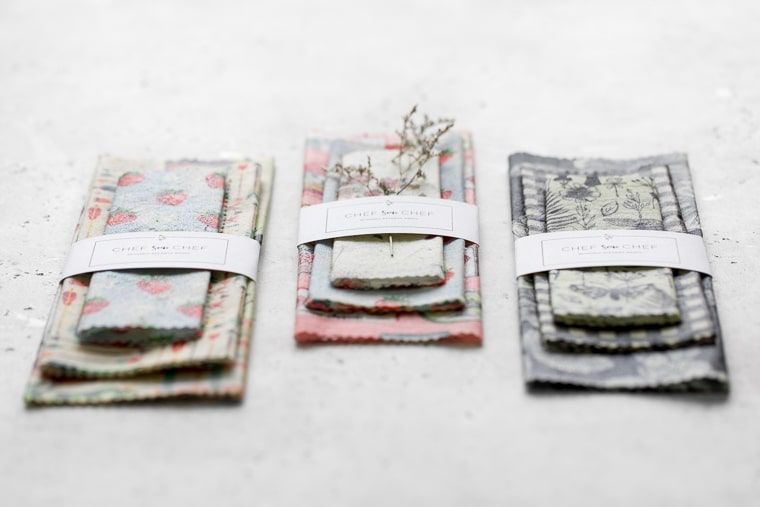 After having sat in our drawer for a few weeks, it wasn't until we were out of plastic wrap that Philip decided to give them a try. He had wrapped half a lime and a bunch of leftover cilantro carefully in the beeswax wraps and placed them in the refrigerator. A week later, expecting the herbs to have turned bad, Philip opened the wrap to reveal fresh and bright cilantro.
What we love about beeswax wraps is that they are an eco-friendly alternative to using plastic wrap, they're made from natural ingredients and they last up to a year with gentle care and wash. Our favourite part? Browsing the fabric store for fun patterns that are personalized to our tastes.
What are Beeswax Wraps?
Beeswax wraps are a natural alternative to plastic wrap. Pieces of cotton fabric are saturated in a mixture starting with a base of beeswax and usually mixed with some form of resin and oil. The wraps are pliable and breathable, allowing them to be molded over food or containers while keeping its contents fresh. They can be used on almost any food (except raw meat) and can be cleaned simply with cold water and mild detergent.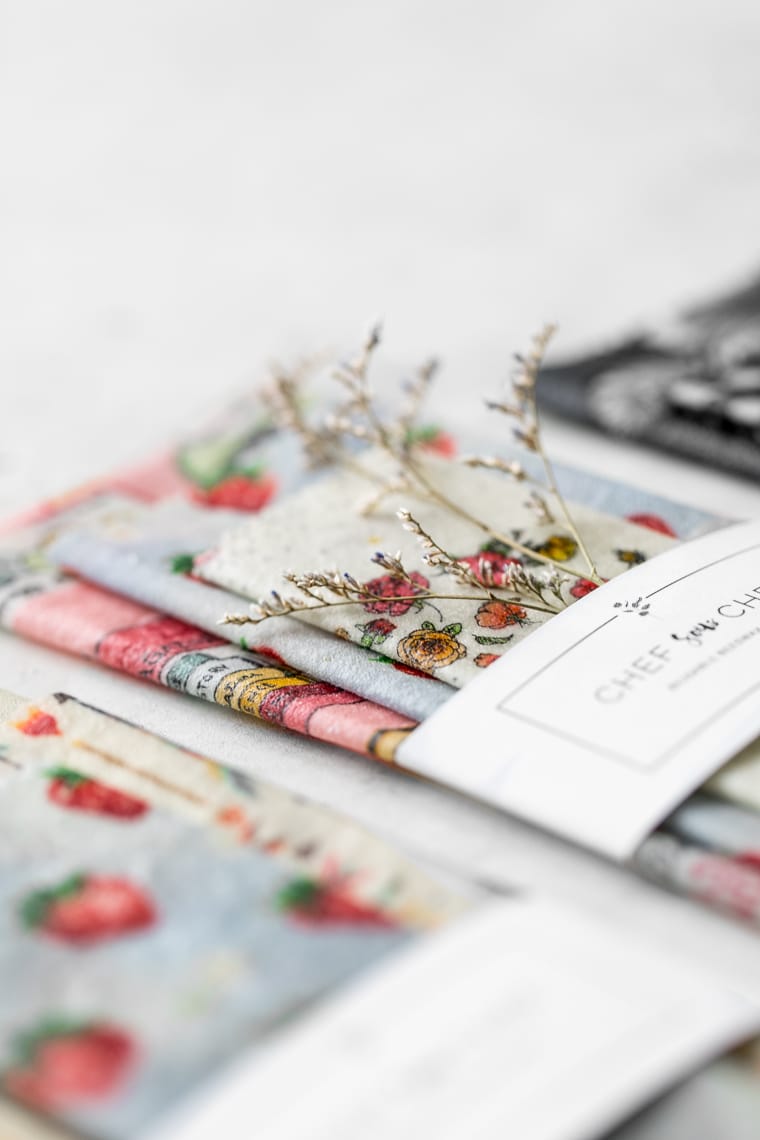 If we could find one criticism for beeswax food wraps it is the expense. Reusable food wrappers don't come cheap, usually about $20 for a 3-pack. We had seen some videos on Instagram of people making them and knew it was something we could likely make ourselves and began searching articles on how to make the best reusable food wraps.
How to Make Beeswax Wraps
There are many variations out there from the super simple method of sprinkling beeswax on fabric and popping them in the oven or ironing them between parchment, to ones a little more complex involving tree resins and oils. We reviewed the pros and cons of each method, finding that using just beeswax, while the simplest method, lacked sealing ability and tended to degrade more quickly. Adding a resin and oil to the beeswax provided the stickiness you needed for a good seal while allowing them to be pliable.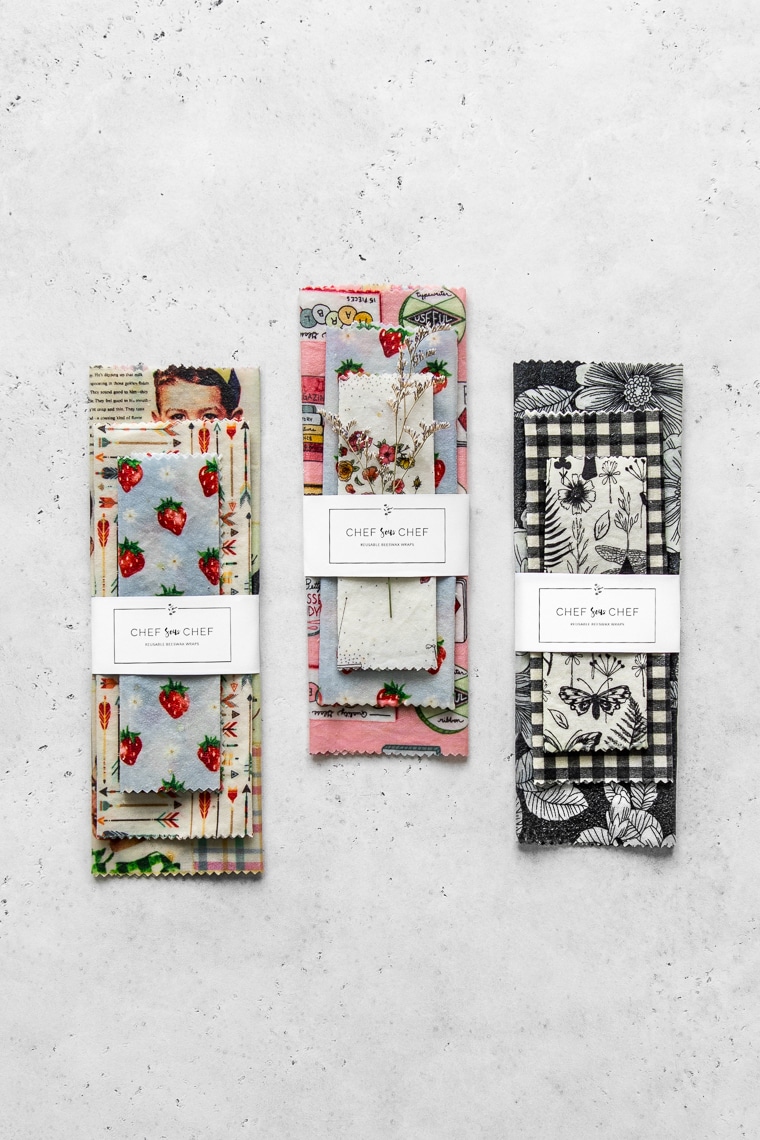 After a couple of craft days testing different ratios, we found the perfect combination of beeswax, pine resin, and jojoba oil for the most effective food wraps.
What You Need to Make Reusable Beeswax Wraps
With the exception of the actual food wrap ingredients, most items you should have available at home. For our DIY beeswax wraps you'll need beeswax, jojoba oil, pine resin, cotton fabric, paintbrush, scissors or pinking shears, baking sheets, parchment paper, heatproof mason jar or measuring cup, string or clothesline, clothespins or clips.
What Type of Fabric Do You Use?
Natural fabrics are the best choice for making reusable food wraps. Synthetic fabrics could melt while being made and potentially expose the food you're wrapping to chemicals. For that reason, 100% cotton, organic if possible, is your best bet. It's relatively inexpensive and can be found in a variety of colours and patterns. Make sure to wash and dry the fabric before making the wraps.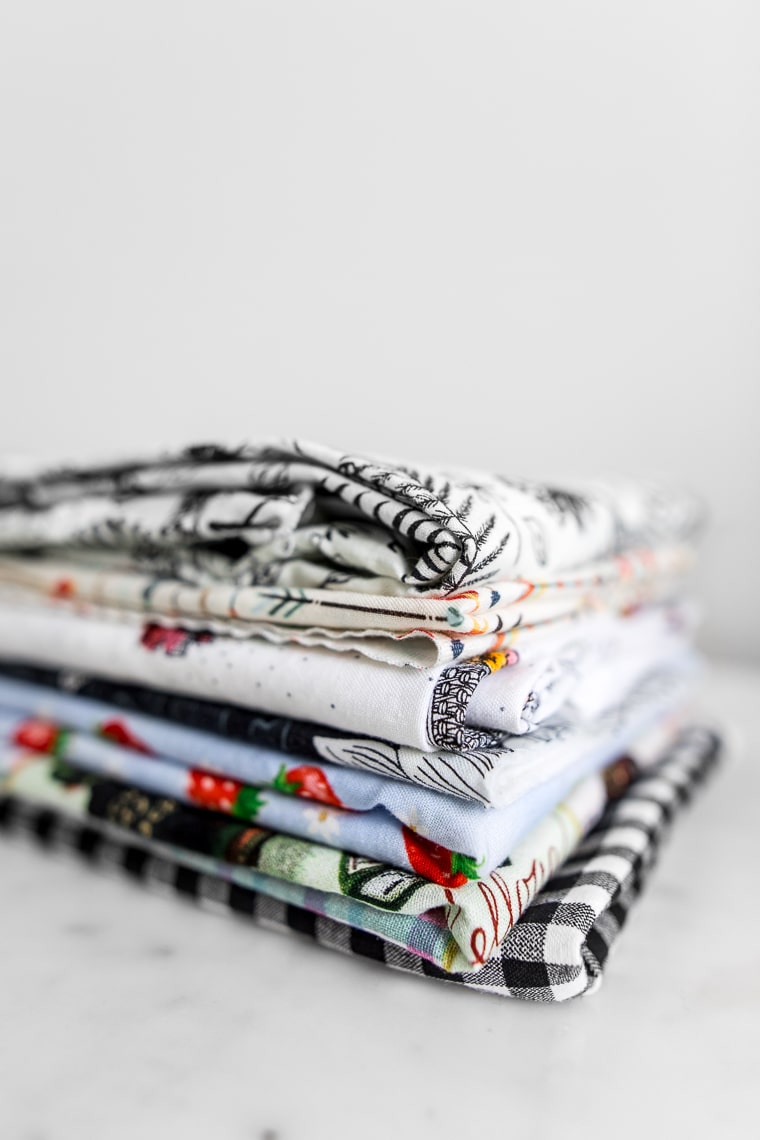 Best Sizes for Food Wraps
You can make your homemade reusable wraps any size you desire, just ensure that they will fit on the baking sheet. We make a variety of sizes for different purposes. 4 inch squares are great for covering containers the size of cups. Larger 8 x 14-inch rectangles can be used to wrap cucumbers, bunches of herbs, or leftover baguette. Our favourite size is 10-inch squares as they are good to wrap almost anything.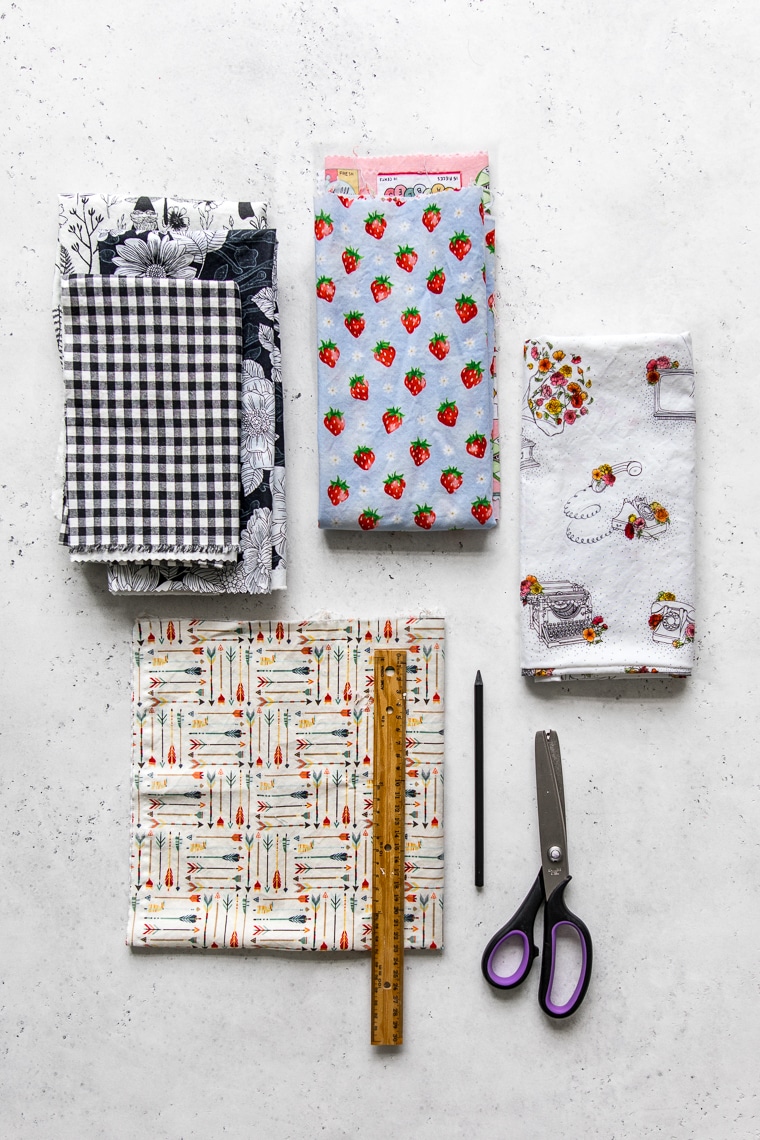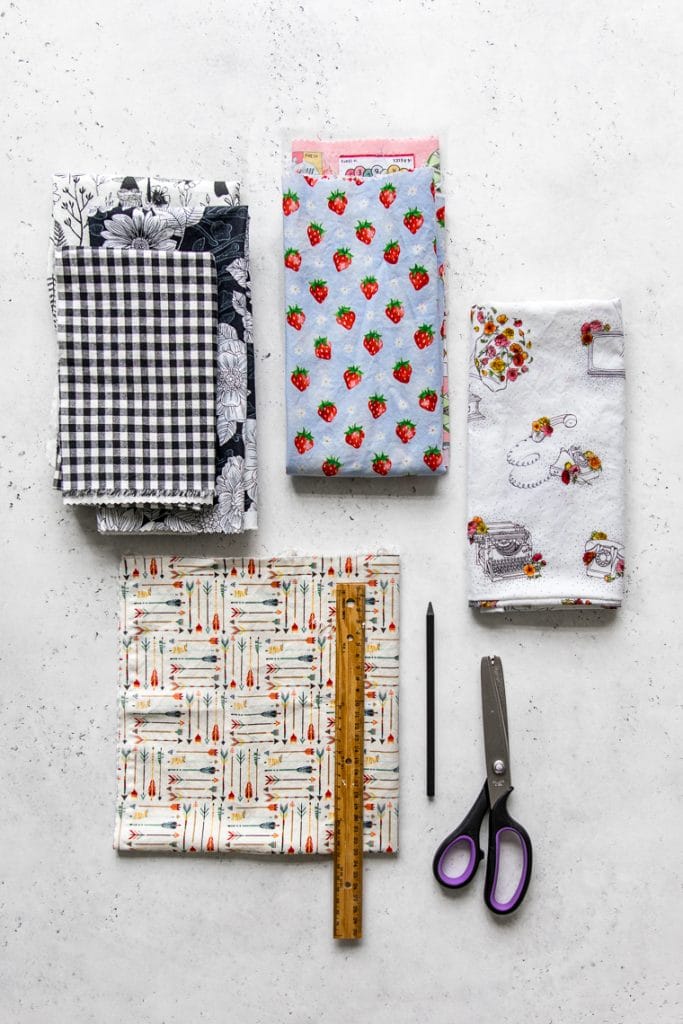 Beeswax, Jojoba Oil, and Tree Resin Recipe
Making the mixture that is spread on your wraps is simple. Pour 2 tablespoons of jojoba oil in a mason jar or measuring cup. Add 6 tablespoons of pine resin and 1 cup of beeswax pellets and melt in a double boiler. Stir every few minutes until completely melted and incorporated, about 30-40 minutes.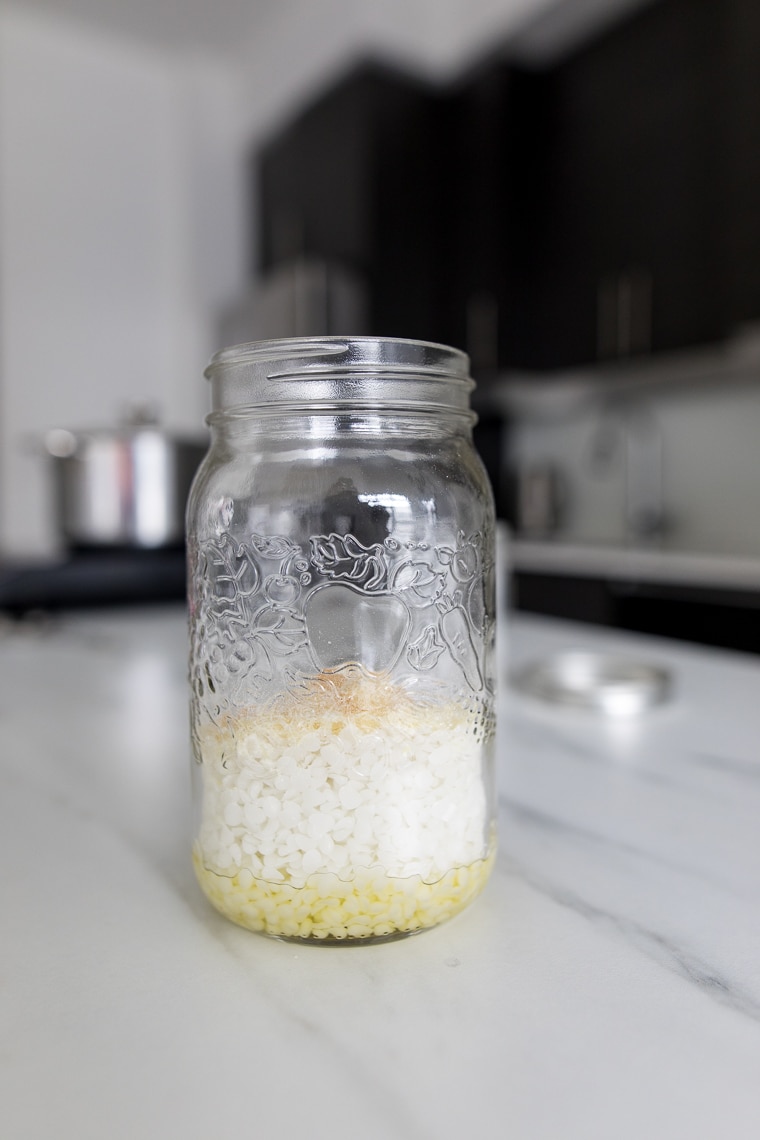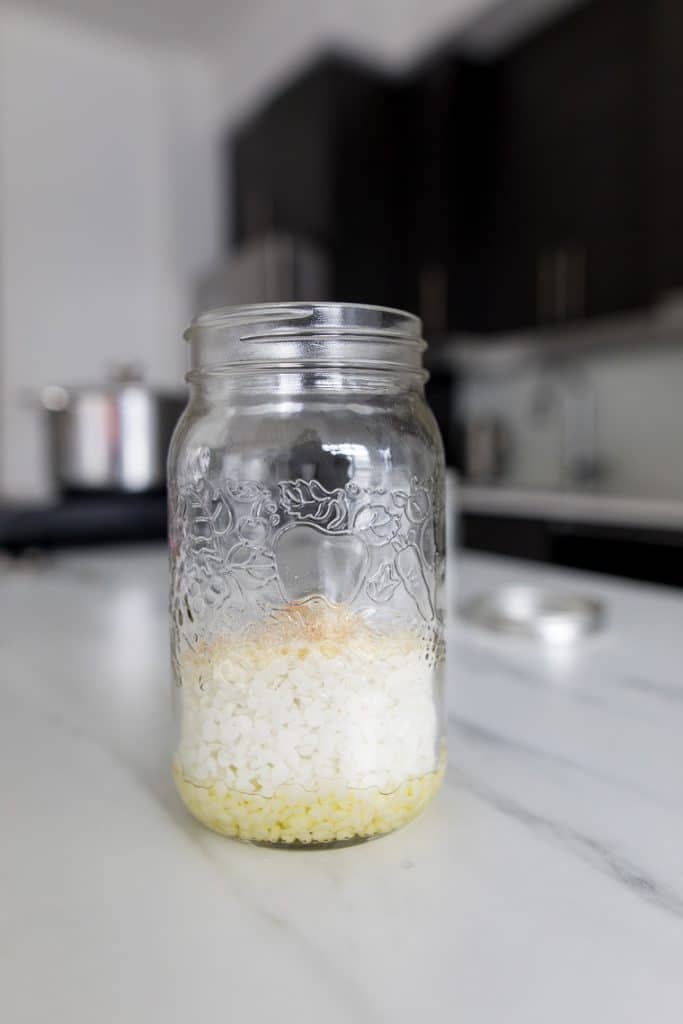 A Couple Notes About the Double Boiler
To make homemade food wraps, you will need to set up a double boiler using either a wide-mouth mason jar or heatproof glass measuring cup. Both work well, but we found the mason jar was a little susceptible to tipping when setting in the pot of boiling water. Prevent this by placing mason jar rings on the bottom of your pot and setting the mason jar on top of them. The measuring cup is more stable, but with the resin being very difficult to clean, use a measuring cup you don't mind having to scrape clean.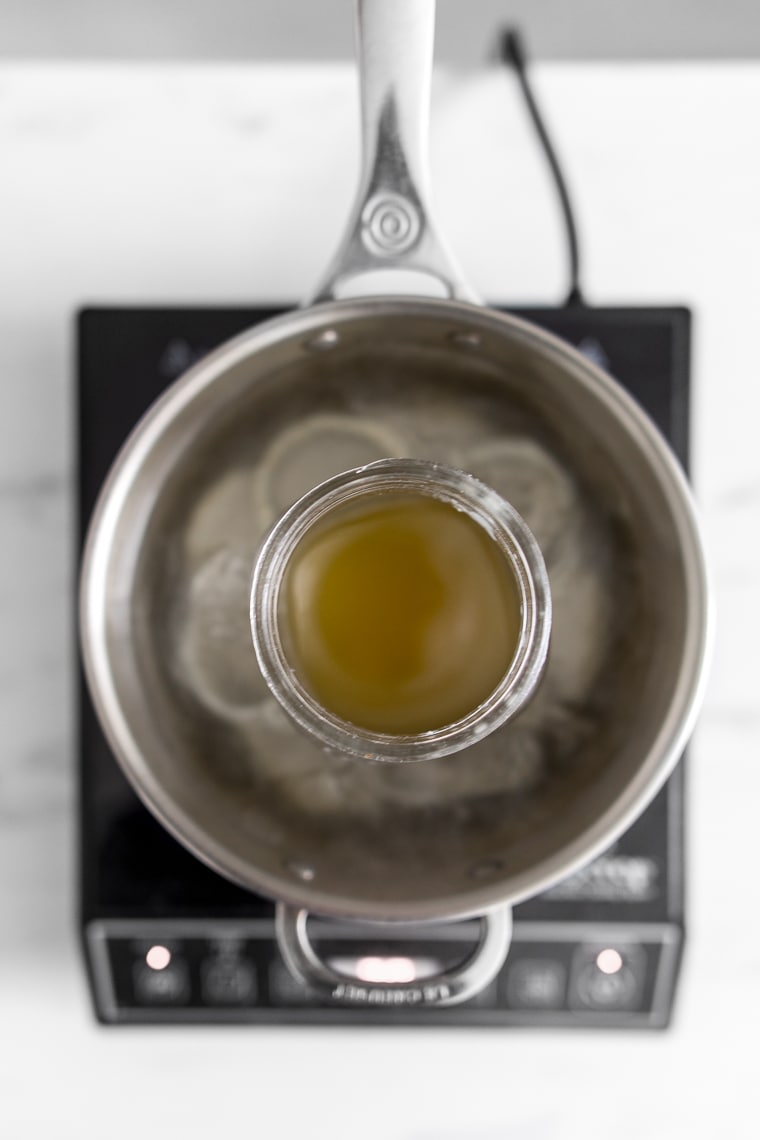 Turning Fabric to Food Wraps
Once your wax has melted, preheat your oven to 300° F. Line baking sheets with parchment paper or aluminum foil. Lay a piece of fabric on the baking sheet and brush with the wax mixture. Don't worry if it hardens, it will melt in the oven.
Place in the oven for 3-4 minutes, then flip the fabric and brush additional wax on areas that aren't saturated. Put back in the oven another 3 minutes. Carefully pick up the fabric from its corners using tongs and allow any excess wax to drip off. You can use your fingers if you're feeling brave. Clip the wraps on a string tied between two cupboards to dry completely, about 5-7 minutes. Wash the food wraps with cold water and dry before storing until ready to use.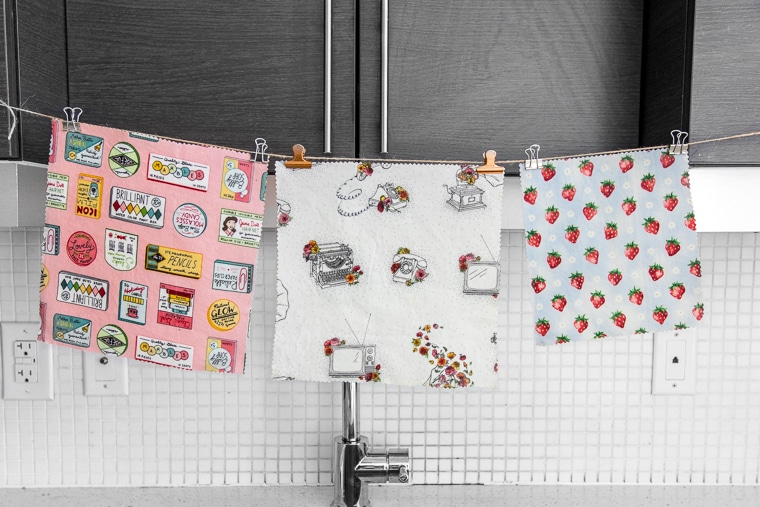 Care Instructions for Reusable Beeswax Wraps
Homemade beeswax wraps will last up to a year or more with regular use and proper care. Wash the wraps with cold water and gentle detergent. If the wax begins to deteriorate, pop the wraps in your oven at 300° F for a few minutes. This will redistribute the wax and should give you an additional 4-6 months of use.
[sp_index title="Kitchen How-To's" cat="kitchen-tools" display_date="no" cat_link_text="All Kitchen How-To's" ]
Beeswax Alternatives to Make Vegan Food Wraps
If you're vegan, don't worry, you can still make your own food wrappers. Instead of beeswax, you use carnauba wax. You can get a recipe to make vegan food wraps from Mountain Rose Herbs.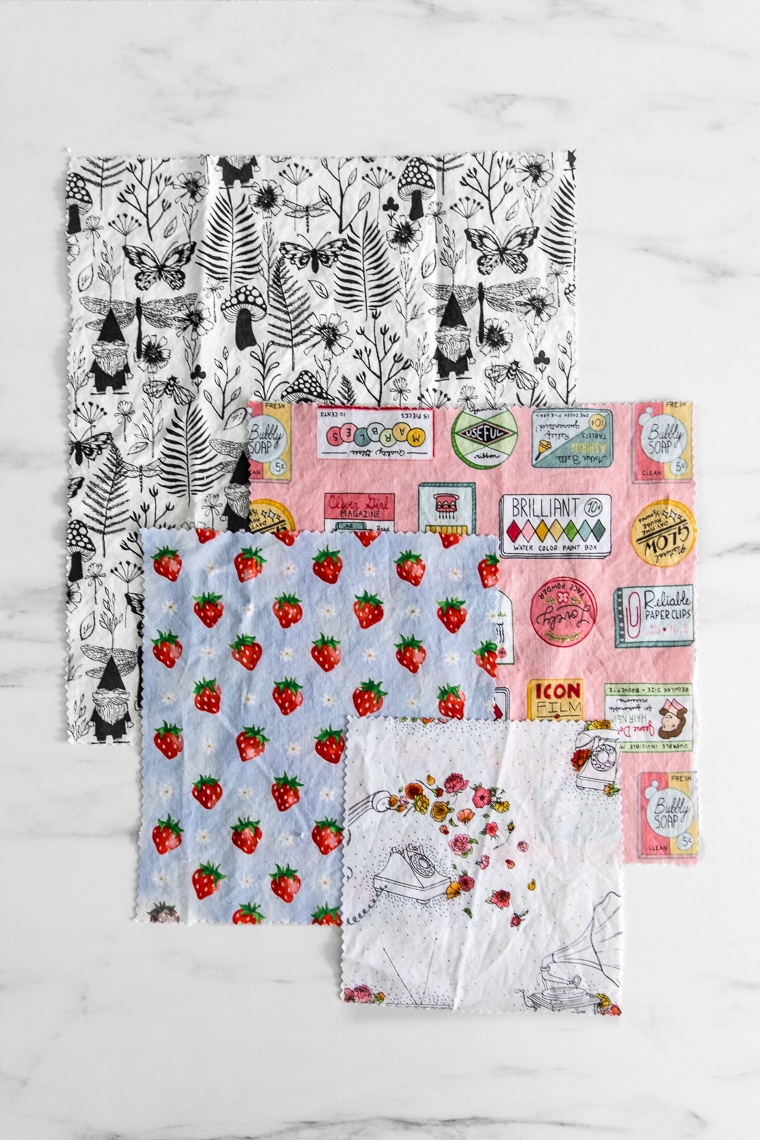 Shop our Homemade Reusable Beeswax Food Wrap Recipe
Below are affiliate links to products that will assist you in making our DIY Beeswax Wraps. If you purchase an item through the links, Chef Sous Chef Inc. will receive a small commission. There is no additional cost to you.
Essential Ingredients for Making Homemade Beeswax Wraps
Essential Tools for Making Homemade Beeswax Wraps
Thank you for helping support us through these purchases. If you have made this recipe, please let us know in the comments below!
How to Make Reusable Beeswax Wraps
Save the waste and make your own reusable food wrappers with this simple recipe adapted from Mountain Rose Herbs. 
Equipment
Wide-mouth mason jar or heat-safe measuring cup

Paint brush

String

Clothes pins or clips

Organic cotton fabric
Ingredients
2

tablespoon

organic jojoba oil

6

tablespoon

food grade pine resin

approx ¾ oz

1

cup

organic beeswax pellets

approx 2¾ oz

1 ½

yards

100% cotton fabric

organic preferred
Instructions
Add jojoba oil, pine resin, and beeswax to mason jar or measuring cup. 

Fill the pot with water so that the water line is above the ingredients in the jar. Heat the water on high-heat until it begins to boil, then turn heat down to medium-high to maintain a light boil. Add water to the pot as necessary to ensure the water line always stays above the ingredients in the jar. 

After about 10 minutes, the beeswax should be partially melted and you can begin stirring the mixture every 5-7 minutes, until both the pine resin and beeswax have melted and combined, about 30-40 minutes. Reduce the heat to a simmer and leave the jar in the water while you are making the wraps.

While the ingredients are melting cut your fabric into your desired shapes and sizes. 

Once the beeswax and pine resin have melted, preheat your oven to 300° F. Line two baking sheets with parchment paper. Place a piece of fabric on each baking sheet and brush with the beeswax mixture until the fabric is saturated. Don't worry if it hardens as it will re-liquify in the oven. 

Put the baking sheets in the oven for 3 minutes. Remove and turn the fabric over using tongs (or fingers if calloused or you have a high resistance to pain). Brush additional wax on any spots of fabric that aren't saturated. Place the pan back in the oven to bake an additional 3 minutes.

Using the tongs, carefully lift the fabric from two corners and allow any excess wax to drip off. Hang the wraps using clothespins or clips on a piece of string and allow to fully dry. 
Notes
The pine resin is very difficult to remove from anything once hardened, ensure to wear grubby clothes and use equipment you aren't too attached to. 
Place mason jar rings on the bottom of your pot to prevent the mason jar from tipping while melting the wax.