Using rich dark chocolate, creamy coconut milk and a splash of almond liqueur, our Chocolate Fondue for Two recipe is silky, decadent, and perfect for dipping fun and fresh ingredients while igniting all the senses.
Disclaimer: This Chocolate Fondue post was sponsored by Green & Black's Chocolate. All opinions are our own.
February is the month of love with Valentine's Day being a celebration of the heart. But they say the way to a lover's heart is through their stomach, and although we completely agree, perhaps there may be a few different (but equally as delicious) routes to the organ of love. While we're all for doodling red and pink symmetrical hearts, there may be more to the human body that sparks romance between lovers, especially when it involves food.
The five human senses; sound, smell, sight, touch and taste, each represent a piece of the nervous system and allows the human body to respond based on a multitude of exhilarations. And while we all favour or lean on specific senses when it comes to specific moments in the kitchen, it's the dishes that fully ignite and engage all five sense that truly create passion in lovers, or you know, chemistry.
To capture the magic of the senses, a dish must be interactive and should balance all five senses while isolating them to increase their power. Using rich dark Green & Black's chocolate, creamy coconut milk and a splash of almond liqueur, our Chocolate Fondue for Two recipe is silky, decadent, and perfect for dipping fun and fresh ingredients while igniting all the senses. What we love most about this recipe is the interactive activity between lovers. Just be sure to check if double dipping is allowed on your date night in.
Sound
The culinary soundtrack is a sense we take for granted, but have you ever just listened to the way food sounds? The sultry pour of smooth coconut milk, the crisp break of chocolate or the gentle way bubbles float when boiled is the music to our Chocolate Fondue. But the sounds exist past the kitchen; our fixings of crunchy potato chips, crisp bacon, squishy marshmallows and the juiciness of fruit dipped in warm chocolate is all the ambiance you need for a Valentine's Day dessert.
Smell
As a child, one of my favourite scents was warm milk on the stove. The subtle sweetness that lingered in the air made me feel comforted and calm, and as an adult it's the same feelings I get when we heat coconut milk, only this time being transported to a tropical oasis. Adding our two bars of Green & Black chocolate to our warm coconut milk eludes a velvety scent, rich and decadent from the amaretto that wafts through your kitchen, setting the tone of your night in; no scented candles needed.
Sight
There's a reason they say you eat with your eyes first, and beautiful food is just that. It grabs your attention with simplicity and ingredients that highlight one another. There's a deep hue when you melt dark chocolate with coconut milk, but the beauty lies within the fixings you choose to present with your chocolate fondue. Opting for a variety of shapes, colours and textures, a simple chocolaty fondue can be elevated with the perfect pairings you choose that complement the dish, just like a lover does.
Touch
This sense is what connects food with physical human touch and is the most tantalizing part about fondue. Using fixings to dip into your warm chocolate fondue is the interaction that truly guides all the senses, and really is part of the fun. Touching your fixings and dipping them into the chocolate with the magnetic pull of the weight is what makes this dish playful and sensual. While we prefer to grab our fixings and dip directly into the fondue, depending on what number date you're on, you may want to utilize small dessert forks or sticks to dip.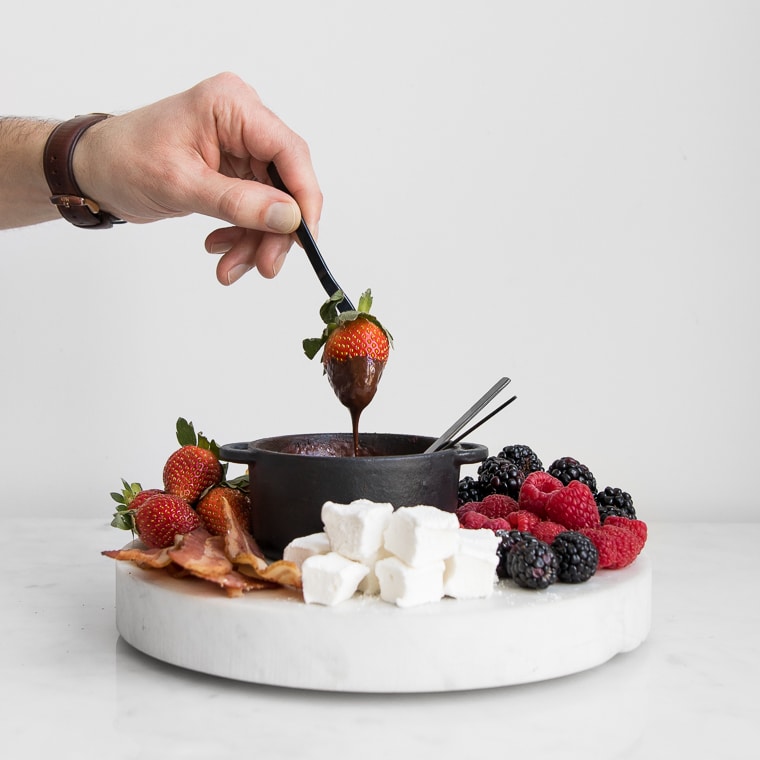 Taste
While all the other senses are important to sparking the romance, taste is definitely our favourite. There's something about chocolate that makes it the ingredient of love, but when melted and mixed with luscious coconut milk and a splash of nutty amaretto there's a dream-like sensation that sets the heart on fire.
Depending on the ingredients you chose, it really does reflect certain types of relationships. Sweet classic ingredients like strawberries, blackberries and raspberries evokes a true love kind of romance. Salty ingredients like potato chips plays on the sweet + salty nature, that wild love we all desire. And savoury ingredients like bacon and mint are the types that for some odd reason are wrong but just so right.
Bon appetit,
Chef Sous Chef
Recipe Card
Dark Chocolate Fondue for Two
Whatever special day you are enjoying there is no dessert more intimate and sensual than fondue. This Dark Chocolate Fondue for Two combines coconut milk and amaretto with Green & Blacks Dark Chocolate to give a sweet and nutty flavour that is enhanced by finishing the fondue with a pinch of salt. Add a mix of sweet and salty items to dip and you have the makings of one sweet and sexy night in.
Ingredients
200

g

Green & Blacks 70% Dark Chocolate

broken into squares

½

cup

lite coconut milk

2

tablespoon

amaretto liqueur

⅛

teaspoon

salt
Instructions
No. 1 | Pour the coconut milk into a small saucepan. Heat on medium until it just begins to simmer, then remove from heat.

No.2 | Meanwhile, prepare a large board or plate with all your favourite foods to dip in chocolate. We used strawberries, raspberries, blackberries, marshmallows, fried bacon, and potato chips. Leave a space in the centre for the finished fondue.

No. 3 | Stir in the amaretto, then add the chocolate and allow it to sit for a two minutes until the chocolate begins to melt. Using a whisk, stir the mixture until silky and smooth. Transfer to a heatproof bowl or fondue pot and sprinkle with a pinch of salt.
Notes
If the chocolate seizes and becomes grainy, add boiling water, one teaspoon at a time stirring until the chocolate becomes smooth again.
Have you tried this recipe?
Tag us on Instagram @chef.souschef or use the hashtag #chefsouschef and let us know how it was!
SaveSave
SaveSave
SaveSaveSaveSave
SaveSave
SaveSaveSaveSave
SaveSave
SaveSave
SaveSave
SaveSave
SaveSave
SaveSave
SaveSave