Our Homemade Chili bursts with flavour through simple and easy to achieve tips. Plus, learn How to Make a Chili Bar with a pot of homemade chili and a whole lot of fun toppings that encourage guests to create their own personalized chili bowls.
With the changing of the seasons, the first dish both Philip and I crave with the cooler weather is homemade chili. It's a dish I've loved ever since I was a child and my first chance at being my own personal chef in the kitchen.
On chili night, my parents always separated the toppings into individual bowls on the table, and starting with a bowl of steaming hot chili, we'd each load up on the things we loved; a heaping handful of cheese, sour cream, and green onions was my classic trifecta, and tortilla chips on the side, of course.
As an adult chili is still one of my favourite cold weather dishes. Soul warming, and rich and hearty, chili is a spicy tomato based stew made with meat, chili peppers and beans (although there's quite the debate of whether beans in a chili is authentic or not).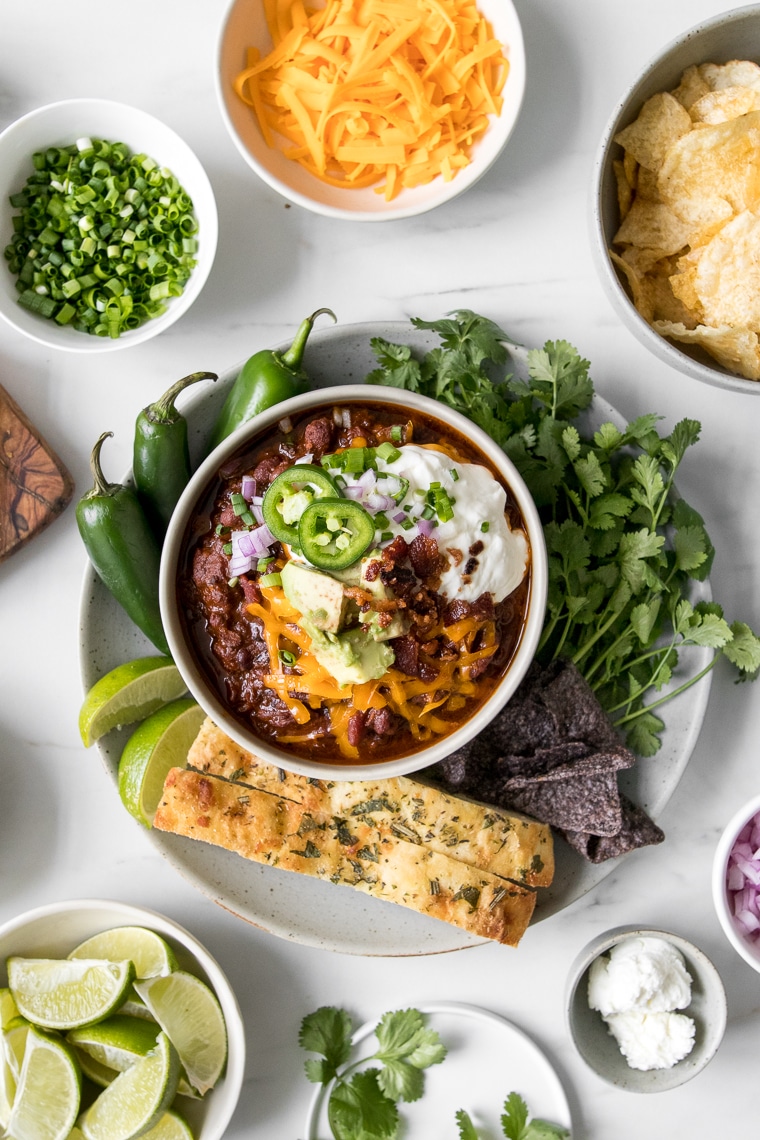 But want to know the best part about making homemade chili? There's always room for variation, ingredient diversity and personalized techniques that truly allow this dish to shine. In simpler terms, there's no definite recipe when it comes to making homemade chili, but our tips to building flavour through simple techniques will be sure to keep you warm and satisfied this season.
How to Make Homemade Chili
While there are many ways to make homemade chili and everyone has their own version. But when it comes to making a big pot, there are three major components to think about: the protein, the sauce, and the heat factor.
Homemade chili is one of those dishes where taking the time, and doing a few extra steps will make all the difference in the end product. It's all about building flavour and maximizing what you get out of each ingredient.
Brown the Meat
When braising meat, you can always add additional flavour through browning. Whether beef or pork, ground or cubed, taking an extra few minutes to brown the meat will add a world of flavour through caramelization and the remnants of meat that sticks to the bottom of the pot (we'll tell you how to lift that off with your veggies).
You can make chili using a variety of meats including ground beef or chicken, pork or veal, and for vegetarians, tofu or mushrooms for meaty flavour and texture. For our chili, we use a triple threat of bacon, sausage, and beef cubes. With the chili pot set to medium, brown the meats separately and remove to a bowl when finished. Ensure not to crowd the pot when browning. If you don't leave space for the meat, then it will steam instead of sear and it will leave you with a less flavourful finish.
Tip: Don't stir the meat too much while it's cooking. Allow one side to get nicely browned before turning. The more area of the meat that gets caramelized, the more flavour it will add to the chili.
What Vegetables to Put in Homemade Chili
This is another opportunity to add your stamp to your homemade chili. Do you like lots of vegetables in your chili, or prefer to stick to just onions and garlic? Chili is a great meal to make when you have a few different leftover veggies in your fridge. Zucchini, mushrooms, peppers, carrots, or even greens like kale, chili is a dish that allows you to work in leftover vegetables, hiding them from both adults or children.
For us, we use a basic mirepoix mixture of carrots, celery, and onion, then add mushrooms and fresh jalapeños for a more heat (can you tell we like heat). After your meat has browned, cook the vegetables in the same pot without cleaning the bottom. Liquid will release from the vegetables and allow you to scrape of the bits of flavour stuck to the bottom of the pot. Add a little salt to help release the water from the vegetables.
How to Flavour and Spice Your Homemade Chili
Once the vegetables have cooked, it is time to add the main flavour and spice component to the chili. Every chili must have chili powder and a little bit of cumin, but you can add additional spices to add even more flavour, such as paprika, cayenne pepper, chipotle powder, garlic powder or even cinnamon. For our chili, we keep it classic and opt for a mix of chili powder, cumin, and a little cayenne pepper for additional heat. Add the spices to the cooked vegetables and allow to cook for a few minutes so that the veggies soak in some of the spice and get flavoured inside and out.
Tip: Cooking the spices with the vegtables allows the aromas of the spices to fragrant and heat up to reach it's fullest impact.
Bring it Together
Now that all your main components have been precooked and flavoured, it's time to bring it all together and start layering your homemade chili. Add the meat back to the pot with the veggies and give it a stir to coat the meat in all the wonderful spices. Next add the beans: kidney beans, navy beans, black beans or even pork and beans; again there's no set bean you can use.
Now this is where your chili, truly becomes chili. Do you want a soupy chili, or a more stew like consistency? Any chili must begin with a base of tomatoes, but you can add additional liquid to alter the consistency and even add more flavour. Try using fire roasted tomatoes in a can to add a smokey flavour to the chili and for additional liquid, use beef stock or beer for maximum flavour. In our chili we use a dark stout to add richness and a subtle sweetness.
Cook it Down
We all know that certain dishes in the kitchen require patience, and it's a key ingredient when it comes to making chili. Of course, depending on time, you can eat your chili after it's cooked for 30 minutes, but the longer it cooks the more time the flavours have to build. You want to, at a minimum, cook your chili until all the meat is tender, but if you can, let your chili cook for at least 4 hours before eating. Think of it as an experience in the kitchen, kind of dish.
If you have even more time the better and for the absolute best results, after the four hours, place the chili in the fridge overnight and reheat it the next day. Much like soup or stew, chili is even better the next day so making it the day ahead will make for the most delicious chili to serve your guests.
What is a Chili Bar?
When it comes to food, the word bar is actually one of our favourites. A drinking bar, a chocolate bar, and most importantly, an insert-food-here bar. When it comes to hosting, a Chili Bar requires a pot of homemade chili (enough to feed your guests), spoons and bowls, and a whole lot of fun toppings that encourage guests to create their own unique and personalized chili bowls.
Plus, it's perfect for any allergies or dietary restrictions your guests may have since you can make a batch of homemade chili that satisfies everyones preference (vegetarian or vegan chili is an excellent base) then serve chili bar toppings like meat, cheese and bread for others. The idea here is to make eating an experience, and what better vehicle for expressing creativity than a bowl of chili.

What You Need for a Chili Bar
Cheese
When it comes to cheese as a topping on a chili both Philip and I have very different opinions. He prefers the melt and flavour of a classic, orange cheddar, while I prefer the creaminess and tanginess of a goat cheese. Either way, having a few cheeses (even non-dairy options) for your guests to play with is part of the build your own chili adventure, and trust us, cheese preference is everything when it comes to melting over your homemade chili.
Sauces
Once the cheese has melted, adding a dollop of coolness to your chili bowl is essential for balancing flavours and textures. Like I mentioned, my childhood trifecta always included sour cream. A tip to keeping the sour cream cold is to serve your bowl over ice to ensure it stays cool on your chili bar. Other sauces you can serve is greek yogurt as a healthier alternative to sour cream, and guacamole or cubed avocado to add extra richness to your dish.
Veggies
While there are a tonne of veggies in our version of homemade chili, adding additional raw vegetables as toppings is part of crunchy factor. Slice a few jalapeños or hot peppers for extra heat,  red pepper and onions for additional flavour and a variety of veggies for dipping or to be served on the side of your homemade chili.
Garnishes
The finishing touch on any homemade chili dish is like putting the cherry on top of a sundae, and if you're anything like us, a squeeze of lime, herbs and a sprinkling of green onions is enough to add pizazz to your already delicious homemade chili. Cut a few lime wedges, serve a bouquet of cilantro in water on your chili bar with sheers, and include pre-cut green onions.
Sides
Aside from your homemade chili, our favourite part is the sides that come with it. Our favourite sides to include in our Chili Bar include a few different types of chips (whether plain or tortilla chips), a few different types of breads from grilled crostini, buns, cornbread or herbed focaccia, dipping and scooping into chili is half the fun of eating homemade chili.
Optional: Meat
Depending if you're hosting guests with dietary restrictions reserve a side of meat or bacon for guests to add to their dishes.
Helpful Tools for Making Homemade Chili and a Chili Bar
Below are affiliate links to products that will assist you in making our chili and assembling a chili bar. If you purchase an item through the links, Chef Sous Chef Inc. will receive a small commission. There is no additional cost to you.
Thank you for helping support us through these purchases. If you have made this recipe, please let us know in the comments below!
Chef Sous Chef's Homemade Chili
Our version of homemade chili is wholesome, hearty and comforting featuring a base of beef and sausage, white and red kidney beans, black beans and mushrooms. Chili powder, cumin, cayenne, jalapeño and chipotles make this a flavourful and spicy dish. Make your chili interactive by creating a chili bar with all your favourite toppings and sides.
Ingredients
4

oz

bacon

chopped

1

lb

sausage

removed from casings

1

lb

stewing beef

cubed

1

large

onion

diced

2

carrots

diced

2

stalks

celery

diced

3

cloves

garlic

minced

2

jalapeno peppers

diced

8

oz

mushrooms

chopped

2

tablespoon

chili powder

3

teaspoon

cumin

½

teaspoon

cayenne pepper

1 ½

cups

red kidney beans

drained and rinsed

1 ½

cups

white beans

drained and rinsed

1 ½

cup

black beans

drained and rinsed

2

cans

tomatoes

1

can

chipotle peppers in adobo sauce

1

can

beer

2-3

bay leaves

sea salt and fresh ground pepper
Instructions
Preheat a large pot on medium heat. Brown the meat, starting with the bacon, cooking until crisp, about 5-8 minutes. Place the bacon in a bowl and remove most of the remaining crease.

Next add the sausage in small chunks, spreading them around the bottom of the pan and ensuring there is space between each piece. Cook until browned, about 5-8 minutes. Remove the sausage into the bowl with the bacon.

Season the beef liberally with salt and pepper and place in the pot, again ensuring there is space between each beef cube. Brown on all sides, about 5-8 minutes. Add the beef to the bowl with the sausage and bacon and return the pot to the heat, without cleaning it.

Using the same pot, add the onions, carrots, and celery. Season with ½ teaspoon salt, and cook for 3-5 minutes, stirring often, until it releases it juices, and begins to soften. Scrape any bits from the bottom of the pan up.

Add mushrooms, jalapeños, and garlic. Cook an additional 3 minutes then sprinkle in the chili powder, cumin, and cayenne pepper. Stir to coat the vegetables.

Return the beef to the pot and add the beans. Stir to coat with the spices then add the tomatoes, chipotle peppers, and beer. Bring to a boil then lower heat to a low simmer. Add the bay leaves, cover and cook for 2-3 hours, until the beef is tender.

About 30 minutes before serving, remove the lid and allow to reduce and thicken slightly if necessary. Serve with your favourite fixings.
Nutrition
Calories:
333
kcal
Carbohydrates:
24
g
Protein:
13
g
Fat:
20
g
Saturated Fat:
7
g
Polyunsaturated Fat:
3
g
Monounsaturated Fat:
9
g
Trans Fat:
1
g
Cholesterol:
36
mg
Sodium:
507
mg
Potassium:
567
mg
Fiber:
8
g
Sugar:
3
g
Vitamin A:
3047
IU
Vitamin C:
6
mg
Calcium:
57
mg
Iron:
4
mg
Have you tried this recipe?
Tag us on Instagram @chef.souschef or use the hashtag #chefsouschef and let us know how it was!