Our BBQ Jerk-Inspired Chicken Bowl with Rice and Peas + Pineapple Coleslaw has the traditional comfort and flavour of the island with a fresh and vibrant twist.
Earlier this year, we attended an event hosted by Vitamix at one of our favourite Toronto restaurants, Jackpot Chicken Rice. Chef Craig Wong, owner of both Jackpot and Patois, shared his recipe for jerk chicken marinade with simple yet punchy ingredients like all spice, pineapple, peppers and scallions, blended to a pulp.
Typically relying on two ingredients: allspice, which in Jamaica is called pimento, and scotch bonnet peppers, jerk chicken is typically served over rice and peas, although any pulse, legume or pea can be used. Having grown up with a Jamaican uncle, as a child jerk chicken was not a favourite of mine (to me it was too spicy, with mushy beans), but now as an adult it's a comforting dish that I can't get enough of (go figure), especially when served with coleslaw.
Adding vegetables to our Jerk-Inspired Chicken with Rice and Peas with pineapple coleslaw, crisp cucumbers and a sprinkle of feta cheese (can you just imagine spicy jerk and cool feta), and serving it in a bowl. Perfect for summer dinners, and ideal for meal prep lunches, our BBQ Jerk-Inspired Chicken Bowl with Rice and Peas + Pineapple Coleslaw is comforting and flavourful with a fresh and vibrant twist.
Make the Jerk Marinade
Marinades are super simple to make and add so much flavour to any meat. For Patois, Toronto's house jerk marinade, created by Chef Craig Wong, throw all the jerk ingredients, except the chicken, into the container of a high powered blender. Pulse until smooth then pour over the chicken. Allow this to marinate overnight for the most flavour.
Shred the Coleslaw
The sweetness of this coleslaw mellows out the heat of the jerk. To make it, shred the cabbage into a large bowl. Top with pineapple, radishes, jalapeño, and radishes. Make the dressing by whisking together the mayo, lime, lemon, honey, salt and pepper then pour it on top. Place in the fridge until you're ready to eat.
Boil the Rice and Peas

For best results, use dry kidney beans and soak them overnight. Boil in chicken stock, add the coconut milk, thyme, garlic, and wiri wiri pepper and bring back to a boil. Toss in the rice and a good pinch of salt, cover then reduce to a simmer for 20 minutes or so. You want the rice to be tender but not mushy.
Prepare your Toppings
Once the chicken is cooked you can assemble the bowls, so prep all your additional ingredients ahead of time. We chose feta cheese, cucumbers, radishes, pimento peppers, and cilantro, but other great toppings would include mango, avocado, corn or tomatoes.
BBQ the Chicken
Whether your barbecuing the chicken or smoking it, this is where the magic happens. Make sure you preheat for at least 15 minutes so you get a great sear on the outside of the chicken, without drying it out. Be sure to have a meat thermometer at your ready so you can remove the chicken as soon as its ready. You want the iinternal temp to be 165°.
Assemble your Bowl
Start by placing your rice at the bottom of your bowl. Fluff it up using your fork as rice tends to compact when pressed down. Then beginning in the corner layer a huge spoonful of coleslaw, arranging the shreds with your fingers. Add in a few charred peppers, sliced cucumbers, cherry tomatoes and avocado, leaving a space in the centre or side for the jerk chicken. Finish with crumbles of feta and cilantro and serve.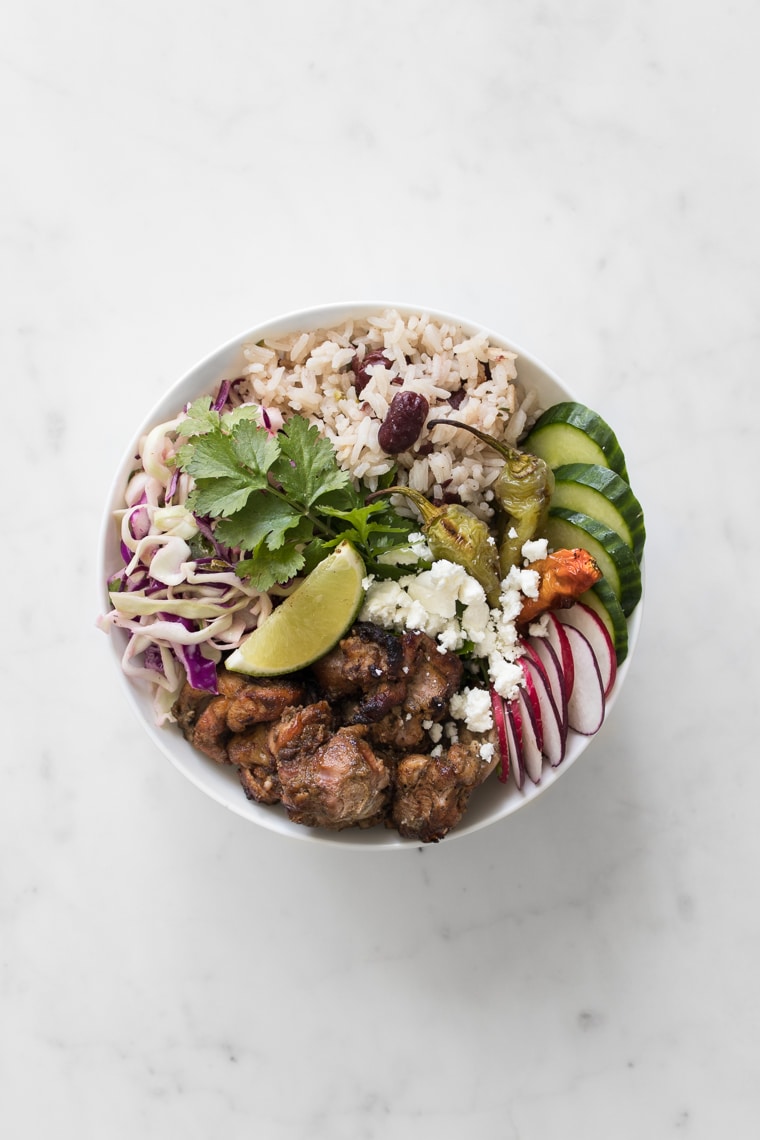 Recipe Card
BBQ Jerk Chicken Bowl with Rice and Peas + Pineapple Coleslaw
A perfect dish for a healthy dinner, or to prep for weekday lunches, our bbq jerk chicken with rice and peas is brightened and freshened up with the addition of a pineapple coleslaw using green and purple cabbage. The heat in both the jerk chicken and rice and peas is sure to awaken your senses. Topped with your favourite garnishes it is a great dish to add your own style and flavour to with additions such as feta cheese, cucumbers, cilantro, or avocado.
Ingredients
Jerk Chicken

¼

cup

low sodium soy sauce

1

tablespoon

rum

¼

teaspoon

nutmeg

2

teaspoon

allspice

toasted and ground

2

teaspoon

brown sugar

1

bunch green onion

chopped

¼

cup

pineapple

chopped

5

cloves

garlic

chopped

2

scotch bonnets

whole, stems removed

2

tablespoon

ginger

chopped

2

lbs

boneless and skinless chicken thighs

chopped into 1 inch pieces

Rice and Peas

½

cup

dried kidney beans

1 ¾

cups

chicken stock

1

cup

coconut milk

1

clove

garlic

1

green onion

chopped

5

sprigs thyme

1

wiri wiri pepper

1

cup

long grain rice

½

teaspoon

salt

Pineapple Coleslaw

4

cups

shredded green cabbage

from 1 head

1

cup

shredded purple cabbage

1 ½

cups

diced fresh pineapple

1

jalapeno pepper

thinly sliced

1

cup

radishes

thinly sliced

½

cup

loosely packed cilantro leaves

½

cup

mayonnaise

1

lime

zested and juiced

1

lemon

juiced

1

teaspoon

honey

½

teaspoon

salt

½

teaspoon

black pepper
Instructions
No. 1 | Place the chopped chicken into a bowl. Make the marinade by adding all remaining jerk chicken ingredients to a blender and blend on high for 30 seconds until it forms a sauce. Pour the contents on the chicken and toss until it well coated. Cover and place in the fridge overnight.

No. 2 | Pour the kidney beans in a small jar and cover with water. Place in the fridge overnight.

No. 3 | The next day, make the pineapple slaw, by add the cabbage, pineapple, jalapeno, radishes and cilantro leaves in a large bowl. In a separate bowl, add the mayonnaise, lime zest and juice, lemon juice, honey, salt and pepper. Whisk until well incorporated and pour over the slaw. Cover and place in the fridge until ready to serve.

No. 4 | Drain and rinse the kidney beans. Place in pot with chicken stock, and bring to a boil. Continue to cook until tender, about 45 minutes. Add the coconut milk, garlic, thyme and wiri wiri pepper. Once this begins to boil again, add the rice and salt. Stir then cover and reduce heat to low. Continue to cook for 20 minutes or until rice is tender, but not mushy.

No. 5 | Meanwhile, preheat your bbq or smoker to 500°. Carefully skewer the chicken. Grill for 8-10 minutes per side, until cooked through.

No. 6 | To assemble your jerk chicken bowl, make a base of rice and peas in a bowl, piling higher to one side. Add coleslaw to the opposite side. Place the chicken from one skewer in the centre, then add any additional veggies or toppings to your liking.
Notes
If using bamboo skewers, ensure to soak for at least 30 minutes before cooking. For best results, soak overnight with the beans and marinade.

For garnish, we used feta cheese, sliced radishes, cucumbers, and smoked pimento peppers. Other great toppings would be fresh pineapple, mango, avocado or radish greens.
Have you tried this recipe?
Tag us on Instagram @chef.souschef or use the hashtag #chefsouschef and let us know how it was!