Bringing the dining out experience in can transform your familiar table into an unforgettable moment. Here are simple ways to create a restaurant-worthy experience while dining in at home.
Disclaimer: This post was sponsored by Amex Bank of Canada. However, the views and opinions expressed in this blog post are purely our own.
Imagine yourself entering your favourite restaurant. You have a reservation, a specific time in which you decided to start your experience. And when the host or hostess confirms your arrival, they note your presence, say right this way, and whisk you away to your table. You notice the way it has been set; dishware, cutlery atop a cloth napkin, a water glass, a wine glass, a flower and the warm welcome of a lit candle. Tonight, you are the guest.
For Philip and I, whether it's a simple meal, date night or ordering in takeout, when we eat at home we always aim to bring the dining out experience in. Using a few simple methods and special touches that transform our familiar table into an unforgettable moment, here are our ways to create a restaurant-worthy experience while dining in at home.

Decide on the Menu
There's nothing better than creating an experience out of cooking. But there are also some nights – whether it's coming home late from work, or celebrating together over a special meal, that ordering in takeout is perfectly welcome. Our tip for easy deciding is choosing a cuisine we don't often cook at home or one where you leave the cooking to the pros, like sushi night in. That way the meal feels exclusive and special and one you don't feel guilty for ordering when you could have made it yourself. Since becoming American Express Cobalt Cardmembers, we earn 5x the points on eligible eats and drinks, whether we order in, grocery shop or dine out. This means we earn points faster, which we can then redeem on more delicious eats!
Create an Ambiance
Think of all the simple touches that make dining out at your favourite restaurant feel special. The flowers or delicate vase anchoring the table. The candle swaying, creating playful shadows and subtle warmth. The music humming in the background – not too loud – encouraging conversation between guests. It's these experiential nuances that can turn a meal enjoyed out into one worth remembering.
Do the same at home. Add colour to your table with flowers or greenery, light a few candles (unscented not to confuse your palette) and create the atmosphere you love about dining out. Turn off the television, turn on your favourite tune – whether it's a mood-boosting playlist or the soulful tone of your favourite record on vinyl. Flowers, candles and music help create the character or ambiance, and the start of a great night dining in. And don't forget that these purchases can help you earn points on your Amex Cobalt Card!
Opt for Dishes and Cutlery
Nothing says elevated dining like eating your meals off dishes and using real cutlery. Consider transferring all your food onto serving platter or bowls to make the table feel elegant too. It's nicer to look at and can make your food look more pleasing to the eye than plastic takeout containers. To reduce waste, when ordering your meal make a note for no cutlery, napkins or paper plates in your order. And when you're done with the containers, give them a rinse to remove all the food for easy recycling or reuse them a few more times if salvageable.

Set the Table
The table is the foundation to a great meal ahead, isn't it why the host or hostess always says right this way. Encourage the same appreciation at home by laying down a table cloth, add place settings including a cloth napkin, dishes and cutlery, and arrange your plated meal on the table. Add finishing touches like florals, candles and a water pitcher for a true dining out experience in. Bon appetit.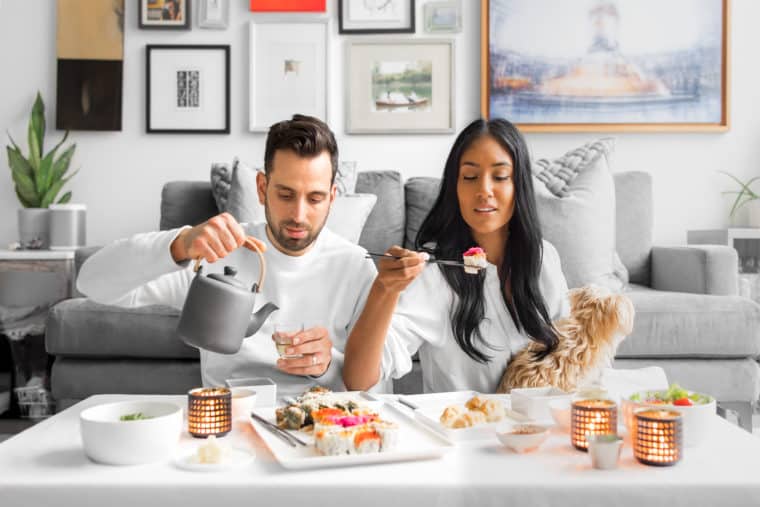 Indulge in the Benefits
We know the benefits of unplugging to enjoy a meal with loved ones – quality time spent together, connecting over a meal and the sharing of conversations around the table. With an emphasis on distraction-free, dining in not only means disconnecting from technology but the bustling hum of restaurants, the urgency to finish quickly so another group can sit and the lack of slow eating and presence only found at home. The best part? You can still earn rewards by doing what you already love – spending time together and creating a dining out experience too, with the American Express Cobalt Card, all in the comfort of your own home.