With a strong leafy base, crunchy bits and a creamy dressing, our 6 tips to layering a simple salad is the perfect recipe for spring.
What does the perfect simple salad look like? A medley of spring, fresh fruits, local veggies and homegrown herbs. With the rising temperature, one of our favourite spring meals is the classic, versatile and energy boosting simple salad. More of an experience than it a recipe, this layered salad is an opportunity to curate your own meal that'll leave you feeling energized, healthy and satisfied.
While often associated as sad or the obligatory pre-dinner (or post in our house) must-eat, salad should never feel like an after-thought. In fact, a well prepared salad has the potential to be the star of the meal. Here are a few of our favourite ways to layer a simple salad with tips and tricks to make your salad the best and most delicious part of the meal.
[sp_index title="Salad Recipes" cat="salad-recipes" display_date="no" cat_link_text="All Salad Recipes" ]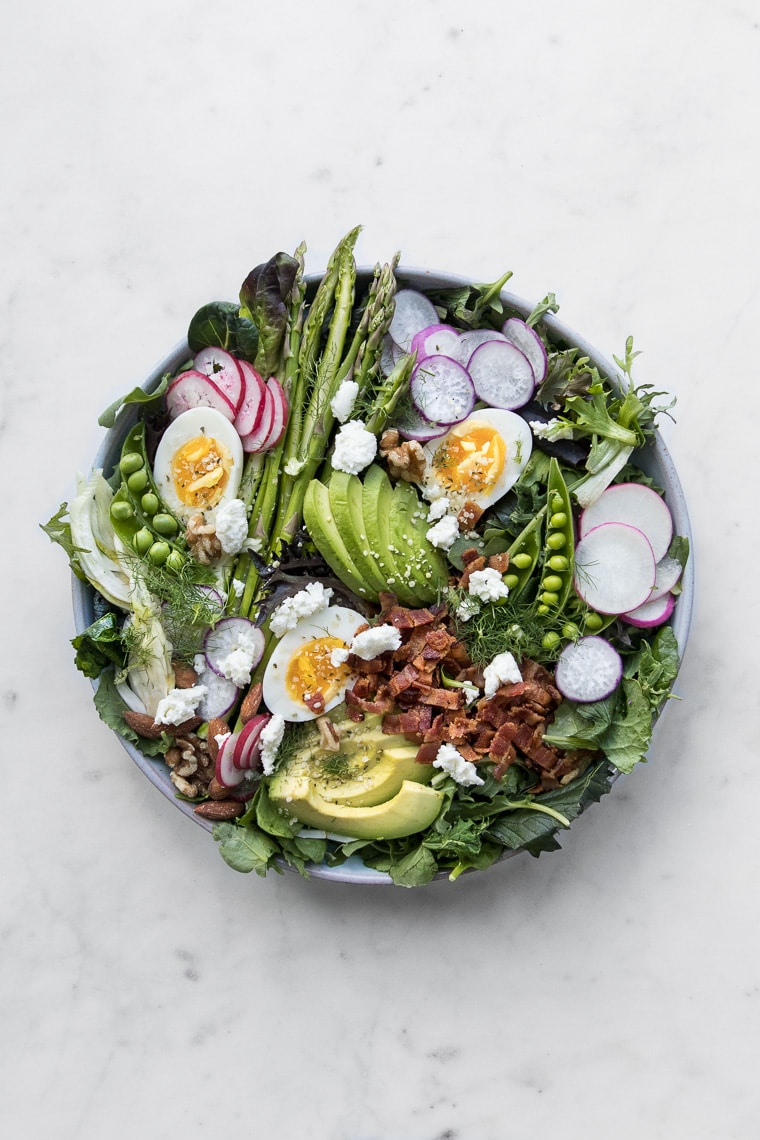 Steps to Making a Salad
1. START OFF STRONG
Selecting a nutrient-packed base is the first step in building your simple salad. Start by creating a solid foundation of leafy greens whether it be kale, spinach, mustard greens, romaine or a simple spring mix from your local grocery store. And be sure to mix it up — use raw, steamed or sautéed greens or even grilled romaine or iceberg — or change the way you prep your salad. Try a wedge, tear your lettuce, use big leaves, little leaves or fine chop your lettuce. Whatever your preference, this is your simple salad.
2. INSERT THE CRUNCH FACTOR
For us, the perfect salad is all about textures and layering textures to create the perfect bite. Chewing on lettuce reminds us of a cow chewing the same grass blade repetitively, no one wants this. We believe the key to an interesting salad is the crunch factor – raw fennel, crispy snap peas, crunchy radishes, chopped nuts, crispy croutons, sprinkles of seeds, julienned cucumbers or sliced pear. The crunch add's a bit of oomph that can turn a motionless salad into a soundtrack of bass and melody.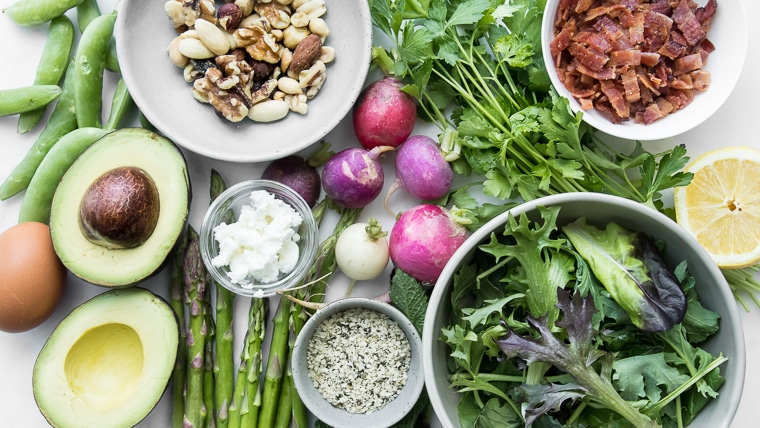 3. TASTE THE RAINBOW
Go fruit and veggie crazy and pile on all the fixings you desire. Adding a colourful array of produce ensures you get your daily quota of fruits and vegetables. And it's a great way to get rid of the leftovers in your refrigerator. We love asparagus stems, crunchy fennel, radishes and beets. To add even more green to your palate and for even more punch to your dish, try adding in your favourite herbs like dill, mint or basil depending on the flavour profile you're building.
4. FUEL YOUR FAT
Fat seems to get a bad rap, but we're talking about the good fats, nuts, seeds, avocado, olives, goat cheese, feta — mmm, this is starting to sound delicious. Instead of fearing the fat, learn the differences and benefits of incorporating good fats into your diet that'll keep your metabolism working. The key here is moderation. While we'd love to use the whole avocado, we slice half and save the rest for later. Same for nuts, seeds and cheese, the perfect simple salad follows the everything in moderation rule.

5. PROTEIN, PROTEIN, PROTEIN
A salad without protein is like coffee without caffeine! You need some protein to keep you energized (and full). After all, protein forms the building blocks of our muscles and organs so the body will always crave it. If you're opting for animal protein, we suggest hard-boiled eggs (don't toss the yolk) or treat yourself to a handful of bacon. If you're vegetarian or vegan, fermented tofu like tempeh or sprouted organic tofu (½ cup), legumes like chickpeas, kidney beans or black beans or protein-rich grains like quinoa (½ cup) all make for excellent additions to a simple salad.
6. DRESS FOR SUCCESS
A naked salad is a boring salad. Don't smother your spring salad with bottled dressings — this is a major salad no no and can easily turn your curated simple salad into an unnecessary salad . One of our favourite dressings is a simple balsamic with olive oil, dijon mustard, salt, black pepper or for a creamier dressing try homemade mayo, lemon juice, dill, garlic, salt and black pepper. Make sure you know what's going into your dressing.
With spring in every bite, and a wholesome approach to fats, fuel and protein, our tips to creating the perfect simple salad makes curating your own dish a fun and vibrant experience. What are your go-to tips and tricks to making the perfect salad?
Bon Appetit xo
Chef | Sous Chef
Helpful Tools for Making a Simple Salad
Below are affiliate links to products that will assist you in making a salad. If you purchase an item through the links, Chef Sous Chef Inc. will receive a small commission. There is no additional cost to you.
Thank you for helping support us through these purchases. If you have made this recipe, please let us know in the comments below!
Recipe Card
How to Make the Perfect Simple Salad
With spring in every bite, and a wholesome approach to fats, fuel and protein, our Simple Spring Salad with Green Goddess Dressing is the perfect lunch or accompaniment to any dinner.
Ingredients
¼

cup

mayonnaise

½

cup

fresh parsley

chopped

½

cup

fresh basil

chopped

1

lemon

juiced

1

clove

garlic

minced

¼

teaspoon

salt

¼

teaspoon

black pepper

3

eggs

hard boiled

150

g

fresh greens

1

small fennel bulb

thinly sliced

½

cup

sugar snap peas

¼

cup

walnuts

¼

cup

goat cheese

¼

cup

bacon

cooked and diced

1

avocado sliced

2-3

radishes

thinly sliced
Instructions
No.1 | Prepare all your salad ingredients and place the greens in a large bowl.

No.2 | In a small food processor, add the mayo, parsley, basil, lemon juice, garlic, salt and pepper. Blend until smooth.

No. 3 | Lightly dress the greens with ¼ of the dressing and arrange on a large plate. Arrange the remaining ingredients on top of the greens and drizzle with the green goddess dressing.
Have you tried this recipe?
Tag us on Instagram @chef.souschef or use the hashtag #chefsouschef and let us know how it was!