A major upgrade to the classic tomato soup and grilled cheese, our addition of Jarlsberg croutons provides a buttery and nutty flavour as it melts into the tomato soup for a delicious cheesy bread soup.
Disclaimer: This Tomato Soup and Grilled Cheese Croutons was sponsored in partnership with Jarlsberg Cheese. All opinions are our own.
Probably one of the most comforting and nostalgic dishes of any childhood is the classic tomato soup and grilled cheese. Like any good dynamic duo, this delicious pair complements one another with flavours and textures; crunchy, buttery, and melty, begging to be combined.
But what exactly is the best way to indulge in these two combos? Do you sip your soup and then bite into your grilled cheese? Do you dunk your grilled cheese into your soup? Or do you plate your grilled cheese directly in your tomato soup? Ding, ding, ding!
A major upgrade to this classic soup, serving your grilled cheese as a crouton in the soup is the ultimate way to ensure a crispy bite with every slurp. The best part about this better together pair is that both parts require a little TLC adding to the impactful punch of the two.
Roasted Tomato Soup
A simple soup using minimal ingredients, our creamy tomato soup calls for roasted tomatoes, garlic and onions, adding to the sweetness of flavours, a can of tomatoes and chicken broth.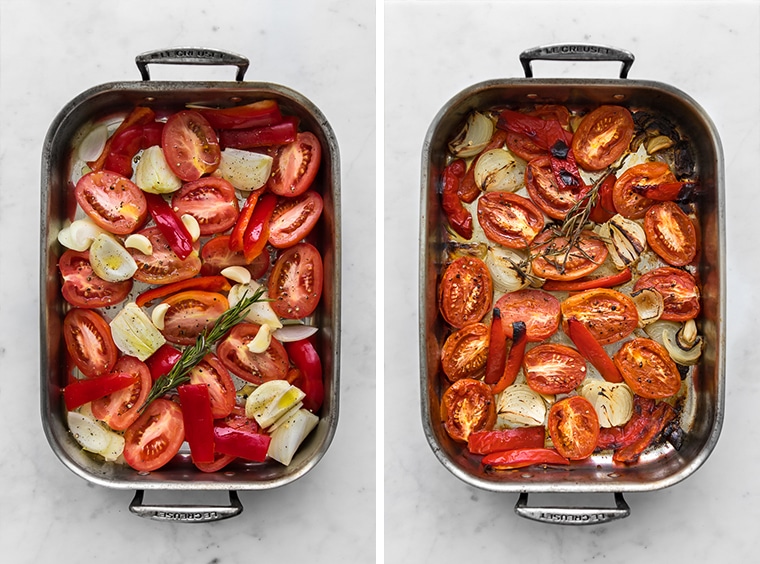 Grilled Jarlsberg Croutons
While the two pair perfectly together, it's the grilled cheese croutons that elevate this simple soup, and yes it's all about the cheese. Echoing the buttery nature of a traditional grilled cheese, Jarlsberg is rich in texture with a mild, nutty flavour. But what makes this the perfect cheese for the job is it's melting abilities and the duality of it melting onto the bread then again when covered in soup.
While many recipes suggest making croutons out of an entire grilled cheese sandwich, we decided to make open faced grilled cheese sandwiches; cutting crostini out of a baguette, slathering it in butter with a heaping of Jarlsberg, then baking it in the oven until the cheese melts and the bread is crisp.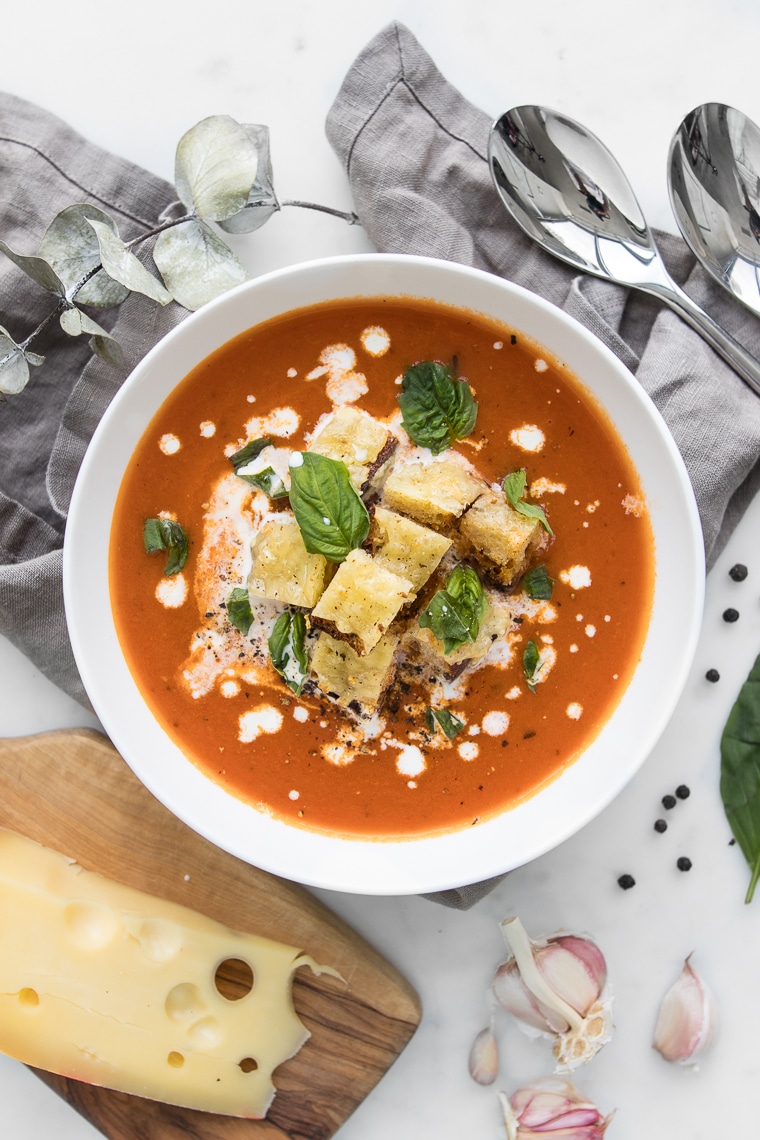 Using day old bread, or a tougher baguette and cutting it into crostini shapes, ensures no soggy croutons when sitting in the soup. Once out of the oven, cut your crostini into croutons and place a handful of into the centre of your soup bowl. Then using a ladle, gentle pour the soup around your croutons for an delicious cheesy bread soup.
Bon appetit,
Chef Sous Chef
Recipe Card
Roasted Tomato Soup and Grilled Cheese Croutons
A major upgrade to the classic tomato soup and grilled cheese, our addition of Jarlsberg croutons provides a buttery and nutty flavour as it melts into the tomato soup for a delicious cheesy bread soup.
Ingredients
100

g

Jarlsberg Cheese

sliced or grated

1

baguette

sliced

2

tablespoon

butter

room temperature

2

lbs

roma tomatoes

halved

1

large red pepper

sliced

1

large onion

sliced

5-6

garlic cloves

1

sprig rosemary

2

tablespoon

olive oil

1

can Italian tomatoes

4

cups

chicken or vegetable stock

¼

cup

basil leaves
Instructions
No. 1 | Preheat your oven to 450°.

No.2 | Place the tomato halves, red peppers, onion, garlic cloves and rosemary sprig on a baking sheet. Toss with olive oil and season with salt in pepper. Tuck the garlic in the tomatoes so that they are not exposed to prevent them from burning. Roast the vegetables for 30-40 minutes until they begin to char.

No. 3 | Once the tomatoes have finished roasting, transfer them to your soup pot and place high heat. Stir in the canned tomatoes and stock. Before the soup heats up, blend with an immersion blender to desired consistency. Bring to a bowl then reduce to a simmer and cook for at least 15-20 minutes. Before serving, taste and season your soup as desired.

No. 4 | Lightly butter both sides of each baguette slice and place on a baking sheet. Smother each piece with a handful of Jarlsberg Cheese. Bake in the oven for 10 minutes, until the cheese is melted and the bottom of the toast is browned. Allow to cool slightly then cut into crouton sized squares.

No. 5 | To serve, place a handful of croutons in the centre of individual soup bowls. Pour the soup around the croutons and garnish with a few fresh basil leaves and a drizzle of cream.
Notes
For a smoother soup, you can either blend the soup in a high powered blender, pass through a sieve or boil the tomatoes for a minute, prior to roasting, and remove the skins
Have you tried this recipe?
Tag us on Instagram @chef.souschef or use the hashtag #chefsouschef and let us know how it was!