Cool cucumber, spicy radishes and crunch chickpeas come together to make a beautiful and refreshing Cucumber Chickpea Salad. Perfect for potlucks, picnics or backyard gatherings, this salad relies on the beauty of a vegetable peeler to finely graze and ribbon these vegetables into flat noodles.
It amazes us how food, no matter how you slice and dice it, doesn't always taste the same. Think about it. A root vegetable like a potato can be juliened, cubed, or mashed and taste completely different with each method. One of our favourite tools to use in the kitchen (besides our knife, and our Vitamin) is our peeler. It can reveal bright orange underneath a dirty carrot, peel the skin off a potato, and (our favourite) turn any vegetable into flowy ribbons perfect for styling soups or layering into salads.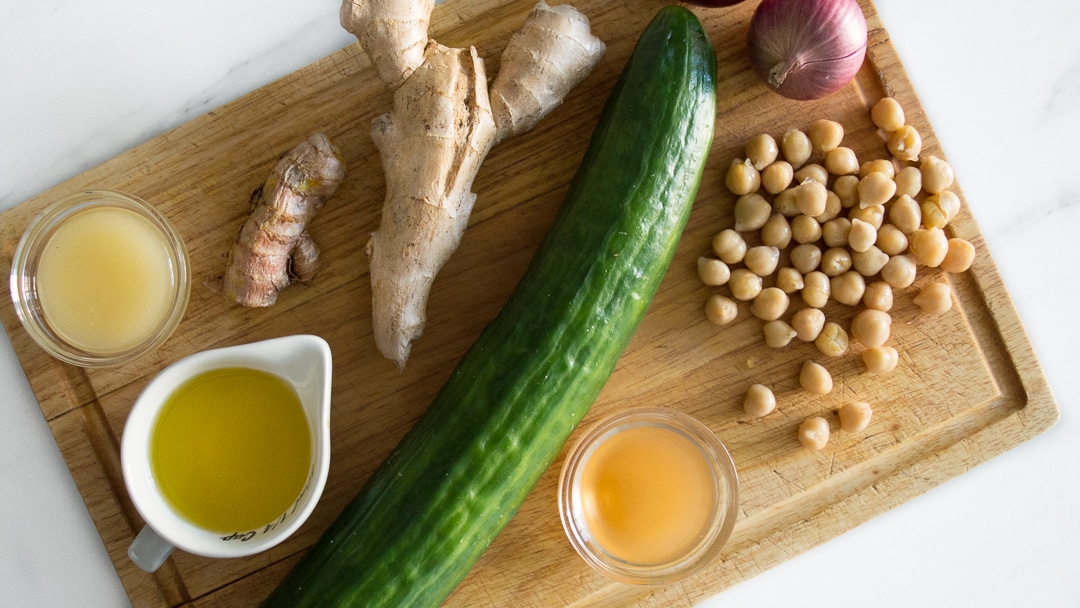 Using our handy peeler to ribbon a whole cucumber, we also enlisted the help of our mandolin to finely alive radishes and red onions, gathering each layer onto a plate, tossing it in a ginger numeric dressing and topping it with crunchy chickpeas. What we love most about this salad, aside from the cut of the cucumbers, is the potency of the turmeric dressing, richly yellow and brightly golden and serving this noodle-esque salad like a giant bowl of pasta.
Bon appetit,
Chef Sous Chef
Recipe Card
Two Step Cucumber and Chickpea Salad
For a salad as beautiful as this, you won't believe how easy it is to make this Cucumber and Chickpea Salad. It is the perfect balance of sweet from honey, sour from vinegar, and spice from the ginger and turmeric. Combined with juicy cucumbers and hearty chickpeas its a salad that will satisfy your appetite.
Ingredients
2

teaspoon

ginger

freshly grated

1

teaspoon

turmeric

freshly grated

2

tablespoon

honey

1

tablespoon

apple cider vinegar

3

tablespoon

olive oil

1

large cucumber

ribboned or diced

½

cup

canned chickpeas

1

small radish

thinly sliced

1

mini red onion

thinly sliced

1

tablespoon

parsley

for garnish
Instructions
No. 1 | Grate ginger and turmeric into a bowl and add the honey. Pour in cider vinegar and whisk until it comes together. Add oil while continuing to whisk and season with salt and pepper.

No. 2 | Using a vegetable peeler, create ribbons with the cucumber and arrange on a large plate. Dress the cucumber using about half the dressing. Arrange the radish and red onion on the cucumbers then sprinkle the chickpeas evenly around the salad. Spoon on the rest of the dressing and garnish with parsley.
Have you tried this recipe?
Tag us on Instagram @chef.souschef or use the hashtag #chefsouschef and let us know how it was!
SaveSave
SaveSave