Real fast food you can feel good eating, our Homemade Big Mac recipe houses the same classic layers, but made with buns from a local bakery, grass-fed ground beef, Canadian cheddar and secret sauce, made with homemade mayonnaise, ketchup, onions and pickles.
I can't remember the last time we had McDonalds. Well, I can. It was December 31st, almost a decade ago; Philip and I vowed to give up the golden arches as a New Year's Resolution. But only after indulging in a Big Mac one last time.
Since then, we've replaced fast food with real food – you know; pronounceable, good for you kind of food – and replaced our cravings by making our own homemade versions of fast food, like our Oven Baked French Fries, Crispy Fried Chicken Sandwich and this; our homemade Big Mac recipe made with secret sauce.
But what exactly is a Big Mac? To most this may seem like a silly question, but an article in the Wall Street Journal reported that only 1 in 5 millennials have ever tasted a Big Mac. For those who haven't tasted it, Big Mac ingredients are simply: two all-beef patties, special sauce, lettuce, cheese, pickles, onions on a sesame seed bun, and from memory, it is delicious.
And for those who have tasted it, our Homemade Big Mac recipe has the same classic burger made with buns from a local bakery, grass-fed ground beef, Canadian cheddar, and world-famous secret sauce; in essence, it's real food fast that you can feel good eating. Like any good burger, this Big Mac recipe is all about the layers. And, following our 4 pre-assembly steps will ensure your burger is big and mighty.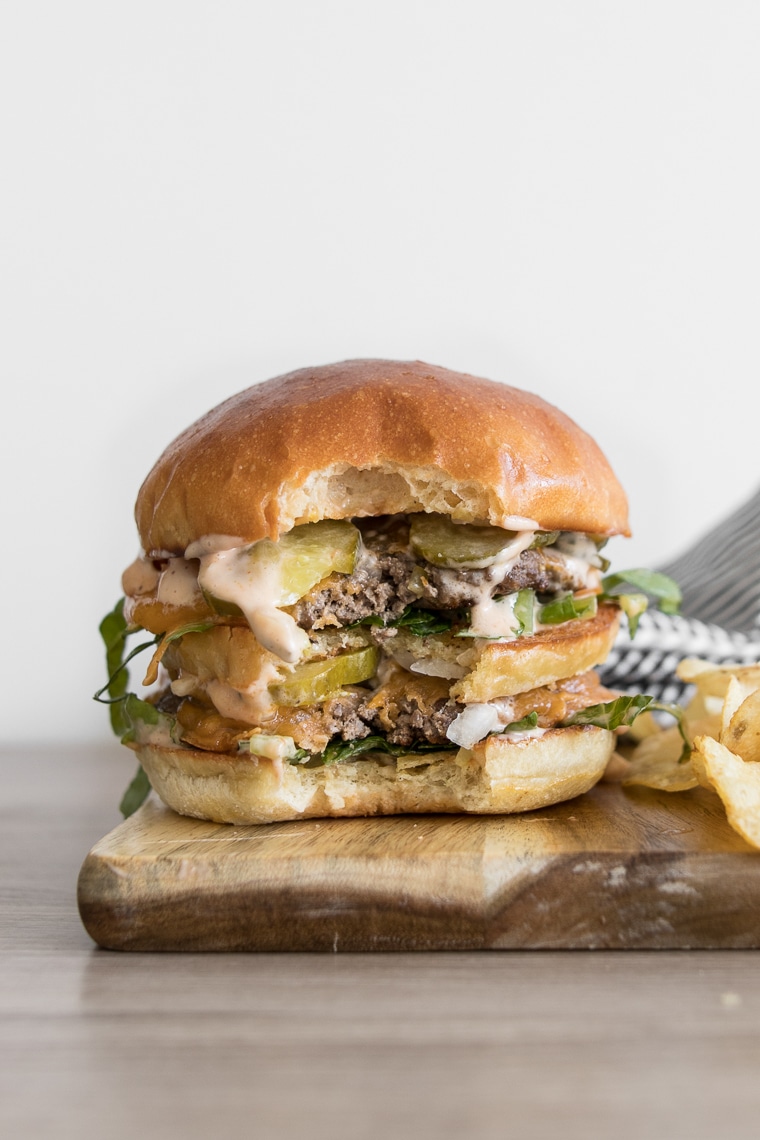 Four Keys to the Perfect Homemade Big Mac
Big Mac Bun
While McDonald's uses a sesame seed bun, we opted for a classic bun cutting it into thirds. If the bun doesn't allow for thirds, cut two buns in half. Use the bottom bun of the second as the middle bun of your burger, and save the top for later.
Philip and I LOVE a well-toasted bun, so what we do is spread a thin layer of mayonnaise on the buns and grill it on a frying pan for 30 seconds to a minute. The mayonnaise acts like butter or olive oil and gives the bun an added layer of crunch and flavour.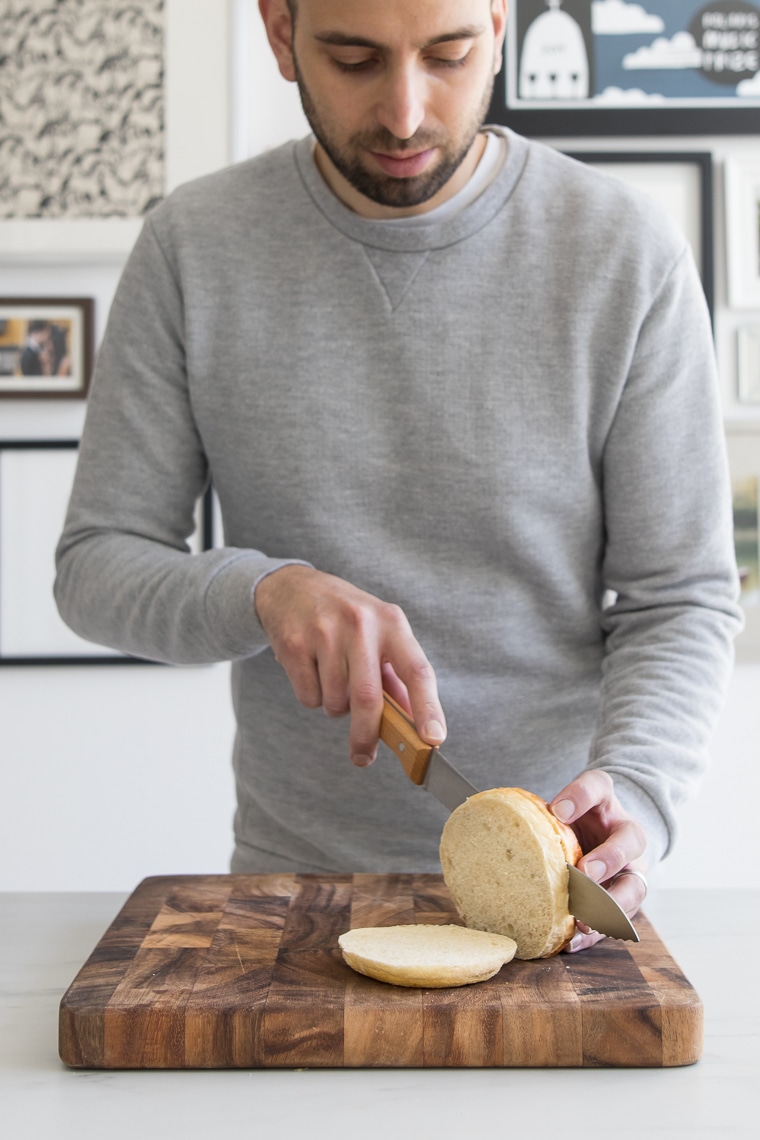 Big Mac Meat
No matter the type of burger you're eating, the taste really is all in the meat. Seasoned with black pepper and salt, our Big Mac patties shine best with grass-fed ground beef from our local butcher. The key though to copycatting is all in the thickness of the meat.
When forming your patties be sure to compare the size of your bun because we all know that the bun to meat ratio must be precise.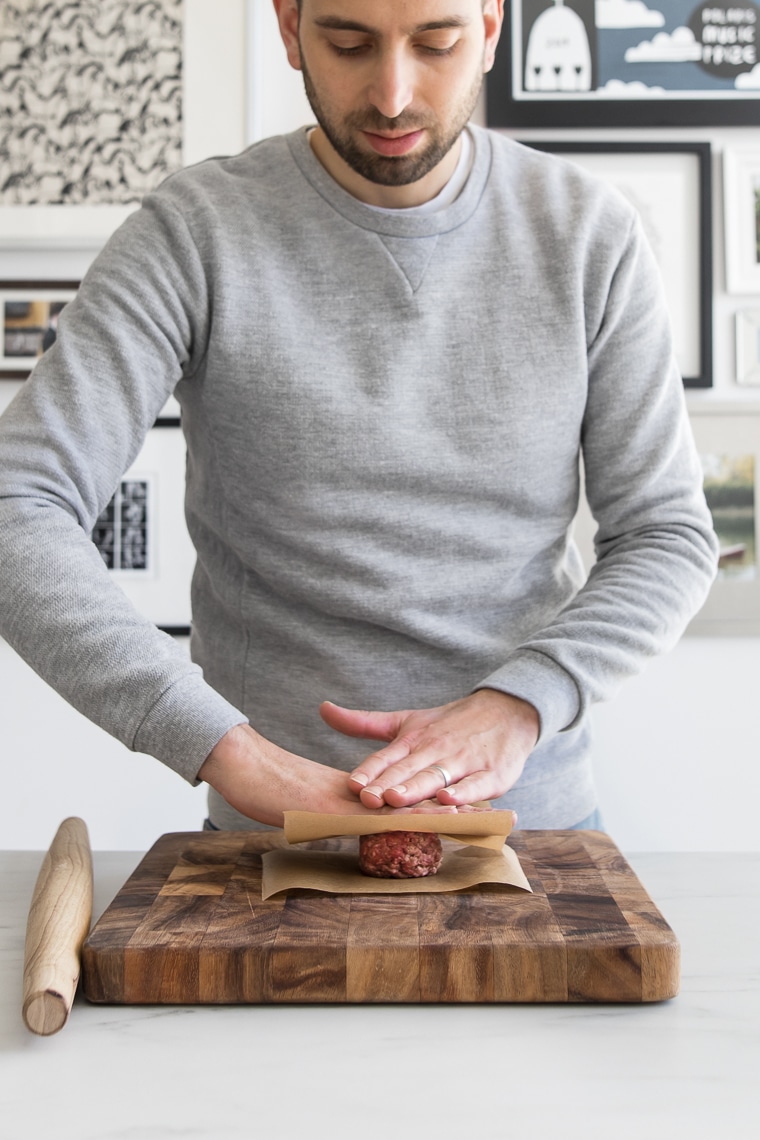 When forming your patties, compare to the size of your bun because we all know bun to meat ratio must be precise. To reach the ultimate ¼ inch thickness, we place our patties in between two pieces of parchment paper and roll it before frying.
How to Make Big Mac Sauce
Now to the secret sauce. It's the one ingredient that separates a Big Mac from a regular burger, but what's so special about this sauce? Some use French dressing or thousand island dressing, and while we are sure these aren't the actual Big Mac ingredients, our secret sauce is made with a handful of items: mix ketchup and mayonnaise with 1 tablespoon of the diced onion and diced pickles and spread it on your burger.
Big Mac Assembly
The Big Mac is all about the layers. Starting from the bottom and working your way to the top, spread a little secret sauce over the bottom base. Top with chopped onion, shredded lettuce, beef patty (grilled with a layer of cheese) and three pickle slices. Top with the middle bun layer, and add more secret sauce, onion, lettuce, pickles, a patty and then more sauce.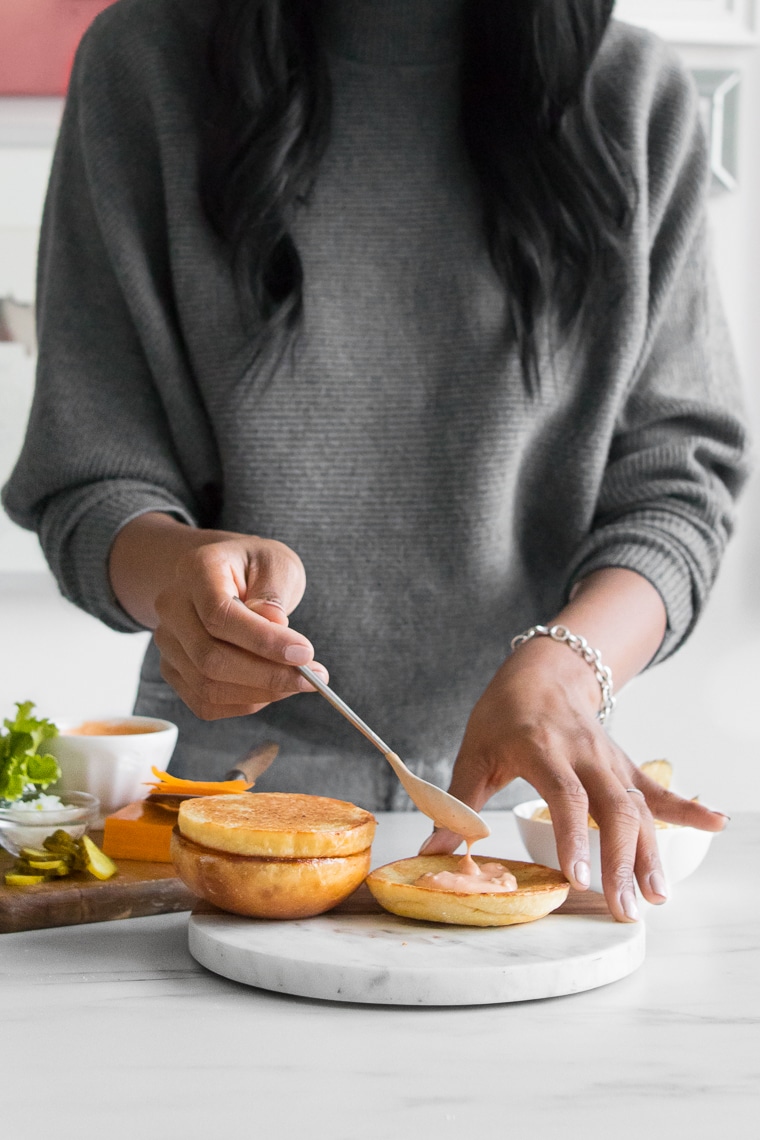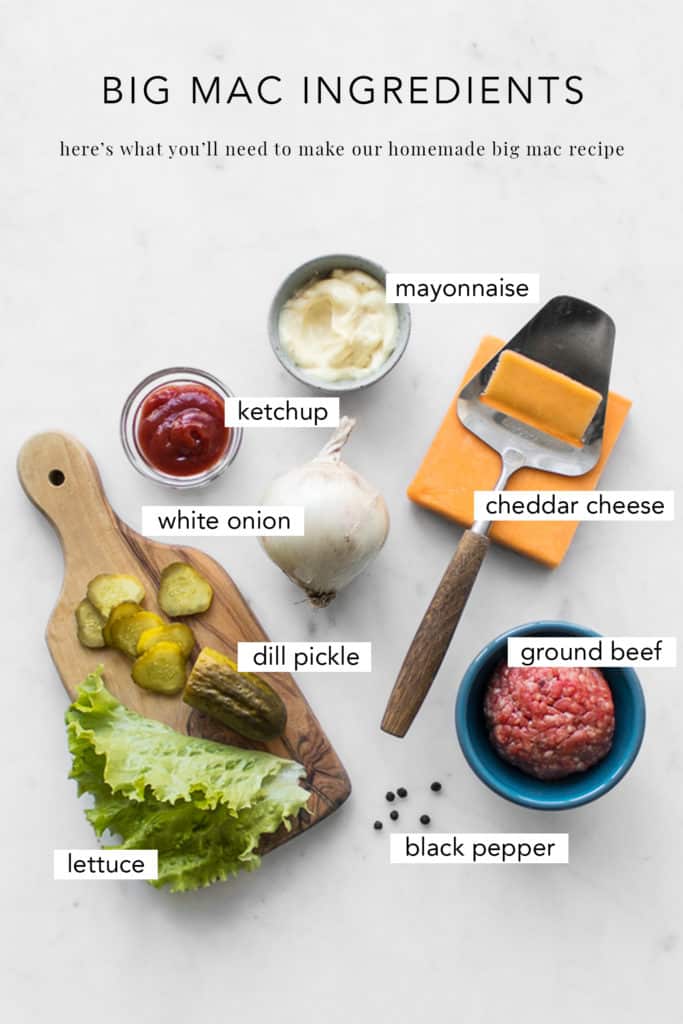 Tip: for extra crunch factor, we add a layer of chips on the bottom and middle buns. Serve with chips or french fries, and a side of extra sauce, of course.
Bon appetit,
Chef Sous Chef
Shop our Homemade Big Mac Recipe
Below are affiliate links to products that will assist you in making our homemade "Big Mac". If you purchase an item through the links, Chef Sous Chef Inc. will receive a small commission. There is no additional cost to you.
Our Favourite Essential Cooking Tools for Our Big Mac Recipe
Essential Ingredients for Our Homemade Big Mac Recipe
Thank you for helping support us through these purchases. If you have made this recipe, please let us know in the comments below!
Recipe Card
Real Food Fast: Homemade Big Mac Recipe with Secret Sauce
Just like the fast food classic, our Big Mac recipe is made with two thin beef patties, topped with cheese, diced onions and pickles, then drenched in our secret sauce. Using all quality, real food ingredients, this burger is even better than the original.
Ingredients
Secret Sauce
¼

cup

mayonaise

2

tablespoon

ketchup

1

tablespoon

minced white onion

1

tablespoon

minced dill pickle
Burgers
¾

lb

ground beef

½

teaspoon

salt

½

teaspoon

black pepper

½

small white onion

finely diced

1

large dill pickle

thinly sliced crosswise

2

buns

sliced in three

½

cup

green lettuce

thinly sliced

4

slices

cheddar cheese
Instructions
Make the special sauce by mixing together the mayo, ketchup and 1 tablespoon each of the diced onion and diced pickles. 

Preheat a large skillet to medium high heat. Divide the beef into 4 equal pieces and roll each piece into a tight ball. Place each piece of beef between two sheets of parchment and flatten into 4 inch rounds. They should be no more than ¼ inch thick.

Once the pan begins to smoke, generously season each patty with salt and pepper. Sear the patties for one minute, then flip, add the slice of cheese and cover for one minute. Remove the patties to rest on a plate.

To assemble, spread one tablespoon of special sauce on each slice of bun. Place a handful of lettuce on the bottom and middle slices, then top with the burger patties. Sprinkle a teaspoon of diced onion and 3 slices of pickle on top. Gently place the finished middle bun on the finished bottom, cover with the top bun and devour.
Notes
If you like your bun toasted, make it extra crispy by spreading mayo on the buns before toasting on a skillet.
Have you tried this recipe?
Tag us on Instagram @chef.souschef or use the hashtag #chefsouschef and let us know how it was!