Salted corn chips topped with melty cheese, meaty lentils and a bright salsa with spicy jalapeño peppers, our ultimate fully loaded nachos are the perfect meatless dish for your game day lineup. Trust us, you won't even miss the meat.
Disclaimer: These Fully Loaded Nachos with Lentils were sponsored in partnership with Lentils. All opinions are our own.
When we think of game day, whether it's the Super Bowl, a Friday night in with the Toronto Raptors or a night out at a bar with the Maple Leafs, nachos are definitely part of the starting lineup of dishes. Who doesn't love nachos? Especially fully loaded nachos with layers of warm tortilla chips topped with spicy meat, stringy cheese and all the fixings from fresh guacamole, to cool sour cream, and rich salsa — and jalapeños, never forget the jalapeños.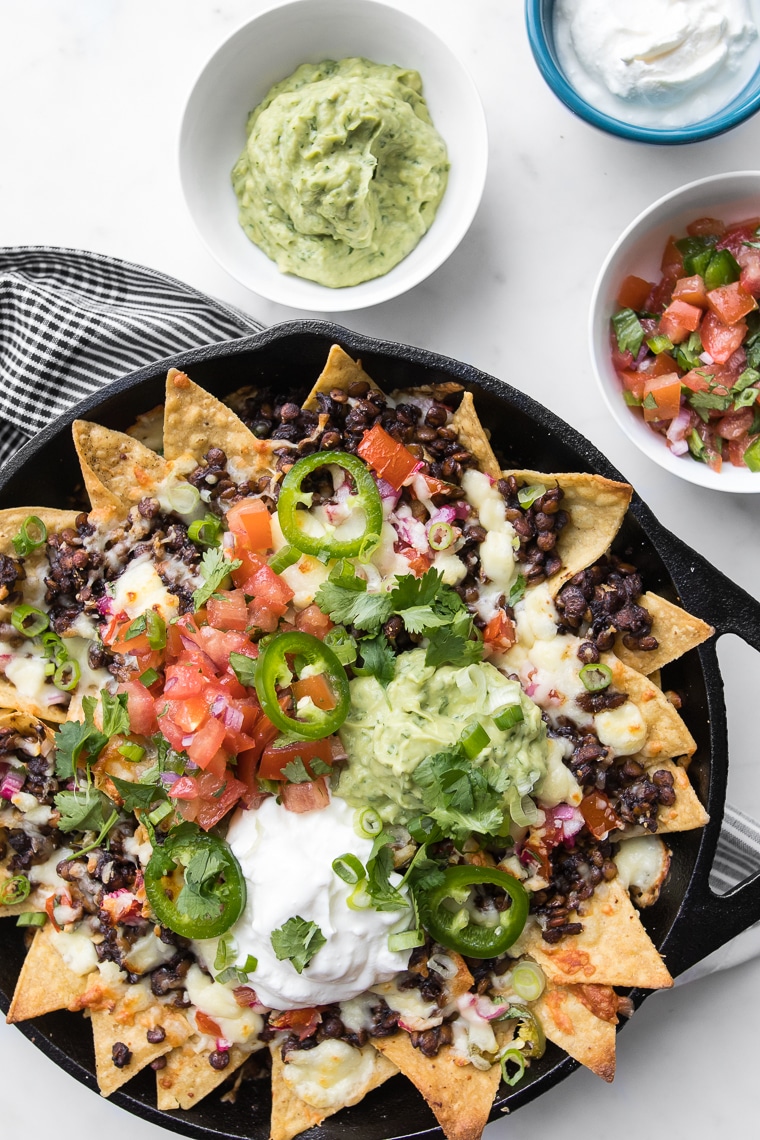 But for most game day dishes, meat is the MVP (you know, the star quarterback, point guard, or guy on centre ice). From beef sliders, to chicken wings, and turkey chilli, there really isn't a meatless option. But the beauty of nachos (aside from eating it with our hands) is that it makes for the ultimate vehicle for replacing the meat with high-protein lentils.
Substituting meat for lentils doesn't mean substituting ingredients for flavour. While cooking with lentils is inexpensive and super simple (rinse, simmer, serve), they're also a great source of fibre, protein and minerals like folate and iron. But our favourite part about cooking with lentils is the versatility and meal prep options that come with batch cooking.
When making these nachos, cook up a large portion of lentils seasoning with your favourite taco spices and add it to a range of dishes from lentil tacos, chilli or burritos; leveraging your Mexican flavour profile while incorporating your remade lentils into them is a great way to meal plan for busy weeks ahead. Plus, when cooked they can be refrigerated for a week or frozen up to 3 months.
Once your lentils are cooked, it's time to layer. Layering is the key to ensuring each tortilla chip is loaded with toppings and baked with cheese. Grab your favourite skillet and cover the bottom with your tortilla chips. Next, sprinkle a handful of grated cheese over the chips, top with your lentil meat mixture and tossed jalapeños or salsa. Then you repeat until you reach the top of the skillet, sprinkle another generous handful of cheese over the top and a few more jalapeños, for good luck of course.
Bake and serve with a side of guacamole, sour cream, and lime wedges. And what you're left with is salted corn chips topped with melty cheese, meaty lentils and a bright salsa with spicy jalapeño peppers, our ultimate fully loaded nachos are the perfect meatless dish for your game day lineup. Trust us, you won't even miss the meat.
Bon appetit,
Chef Sous Chef
Print
Loaded Nachos with Lentils
Whether you're trying to cut down your meat intake or just want to make a typically rich dish a little healthier, our Loaded Nachos with Lentils won't' have you missing any beefy flavour.  The firmness of the green lentils and softness of the mushrooms with the flavour of the spices and stock gives you the sensation of eating taco meat. Add to nachos smothered in cheese and a few fixings and you have the makings of one amazing nacho dish.
Author:
Prep Time:

15 minutes

Cook Time:

45 minutes

Total Time:

1 hour

Category:

Food + Drink, Appetizer
Ingredients
1 small onion, finely chopped

2 cloves garlic, finely chopped

1 cup mushrooms, finely chopped

1 cup green lentils

1 ½ tbsp chili powder

2 tsp cumin

1 tsp paprika

½ tsp salt

2 cups beef stock

1 tbsp olive oil

1 bag nacho chips

2 cups freshly grated cheese (monterey jack or medium cheddar)

2 spring onions, sliced

1 jalapeno pepper, seeds removed and thinly sliced

½ cup spicy guacamole (for dipping)

½ cup sour cream (for dipping)
Instructions
No. 1 | Preheat oven to 400°.
No. 2 | Heat a deep skillet to medium high heat with olive oil. Add onions and saute until they start to become translucent, about 2 minutes. Add the garlic, saute for 30 seconds then add the mushrooms and continue to cook for 5 minutes, until mushrooms have released their liquid. Stir in the lentils, then add the chili powder, cumin, paprika and salt. Mix so that everything is well coated in the spices, then pour in the beef stock. Bring to a boil, then reduce heat to a simmer, cover and cook for 25-30 minutes, until the lentils are tender and liquid has been absorbed.
No. 3 | To assemble the nachos, place a layer of nacho chips on a sheet pan or skillet. Sprinkle the cheese so the nachos are evenly covered, then spread the lentils and salsa over the cheese. If doing multiple layers, add another layer of cheese, then lentils, and salsa. Top the final layer with a light sprinkling of cheese, jalapeno slices, and green onion. Bake for 20 minutes, until all the cheese is melted and starting to bubble on top.
No. 4 | To serve, place a large dollop of spicy guacamole and sour cream directly on the nachos for dipping.
Notes
Make a large batch to have leftovers to eat in burritos, tacos, or for an amazing taco salad.