Simple and sophisticated, our Mushroom Toast is earthy and dreamy with gently cooked mushrooms, airy chèvre and thyme. Dare we say it, but our mushroom toast could quite possibly be the new avocado toast.
Let's play a game: What's a five letter word for a dish that is easy for breakfast, fitting for brunch, lunch or dinner, and perfect for dessert? Here's another clue: its so much more than just bread and butter with jam. You got it, toast.
With endless possibilities and variations, toast is the ultimate vehicle to showcase your culinary skills from grilling, pairing ingredients and knife work. What we love most about toast, is taking one of the most basic of dishes and transforming it into a masterpiece of flavours and creations.
The original blank canvas in the kitchen, toast can be made simple and sophisticated, comforting and elegant, and satisfying and out-of-this-world gourmet by simply altering your ingredients.
One of my favourite vegetables, mushrooms are a classic toast combination in Britain, typically served with tea as an afternoon snack or light dinner. Frying a mix of mushrooms from chanterelles, oyster, cremini and portobello with garlic and shallots, be sure not to crowd the pan. But like any toast dish, the key is in the toasting or grilling of the bread and finding the balance between soggy and cutting the roof of your mouth.
Earthy and dreamy yet hearty and savoury, our Mushroom Toast is elevated and elegant, and dare we say is possibly the new avocado toast in our kitchen (we think so). Smear your toast with chèvre, top with your mushroom, garlic and shallot mixture and top with a few sprigs of thyme. Impress your guests and serve as an appetizer or better yet, treat yourself to a simple dish perfect for any meal of the day.
Bon appetit,
Chef Sous Chef
Recipe Card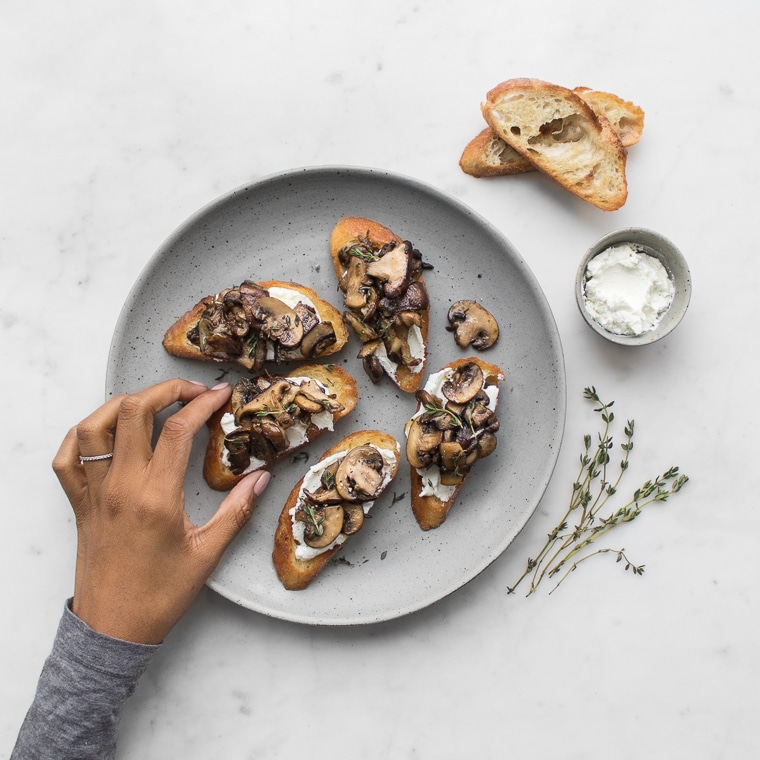 Mushroom Toast with Chèvre, Garlic & Thyme
Mushroom toast is that perfect snack that is super simple to make and can be easily transformed into an elegant dish. Using good quality real food ingredients means that it just takes a few easy to find ingredients to make this delicious appetizer. You don't need to stop at making toast - these mushrooms will work great on pizza, pasta, or in a weekend omelet.
Ingredients
½

baguette

sliced

100

g

soft goat cheese

300

g

mixed mushrooms

sliced

1

medium shallot

sliced length-wise

3

cloves

garlic

crushed

5

sprigs thyme

3

tablespoon

olive oil

divided

½

teaspoon

salt

½

teaspoon

black pepper
Instructions
No. 1 | Preheat oven to 400°. Brush both sides of each baguette slice with olive oil. Place on a baking sheet and place in the oven for 7-8 minutes, flip and bake for an additional 5 minutes, or until golden on each side.

No. 2 | Place a skillet on medium-high heat. Add 2 tablespoon olive oil, whole thyme sprigs, and crushed garlic cloves. Once the oil begins to bubble around the garlic, add the shallots and cook for 2 minutes, until softened.

No. 3 | Add the mushrooms and stir to coat in the olive oil. Sprinkle with salt and a few cracks of pepper. Cook for 10 minutes, stirring often, until the liquid is released from the mushrooms. Lower the heat to medium-low and continue cooking the mushrooms for an addition 12-15 minutes, until all the liquid is reabsorbed and the mushrooms begin to caramelize. Remove the thyme sprigs and keep mushrooms on low until ready to serve.

No. 4 | To serve, spread about 1 tablespoon of goat cheese on a baguette slice, top with 2 tablespoon of mushrooms and sprinkle with fresh ground black pepper and a few thyme leaves.
Notes
These mushrooms would also make a great topping for pizza, mixed with butter for pasta, or in an omelet.
Have you tried this recipe?
Tag us on Instagram @chef.souschef or use the hashtag #chefsouschef and let us know how it was!