The poke bowl (poh-keh) is a Hawaiian dish is a mix of cold and hot ingredients, raw and cooked ingredients, plus it's a healthy choice and comfort food.
Aloha! One of the most recognizable food trends is the colourful, flavourful and Hawaiian, poke bowl. Pronounced poh-kay and rhymes with okay, this native dish is a mix of cold and hot ingredients, raw and cooked, plus it's both a healthy choice with all the qualities of your favourite comfort foods. We recently had lunch at the newest poke restaurant in Toronto, Calii Love inspired by Hawaii and Los Angeles, and was completely in awe of the flavour complexities, the shoyu sauce and the simplicity and freshness in every bowl.
There is something so grounding about a poke bowl, it really is nature at it's finest and revealed in its purest and most natural state. Of course, we jumped on the poke bowl bandwagon and crafted our own at home using fresh ingredients, tuna and a personalized selection of garnishes to suit our palate. Read more and get our 5 steps to perfecting the poke bowl at home.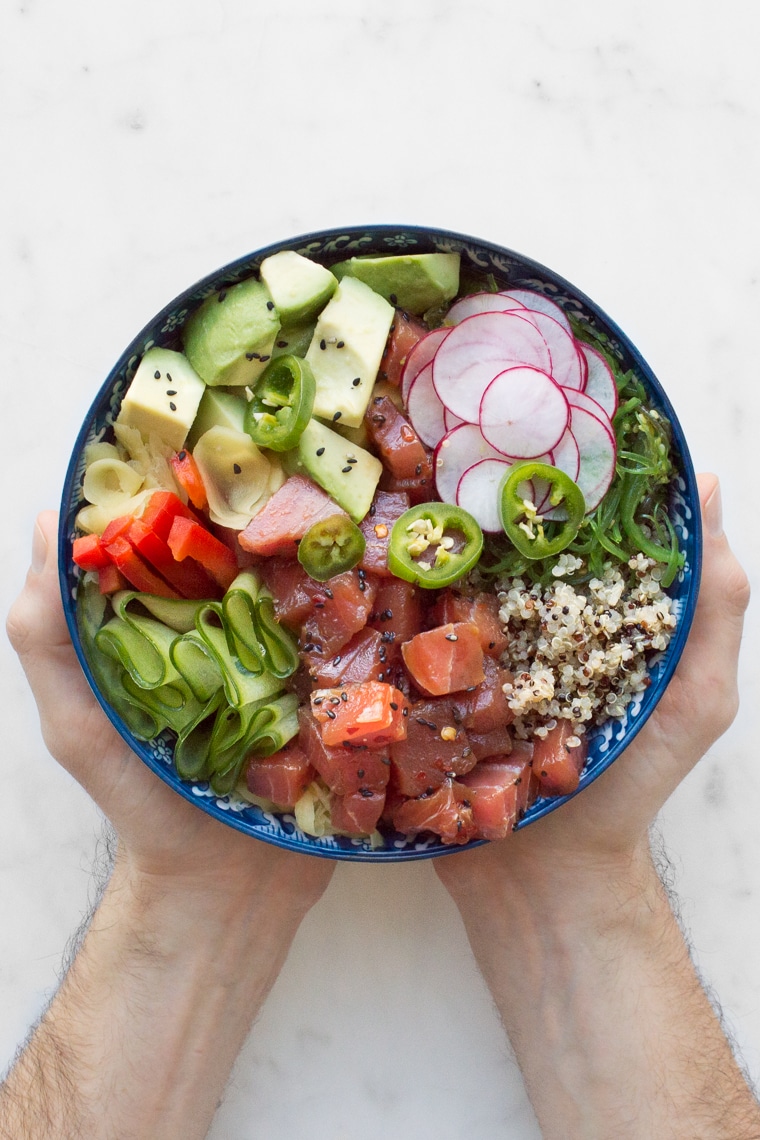 How to Make a Poke Bowl
Base
As with most bowls, your foundation should be of equal quality to your protein as it works together to balance the dish. Start with your choice of starch including rice (jasmine, white, brown, wild), quinoa, couscous. If preferred, go grain free with spiralized zucchini or spaghetti squash. Whatever you choose, top it with sesame seeds and a sprinkle of soy sauce or sesame oil to set the tone of your base.
Protein
Only the best quality. We love the texture and consistency of fresh tuna and use it as the primary in our bowl. You could also substitute for salmon or crab. Go for a classic like marinated tofu or portobello mushrooms for a plant-based poke bowl. Aside from choosing the freshest and fattiest fish, cutting is the next important thing. Be sure to cut against the grain into long thin slices or cubes.
Marinade
We marinade our tuna in a soy sauce blend and top with black sesame seeds for about 1 hour. This allows the fish to get additional flavours that you don't get with raw meat. The tuna and sesame also flavours the soy sauce. Once we add the fish to our poke bowl, we use the remaining sauce to glaze the entire bowl, allowing the flavour to cohesively blend together to create harmony in each bite.
Garnish
This is the fun part. Garnish your poke bowl with all your favourite flavours and colours. We love using seaweed as it adds to the sushi effect of our bowl, rashes and red pepper for crunch, cucumber for sweetness, jalapeños for heat , avocados for fat and texture and quick picked ginger for spice and depth. Use your favourite ingredients to create a bowl personalized to your tastes.
Curation
We were lying when we said the garnishing was the fun part. Curating and designing your own poke bowl is just as fun (if not more fun) than actually eating your bowl. Start with the base, lay it flat and then add your garnishes as you see fit. Allow the texture to differ and compliment one another. Play with the shapes, and fill in any base spaces with even more garnish. Then top with that extra marinade and enjoy.
[sp_index title="Kitchen How-To's" cat="kitchen-tools" display_date="no" cat_link_text="All How-To Articles" ]