There's something incredibly intimate about waking up together, lounging in your PJs all day and treating your sweetie to a delicious breakfast in bed. We're sharing our favourite tips and tricks for eating under the covers, just try not to wake your partner up before 7am.
Disclaimer: This Breakfast in Bed post was created in partnership with Endy. All opinions are our own.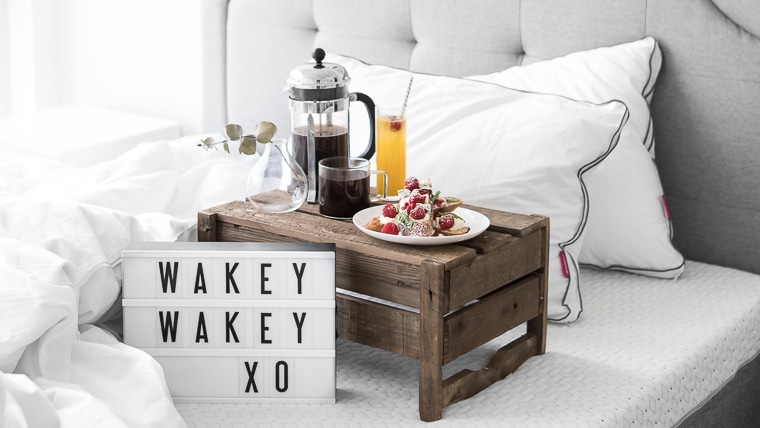 We're all for getting dressed up for a date night out (or date night in), but there's something incredibly intimate about waking up together, lounging in your PJs all day and treating your sweetie to a delicious breakfast in bed. Spending a cozy morning under the covers with hot coffee, chilled mimosas and a meal made with love is the perfect way to show you care and the perfect way to slow down and reconnect.
In celebration of our two favourite things, eating and sleeping, we're sharing our tips and tricks for perfecting breakfast in bed from preparation, to menu planning, setting the scene and creating a morning to remember. Just try not to wake your sweetie up before 7am.
Prepare Ahead of Time
Breakfast in bed should be a lovely gesture for your loved one and shouldn't have you setting the alarm at dawn to prepare the meal. A piece of advice is to prepare ahead of time; know your audience, and select a dish you've made before that you know they'll love. Now isn't the time to try a new recipe or surprise them with a meal they might not enjoy – skip the theatrics.
Once you've planned your menu, create a list and shop, preparing as much as you can the night before to ensure your morning is easy and stress-free, giving you even more time in bed with your partner. One last tip: you cook, you clean. Be sure to wash your dishes and wipe as you go when cooking. Nothing puts out the romantic flame like leaving the bedroom after breakfast to a sink full of pots and pans.
Create a Simple Menu
When creating your breakfast in bed menu, there are 3 cardinal rules you should abide by:
1. KISS (keep it simple silly): Choose a dish that doesn't require the full morning to prepare. Always remember your audience and stick with breakfast/brunch flavours they prefer. If it's savoury choose a dish like our Mexican Shakshouka or a Breakfast Sandwich or if they prefer sweet try our Honey Roasted Pear Parfait or the dish we indulged in, Raspberry Basil French Toast with Ricotta (recipe below).
2. Save the sheets: Have you ever heard the phrase, I wouldn't kick you out of bed for eating crackers? Well, we don't know if the same holds true for spilling in bed. Pick a meal that doesn't require cutlery, isn't fussy to eat and doesn't leave crazy crumbs in the covers. The last thing you want is a mid-breakfast evacuation if egg yolks drizzle on your duvet.
3. Don't forget the drinks: Yes, we just scared you with spillage caution but that doesn't mean your breakfast in bed doesn't deserve boozy drinks or a morning pick-me-up. While an entire carafe of coffee is a must, spoil your sweetie with a low ball glass of orange juice, with a bit of champagne, of course.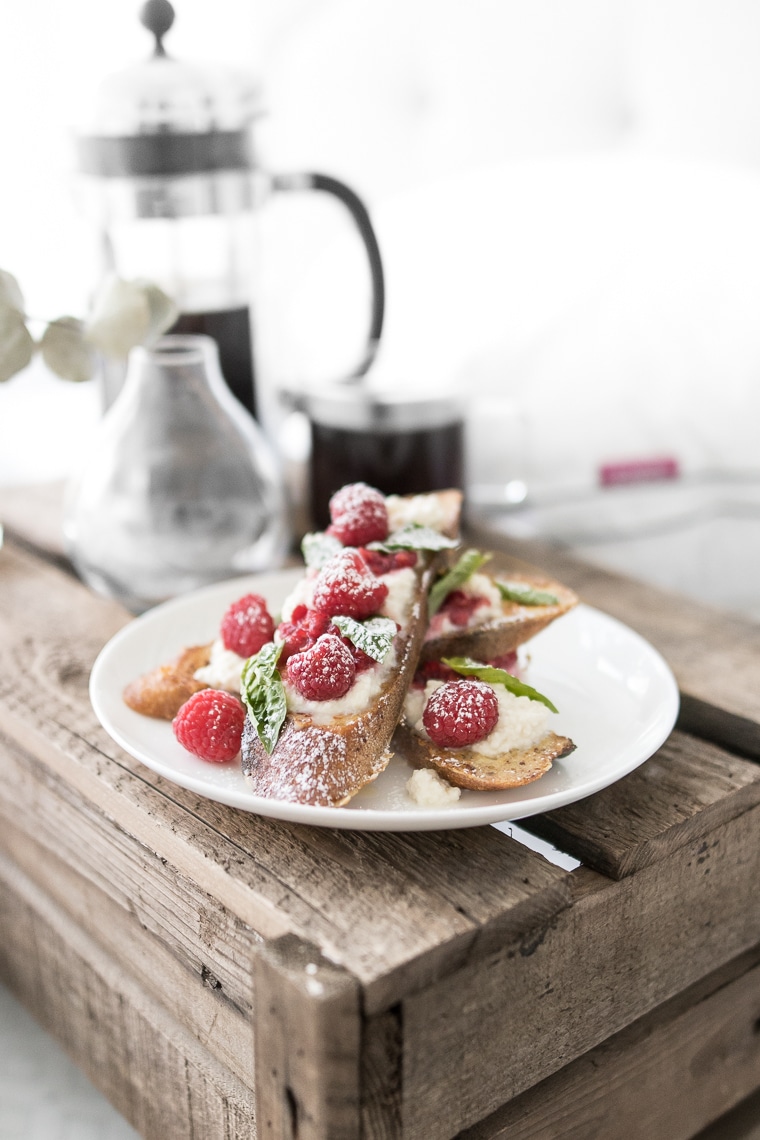 Set the Scene
Breakfast in bed is only as good as the location you serve it in, hence bed being a major keyword. We recently got under the covers with Endy, a one size fits all Canadian made mattress that left us both more than satisfied (and that's before dessert). From crisp, white sensual sheets to adjustable pillows perfect for leaning up against the headboard while you eat, it's pure and comforting love at first sight when you wake up to breakfast in bed with Endy.
Endy meet breakfast. Breakfast meet Endy.
When it comes to food, it's always his vs hers, and the same goes for the bedroom. Philip sleeps on his back and likes his pillow fluffy, while I sleep on my stomach and prefer my pillow lean. With unique foam composition that contours our bodies no matter our position (wink), it's the low motion transfer that prevents our breakfast from spilling in the bed making Endy the perfect his and hers mattress.

Serve in Style
So you've cooked a beautiful dish, mixed OJ with champagne and brewed a pot of coffee, but now's the time to layer your tray. If you don't have a traditional breakfast tray (like us) use a flat surface like a large cheeseboard, a wooden crate or an antique silver tray to serve your dish. While lap trays help balance and stability, laying a large flat surface across your lap definitely works too and will prevent any spilling or crumbs getting into your bed.
Take your tray to the next level by adding a touch of flowers or greenery in a small vase. It's the simple romantic acts that'll have them saying aww and swooning over the gesture. For extra points and easy entertaining, keep your favourite books and current newspaper close or the remote on your nightstand for quick access to binge watching.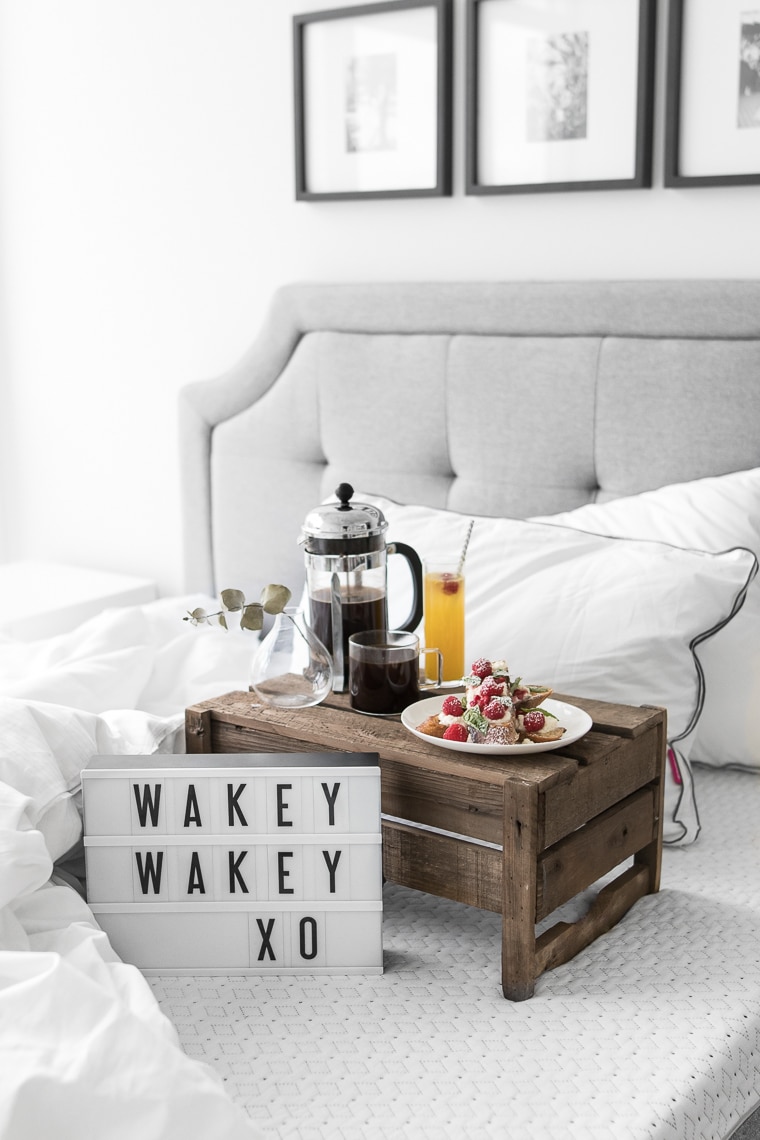 Cancel the Rest of your Day
One of the best parts about breakfast in bed is the free pass you get to spending the entire day in your PJs. Once breakfast is over, cancel the rest of your day. Put your phone on silent, keep the mimosas flowing, and grab your laptop and watch a movie (or two or three) under the covers, cuddling the day away with no where to be.
Or if you're up for dessert, toss the dirty dishes on the floor, down the rest of your mimosa and roll in the sheets; you do have the entire day, after all.
What's your favourite dish to serve or eat in bed?
Chef Sous Chef
French Toast with Maple Ricotta and Raspberries
Quick to make, and tasting just as beautiful as it looks, our French Toast with Maple Ricotta, Raspberries and Basil is the perfect bed in breakfast that incorporates everything you could want in a brunch in one delicious bite. Using baguette slices, and a thick ricotta topping with mashed berries, makes for an easy and clean eating meal. Add coffee and mimosas to the mix, and this dish will have you in bed all day long
Ingredients
½

baguette

long diagonal slices

2

eggs

large

¼

cup

whole milk

½

teaspoon

vanilla

¼

teaspoon

cinnamon

⅛

teaspoon

salt

¼

cup

ricotta cheese

2

tablespoon

maple syrup

1

cup

fresh raspberries

divided

8

small basil leaves

1

teaspoon

icing sugar

1

tablespoon

butter
Instructions
No. 1 | Preheat oven to 200°.

No. 2 | In a large shallow dish, beat together the eggs, milk, vanilla, cinnamon, and salt. Place the bread in the pan to soak, for 30 secs, then flip and allow to soak for an additional 2-3 minutes.

No. 3 | Heat a skillet to medium heat with butter. Once the butter begins to bubble, place 3 slices of french toast in the pan and cook for 3 minutes, until browned. Flip and cook for an additional 3 minutes. Remove and place in the oven, then cook the second batch of french toast.

No. 4 | While the french toast is cooking, mix the ricotta and maple syrup in a small bowl, then set aside. In another small bowl, mash together ½ cup raspberries and 2 basil leaves.

No. 5 | To serve, spread a large dollop of ricotta on the toast, then coat with a tablespoon of mash raspberries. Sprinkle with the basil and a few fresh raspberries, then dust with icing sugar.
Have you tried this recipe?
Tag us on Instagram @chef.souschef or use the hashtag #chefsouschef and let us know how it was!
SaveSave
SaveSave
SaveSave
SaveSaveSaveSave
SaveSave
SaveSave
SaveSave
SaveSave
SaveSaveSaveSave
SaveSaveSaveSave
SaveSaveSaveSave
SaveSave
SaveSaveSaveSave
SaveSaveSaveSave
SaveSaveSaveSave
SaveSave
SaveSave
SaveSave
SaveSaveSaveSaveSaveSave
SaveSave
SaveSave
SaveSave
SaveSave
SaveSave
SaveSave