Whoever said Mac and Cheese belonged on kid's menus was clearly wrong. Our Creamy, Baked Mac and Cheese for Adults uses "adult" ingredients like pancetta, thyme, shallots, white wine and a three cheese blend of goat's brie, cheddar and soft unripened chèvre. 
Whenever we go out to eat and there's menu options for kids, I always peruse the little plates of deliciousness. I  love the classic versions of favourite eats that have become staples for little ones, and while I secretly wish I could order from this junior section, I often wonder why adult versions of these dishes don't exist on the adult menu. 
You know the dishes I'm talking about: chicken fingers and fries, mozzarella sticks and the classic Macaroni and Cheese. Inspired by the kid's menu, our Creamy, Baked Mac and Cheese is made for adults, using adult flavours and ingredients like pancetta, thyme, shallots, white wine and a three cheese blend of goat's brie, cheddar and chevre. 
Swapping out orange cheddar for a selection of goat cheese adds dimension, tanginess and texture, making our Creamy, Baked Mac and Cheese for Adults, well creamy. A mac and cheese not known for it's stringiness, but it's rich, ooey, and elegant flavour, the additional adult ingredients white wine, shallots, chilis and thyme, compliments the goat cheese and truly makes this a pasta not found on the kid's menu. 
What we love about this dish is the adult ingredients coming to life in a simple favourite. The pancetta adds a subtle and less smokey undertone, the delicateness of the shallot adds sweetness and the thyme brings it together for a complimenting dish tied up brightly with the white wine. 
Taking a notch up from a classic homemade macaroni and cheese, don't confuse this elegant dish for one that isn't a classic. Perfect for large gatherings like family dinners, holiday's and even Super Bowl, or quiet intimate dinners meant to impress like date night, Valentine's Day or hosting your in-laws, this Creamy, Baked Mac and Cheese involves simple preparation, accessible ingredients and a whole pot of deliciousness waiting for you in every bite. 
Make this adult mac and cheese a full meal by serving it with our Brussels Sprout Caesar, Chicken Puttanesca, Fried Chicken Sandwich, or Homemade Big Mac.
How to Make a Creamy, Baked Mac and Cheese
Get Prepared
Like with most recipes, preparation is key to making a successful homemade macaroni and cheese. Cut the pancetta, slice the shallots, chop the thyme and grate the cheese. The brie and be cut into small wedges, leaving the rind on, which will just melt into this super creamy mac and cheese. Once your ingredients are prepped, preheat your oven at 400°,  then  fill a large pot with water. Add a tablespoon of salt to the water and set the pot on the stove to boil. In a small saucepan, heat the milk on medium heat. You need the milk to be hot, but not boiling, when you start making the cheese sauce. 
Add the diced pancetta into a French oven, then place on your stove set to medium-high heat. Cook the pancetta for 7-8 minutes until it begins to crisp, then add the shallots and sauté for an additional 3-4 minutes, until softened and golden brown. Transfer to a bowl to use later, then return the French oven to your stove. Melt 2 tablespoons of butter, add the bread crumbs and thyme, then cook for 3-43 minutes, again until golden and transfer to its own small bowl. Once this is done, you can begin cooking the macaroni. 
Make a Roux
The first key to a super creamy mac and cheese is making a roux. A roux is a sauce consisting of butter, flour, and milk which functions as the base for our cheese sauce. Start by melting a half cup of butter in your French oven at medium heat. Stir in the flour and cook for 2-3 minutes until it turns pasty and golden. Slowly pour in the milk, while whisking, and mix until smooth and creamy.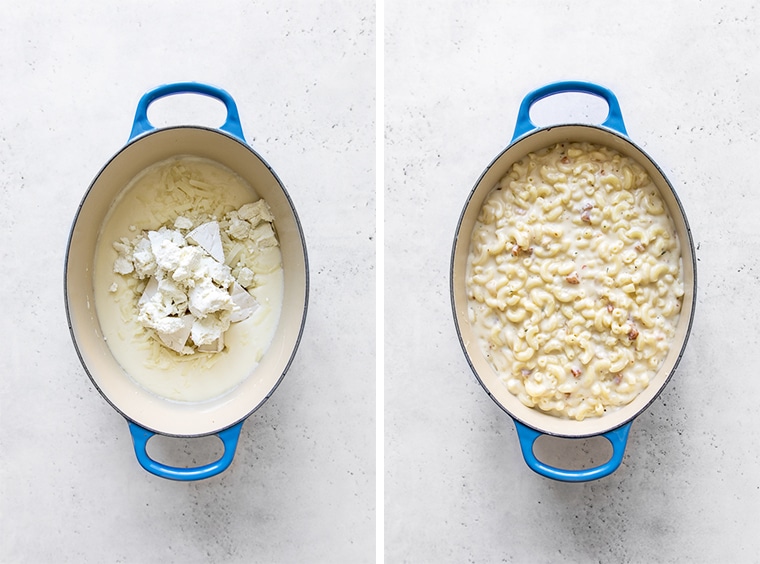 Turn the Roux into Cheese Sauce
Add all the cheese to the roux. Stir until the cheese has melted. There may be a few bits of rind remaining, but don't worry, they will melt when the mac and cheese is baked in the oven. Once the cheese has melted add the white wine and give it a stir. Then finally stir in the pancetta and shallots, thyme, chilis, salt and pepper. Taste and adjust seasoning as necessary.
Put it Together and Bake
Drain the cooked macaroni and pour directly into the cheese sauce. Give it a good stir so the macaroni is evenly coated. Sprinkle with the bread crumbs and bake in the oven, uncovered for 15-20 minutes until golden brown and bubbly. Serve with an additional hit of chilis and thyme, if desired. 

Print
Creamy Baked Mac and Cheese for Adults
You may not have ever had a goat cheese pasta, but it's just the ingredient to turn a homemade macaroni and cheese into adult mac and cheese. Pancetta, shallots, chilis and thyme are mixed with three different types of goat cheese making for the tangy and super creamy baked mac and cheese. It's the perfect gourmet Mac and cheese for game day and date night alike.
Author:
Prep Time:

20 minutes

Cook Time:

40 minutes

Total Time:

1 hour

Category:

Food and Drink, Main

Method:

Stove Top, Oven

Cuisine:

North American
Ingredients
150g pancetta, small diced
2 shallots, thinly sliced
2 tbsp butter
1 cup coarse bread crumbs
1 tsp fresh thyme, chopped
454g macaroni pasta
4 cups milk
1/2 cup butter
1/2 cup all-purpose flour
200g goat cheddar
200g goat brie
200g soft unripened goat cheese
1/2 cup white wine
1 tbsp fresh thyme, chopped
1/2 tsp chili flakes
1/2 tsp black pepper
1/4 tsp salt
Instructions
No. 1 | Preheat oven to 400°.
No. 2 | Fill a large pot with water, add one tablespoon of salt, and place on high heat. In a small saucepan, pour in the milk and set heat to medium. Ensure the milk gets hot, but doesn't boil.
No. 3 | Add the diced pancetta into a French oven (minimum 4 litre capacity). Heat the pan to medium high, and cook the pancetta, stirring every minute or so,  until it's just starting to crisp up, about 7-8 minutes. Add the thinly sliced shallots, and sauté an additional 3-4 minutes, until softened and browned. Transfer to a bowl.
No. 4 | Place the French oven back onto the heat and melt 2 tablespoons of butter. Add the breadcrumbs and thyme and fry until golden brown, stirring often, about 3-4 minutes. Transfer to a small bowl.
No. 5 | Add the macaroni to the boiling water. Cook as per the package instructions.
No. 6 | Meanwhile, begin making a roux by melting a 1/2 cup butter in the French oven, on medium heat. Add the flour and whisk to combine and continue stirring until the roux begins to become golden, about 2-3 minutes. Pour in the hot milk and whisk until it becomes a creamy sauce free of any lumps. Add all the cheese and stir until melted. Pour in the white wine, stir, then add the cooked pancetta and onions, 1 tablespoon of thyme, chili flakes, salt and pepper. Taste the sauce for seasoning and adjust as necessary.
No. 7 | Add the cooked macaroni directly into the cheese sauce and mix well to get an even creaminess throughout the macaroni. Top with bread crumbs, then place the French oven in the oven. Bake, uncovered, for 20 minutes, until the cheese is bubbling.
No. 8 | Allow to cool for just a few minutes before serving.
Notes
This can be easily divided for date night, or multiplied for family gatherings
This is a dish best served the day of. It still tastes good the next day, but it won't be as creamy.
You can leave the rind on the brie. It may take a little longer to melt and if there are a few chunks left, don't worry, any leftover bits will melt when baking in the oven.
We've used a Le Creuset French Oven. If you don't have a French oven, you can use a deep skillet for the stovetop, and a casserole dish for the oven.
Keywords: adult mac and cheese, gourmet mac and cheese, goat cheese recipes, goat cheese mac and cheese
---
Products Used for this Recipe
Please note: Below are affiliate links from which we receive a small commission for any items purchased at NO additional cost to you. 
Le Creuset 4.7 L Oval French Oven – Oyster
Le Creuset Enamelled Cast Iron cookware has been the world's quality benchmark for almo… [More]
Price: C$425.00
Le Creuset Stockpot with lid and Pasta Insert
Le Creuset's award-winning stainless steel reflects the same European craftsmanship and… [More]
Price: C$480.00
Le Creuset 2.8 L Saucepan with lid
Le Creuset's award-winning stainless steel reflects the same European craftsmanship and… [More]
Price: C$235.00
Le Creuset Revolution Spatula Spoon – Oyster
This practical multi-tool's strong spatula tip is specially designed for breaking up de… [More]
Price: C$25.00
Le Creuset Measuring Spoons – Set of 5
A must for any working kitchen, these stylish measuring spoons are crafted from high-qu… [More]
Price: C$22.00