Mixing sweet and salty with our Fig and Prosciutto Pizza, skipping the traditional tomato sauce and mozzarella for a fresh ricotta base and finished with arugula and a warm balsamic glaze.
Growing up, Friday nights were always takeout night in my family. We'd flip through paper menus from local restaurants and with hopes of trying something new, we always went back to pizza. Across the city in Philip's house, Friday night was pizza night too. Using pre-made dough and tomato sauce, his family would grate their own cheese and slice their own toppings for an easy Friday night treat.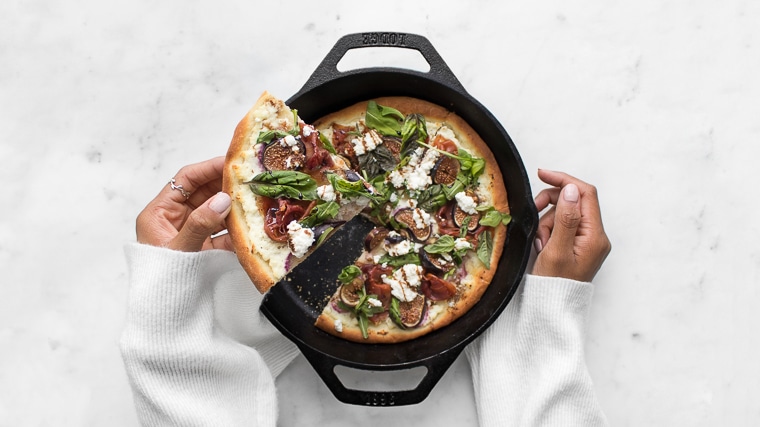 Aside from family traditions and an easy end of the week dinner, pizza night still happens in our home and also happens to be one of Philip's and my favourite way to spend date night in. Like most homemade dishes, making pizza at home is sensual and engages all your senses in the kitchen. Using your hands to knead the dough, layering your favourite toppings, and let's not forget about the wine, pizza night is the perfect way for lovers to have fun, get creative and be playful in the kitchen.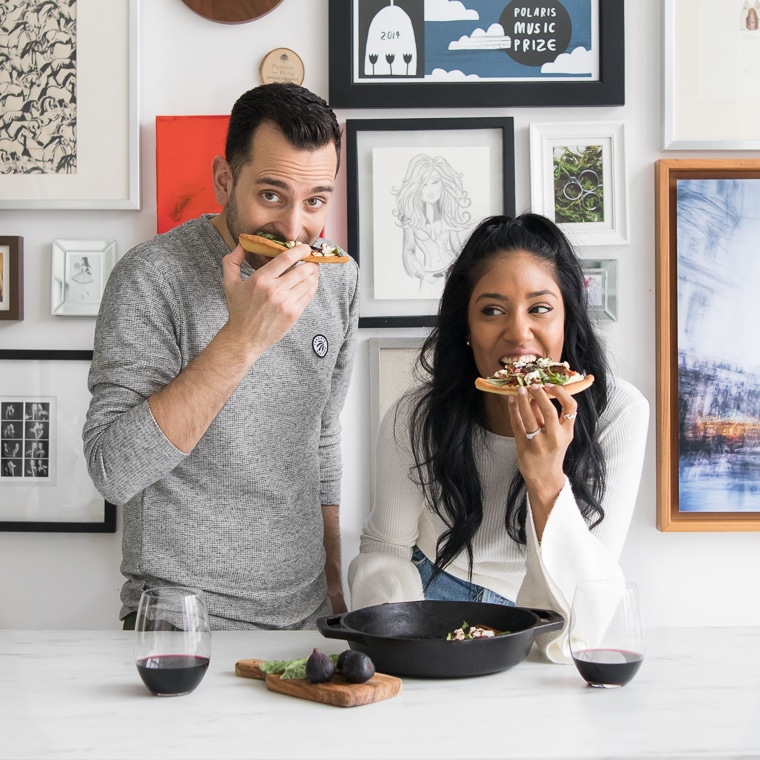 On tonight's date night at home menu, we're mixing sweet and salty with our Fig and Prosciutto Pizza, skipping the traditional tomato sauce and mozzarella for a fresh ricotta base and finished with arugula and a warm balsamic glaze. What we love about this pizza is making it in a cast-iron skillet. While baking your pizza on a baking sheet also works, using a pan or skillet gives the dough the perfect crispy and chewy texture and allows the crust to climb up the sides of your pan. Ready to make this Fig and Prosciutto Pizza in 3 easy steps? Here we go.
Make your Pizza Dough
We all can agree that homemade anything tastes much better than store bought anything, especially when it comes to pizza dough. Using basic ingredients like flour, yeast, salt and olive oil, pizza dough is simple to make and magical from rising to baking. Using the tried and tested pizza dough recipe from The Kitchn, our final dough was crispy and chewy, light and airy and the perfect base for all the toppings on our Fig and Prosciutto Pizza.
Assemble your Pizza in a Pan
Preheat your oven and then get interactive. Once your dough has risen, toss it around a few time and gently lay it in your skillet, using your knuckles to push the dough into the edges of your pan. Spoon a dollop of ricotta onto your dough and using the back of a spoon spread it out leaving enough room for your crust to rise.
Then, depending on how you like your prosciutto baked, either lay it out flat over your pizza or scrunch it up and disperse it around your dough (we prefer the latter). Then slice your figs and toss them over your meat, allowing some of the ricotta to peep through. Then put your skillet in the oven to bake.
Top and Drizzle your Prosciutto Pizza
Once your Fig and Prosciutto Pizza comes out of the oven, top it with a handful of fresh arugula adding a touch of green and spice to your pizza. Adding this ingredient after the pizza comes out prevents the greens from wilting in the oven. Then drizzle your warm balsamic glaze all over your pizza, complimenting the fig and prosciutto and adding another layer of flavour to your pizza (and possibly your date).
Place your skillet directly on the dining room table and serve your Fig and Prosciutto Pizza takeout box style, allowing you to grab your own slices with a variety of additional toppings like chilli oil, chilli flakes or grated parmigiano. And wine, don't forget the wine for your pizza date night in.
Bon appetit,
Chef Sous Chef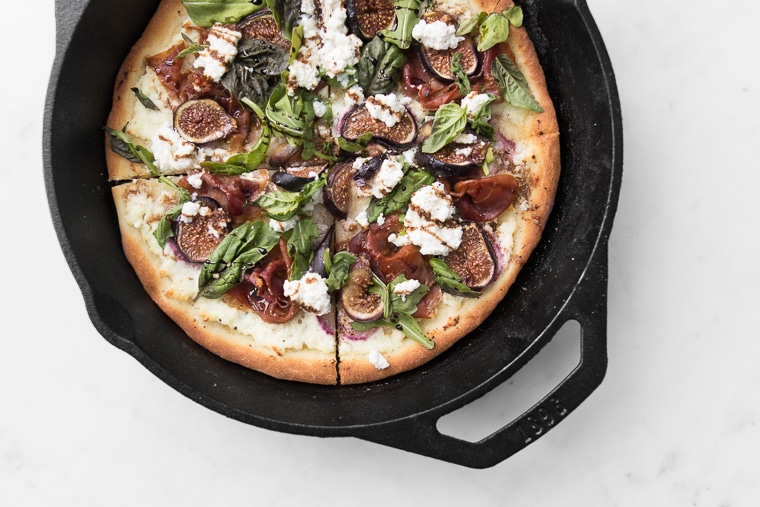 Print
Fig & Prosciutto Pizza with Warm Balsamic Glaze
Mixing sweet and salty with our Fig and Prosciutto Pizza, skipping the traditional tomato sauce and mozzarella for a fresh ricotta base and finished with arugula and a warm balsamic glaze. 
Author:
Prep Time:

2 hours

Cook Time:

12 minutes

Total Time:

2 hours 12 minutes

Yield:

2

-

10

inch Pizzas

1

x
Category:

Food + Drink, Main
Scale
Ingredients
¾ cup

s water, luke warm

1 tsp

dry active yeast

2 cup

s all purpose flour +

¼ cup

for dusting

1 tsp

salt

1 tsp

extra virgin olive oil

150

g ricotta cheese

150

g prosciutto, very thinly sliced

228

g black mission figs, sliced

½ cup

fresh basil leaves, loosely packed

½ cup

fresh arugula, loosely packed

¼ cup

balsamic vinegar

⅛ tsp

fresh ground black pepper
Instructions
No. 1 | Pour the water into a medium bowl. Sprinkle in the yeast and allow to sit for 5 minutes, until dissolved and the yeast begins to bubble to the top.
No.2 | Using a spatula, stir in the flour and salt until a shaggy dough is formed. Turn the dough out to a lightly floured surface and knead for 5 minutes, until the dough is smooth and elastic. Place the dough back into a clean bowl and very lightly coat the ball with olive oil. Cover the bowl tightly with plastic wrap and allow to rise in a warm, draft-free area for 1-1 ½ hours, until doubled in volume.
No. 3 | Preheat the oven to 500°.
No. 4 | Split the dough into two equal pieces. One at a time, flatten the dough into an even round disc. Roll the dough out to about 8 inches, then pick the dough up and carefully shape and stretch the dough to a 10 inch circle. The idea is to have the outside of the dough be slightly thicker than the centre to make for a thicker crust.
No. 5 | Set the dough in a skillet on on a sheet pan. Spread half the ricotta evenly on the dough, leaving about ¼-½ inch of crust. Next place the prosciutto around the pizza, ensuring each slice of pizza will get meat. Generously place the figs in between the prosciutto. Repeat with the second pizza, then place in the oven to bake for 10-12 minutes.
No. 6 | Meanwhile, pour the balsamic vinegar in a small saucepan. Bring to a boil and allow to reduce to half, about 5 minutes. Pour into a small bowl to cool while the pizza finishes cooking.
No. 7 | When the pizzas are done, and crusts have started to brown remove from the oven. Top with a basil and arugula. Drizzle with the reduced balsamic and a few grinds of black pepper.
Keywords: Real Food, Pizza, Figs, Prosciutto
SaveSave
SaveSave
SaveSave
SaveSaveSaveSave
SaveSave
SaveSave
SaveSave